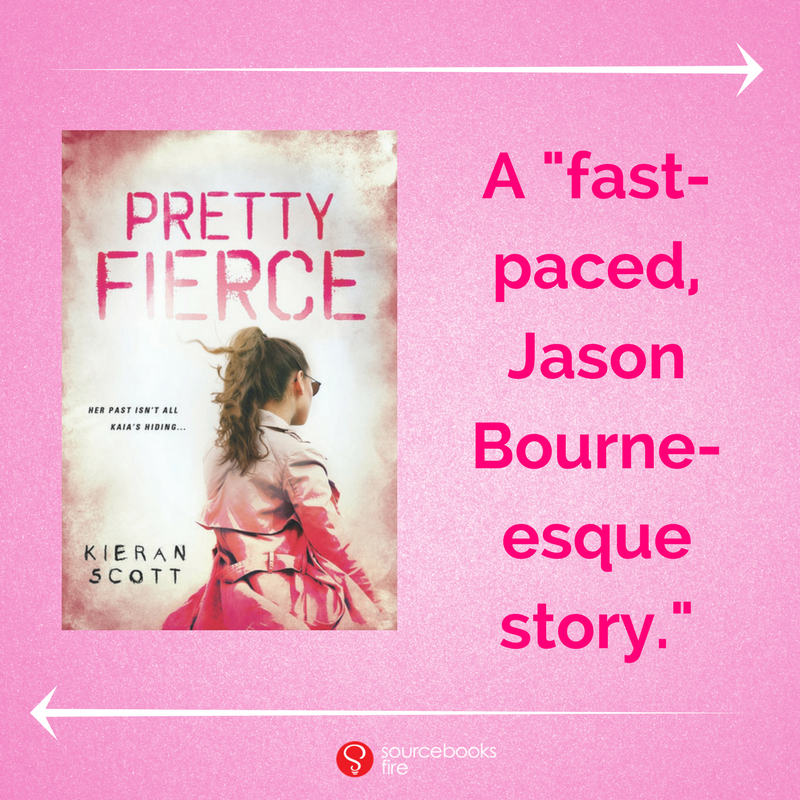 I'm so thrilled to announce that today I'm hosting an interview with Kieran Scott, author of the recently released Pretty Fierce, a YA story filled with action, assassins, and fantastic family and friend relationships. Kieran has been a longtime favorite author of mine (the Private series was my one of my go-to series as a teenager!) and I'm absolutely honored to been granted the opportunity to ask her about her newest book!
---
Author Q&A
One of the highlights of Pretty Fierce for me was the inclusion of a protagonist with a diverse background. What inspired you to give Kaia a Mexican American background and did it influence the plot of the narrative?
I'm a huge fan of action movies, but there are very few female action heroes and even fewer female action heroes of color. We've had some women kick butt on the small screen (Covert Affairs, Alias, Buffy and others), but they're mostly white characters. On the big screen there's been Lara Croft, Black Widow, and sidekicks in movies like Mission: Impossible and the Bourne films, but again, very few women of color. (I do have to mention that Michelle Rodriguez has hung in for how many Fast and the Furious movies? And kicked butt in every one. She's awesome.) So, even though I am not from a diverse background, I didn't see any reason why my female action hero had to be 100% white. Every book, TV show, movie, webcast that features diversity is a win in my book, so I decided to write Kaia with a Mexican-American heritage. I was also obsessed with the TV show The Bridge as I was writing this, which had a lot of Mexican and Mexican America characters—both good and evil—and I couldn't get them out of my head, so I think that influenced the choice of heritage a bit.  I confess whole-heartedly to being a TV junkie and being influenced by the shows I love.

Pretty Fierce features a romantic relationship between Kaia and Oliver which showcases mutual respect and care, something not always seen in Young Adult books where angst and drama often takes priority. Why was it important to your story that Kaia and Oliver's relationship was healthy and what do you hope to example to your readers through the portrayal of their relationship?

I really wanted to show that Kaia and Oliver are each other's constants in their mutually messed up worlds. I think that, when you lose the people who are supposed to always be there for you, you either retreat within yourself, or look around for that person who is going to replace that love as much as it can be replaced. Kaia and Oliver recognized something in each other—that need to be seen and understood and cared for—and because of that they each always put the other first. They've been through so much that they've had to grow up very quickly, grow past the games and the angst. They know what really matters in life and how easily it can be taken away.
Were the researching and writing processes for Pretty Fierce different from those of your previous novels in any way?

Somehow I always end up googling deadly weapons and ways to die. It's a thing with me. But for this book, I had a lot of fun writing the different locales because I only took Kaia and Oliver to places I'd actually been—which allowed me to revisit those places in my mind and to bring out pictures to remind me of what was unique about each state or town. I had my brother give me a tour of his motorcycle and how it worked, which was interesting since the thing scares the life out of me. And I also learned a lot about guns and which ones are lightweight, packable, quiet . . . . I have a serious aversion to guns, but I still found that bit very interesting.

What is your favorite spy or assassin book/movie, and did it serve as an influence for Pretty Fierce?
I'm a huge fan of the Bourne movies, as well as the TV show Alias. I think both those stories had a huge affect on this book, just thinking about how those characters fight and how they got themselves out of various tricky situations. I also really love the move Frantic, which is a very old Harrison Ford movie set in Europe in which his wife is taken and he has to find her. That movie keeps your heart in your throat the whole way through. I hope I caught the spirit of that film with this book.
---
About the Book
Title: Pretty Fierce
Author: Kieran Scott
Pub Date: April 4, 2017
An action-packed, edge-of-your-seat novel about a teen who, when backed into a corner, fights back, from the author of What Waits in the Woods
Kaia has been on the run her whole life. The daughter of professional assassins, she knows danger—and she'll do anything to survive. After her parents vanished during a job gone bad, Kaia's spent the last year in hiding, trying to blend in as an ordinary teenager, and there's no one who makes her feel more normal, more special, than her boyfriend, Oliver.
But when she's attacked by someone from her mother's past and Oliver catches her fighting back, Kaia's secret is exposed. In a split-second decision, she flees the small town, taking Oliver with her. Stalked at every turn, Oliver and Kaia must protect each other…or die trying.
KIERAN SCOTT is the author of several acclaimed young adult novels, including the Non-Blonde Cheerleader trilogy, the He's So/She's So trilogy, and Geek Magnet. She also wrote the New York Times and USA Today bestselling Private and Privilege series under the pen name Kate Brian. She is a senior editor at Disney/Hyperion and resides in New Jersey with her family. Visit kieranscott.net.
Buy Links: Amazon | Barnes & Noble | Books-A-Million | Kobo | iTunes | Indiebound
---
Giveaway Time!
Related Posts