My blogging twin Lauren over at Bookmark Lit has a wonderful feature called The Nostalgia Project, where she rereads past favorites and talks about how she views them now vs. when she originally read them and recaps her rereading experience of certain books as an adult. When I was recently unpacking my books into my new bookshelves and tweeted that I would love to do a re-read of my A-List novels, Lauren was 100% on board to revisit our high school reading days and suggested her Nostalgia Project Feature as the perfect way to showcase our reread. (Also, the gorgeous graphics are 100% her doing!)
My expectations for the reread were pretty high in a sense- I remember loving these more than the Gossip Girl novels, since I could relate to their West Coast setting much better than New York (which I've never been to). I remembered racing through them when I was younger and I felt confident that they'd be just as quick, easy, and fun reads now that I was older (despite probably having some early to mid-2000s outdated references, especially in regards to clothes, makeup, pop culture, etc.) I was really excited to revisit a series that I had loved so much in the past, back when the selection of YA books available was much, much more limited.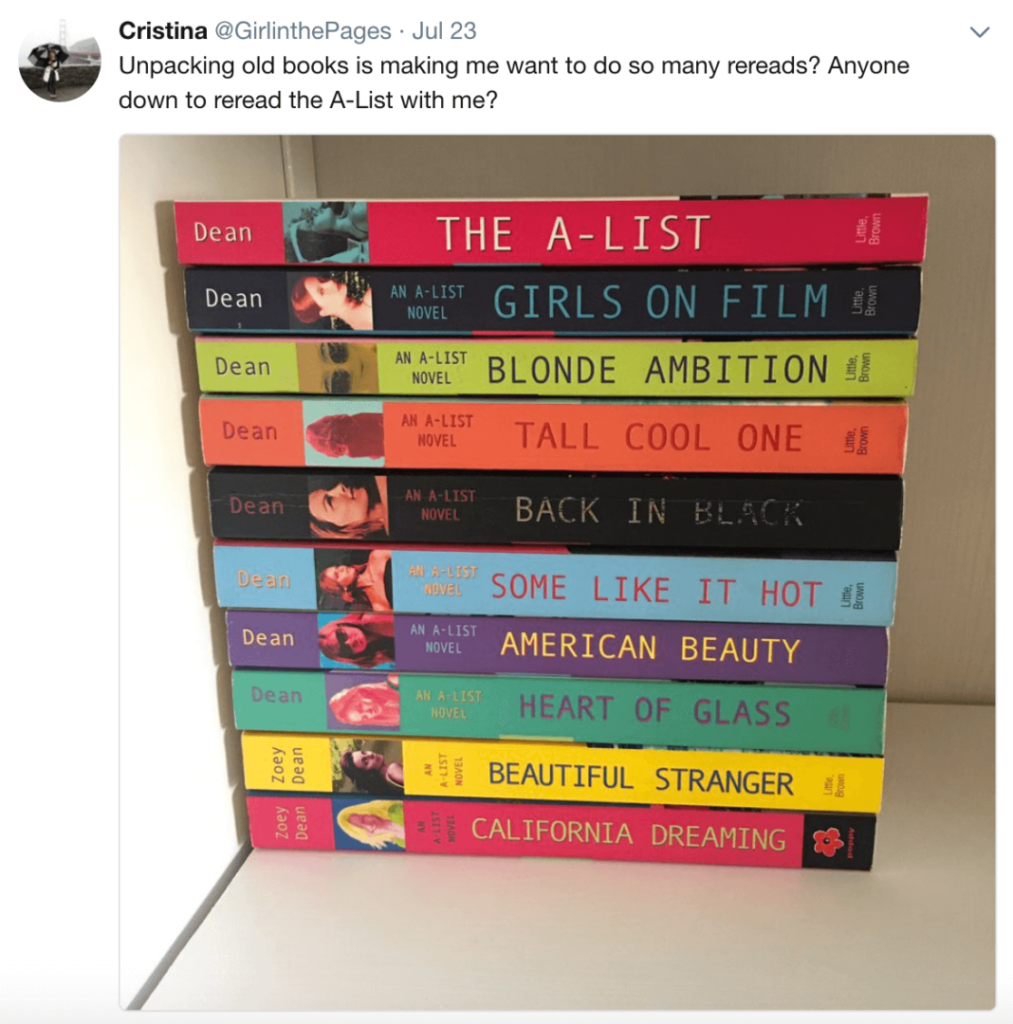 Honestly I feel like I actually remembered quite a bit from this series, especially from the first 4-6 books. I remembered all of the character names and broader plot points, especially revolving the on and off again romances that all of the girls go through. I found that this didn't hinder my enjoyment of rereading the books, because I didn't remember all of the fun little details, and the further into the series I got the less and less I remembered so they almost read like new books. I remembered that Sam was probably my favorite character, that Anna was the "perfect" well bred protagonist, that Dee has some psychological issues, and that Cammie was supposed to function as an antagonist but got her own rather serious story arc. I also remember a fair bit of name dropping of actually celebrities, restaurants, clubs, etc. so I was excited to see how those references stood the test of time!

1) Reread all ten of the ORIGINAL A-List novels
2) Round up my thoughts with mini reviews and rank the books in order of how much I enjoyed them
3) Compare my ratings from my original read of them 10+ years ago to how I'd rate them now.
4) Consider the implications of my current age, culture when the books were released vs. today, etc. (I borrowed this goal from Lauren's original Nostalgia Project post because it's such a good idea!)
Check back throughout the week here and on Lauren's blog to read our thoughts on our A-List reread!
Related Posts