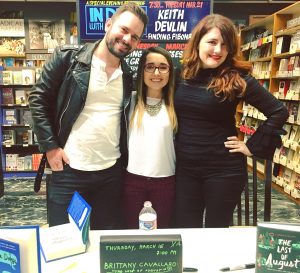 When I heard that Jeff Zentner, author of one of my favorite YA contemporary novels, was passing through the Bay Area I knew I had to see him. I've gotten to meet so many wonderful West Coast authors over the course of the past 3 years, but it's always exciting to meet an author who's stopping by from another part of the country, so I eagerly arrived at Kepler's 2 hours early to claim my seat and wait for the event to begin. While I haven't yet read A Study in Charlotte, I had both it and Zentner's sophomore novel, Goodbye Days, waiting by my side eagerly anticipating the authors' talk and signing lines.
I'll admit that I didn't know how close Jeff and Brittany were, but it was apparent right away that their friendship is one that goes far beyond the "we're-authors-who-run-into-each-other-at-events" type. Listening to them speak was so natural and the flow of the evening definitely fell into a conversational format that made it feel more real and intimate than most author events I've been to. Jeff and Brittany are both truly hilarious and talented, yet have such an air of approach-ability and accessibility to them. I found myself anxiously scribbling down notes throughout the evening as everything they said contained such humor and yet so much great advice and insight at the same time.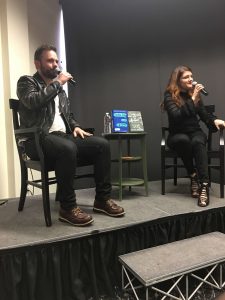 Some Fun Facts and Interesting Tidbits from Jeff and Brittany's Conversation:
Brittany is trained as a poet!
Brittany realized during a class exercise one day that no female geniuses ever came to mind easily, as male genius figures were the default for students to remember and reference.This contributed to her desire to write strong, memorable female characters.
She feels that society is less forgiving of teenage girls who are super smart but don't like to play by the rules.
Brittany wanted to give Charlotte a boy best friend who was cool yet empathetic toward and frustrated by her. She wanted him to be the "cinnamon roll" rather than having a female character fill that role in the novel.
Charlotte's voice came from Brittany's poetry. It's an anachronistic, distant, disturbing, ferocious voice that goes at a fast clip. The voice eventually started writing itself!
Brittany mentioned that she doesn't believe there's any "true" version of a story. Every perspective is different. Getting Charlotte's POV in her second novel, The Last of August, means that some things will get clearer for readers while other elements get murkier.
Brittany described Charlotte and Jamie's friendship as a love letter to the type of relationship society doesn't let you have after high school and college, the type of friendship between a boy and girl that has an intensity that rivals that of boyfriend/girlfriend.
Jeff's past as a songwriter has helped him to write dialogue.
Jeff was motivated to put Goodbye Days in first person present tense to give it a sense of immediacy, whereas The Serpent King is written in third person past tense to give it a mythic feel, like a fairytale set in a modern, contemporary world. The emotional stakes in Goodbye Days are so tied to past events, but he feels that putting an emphasis on the past/flashbacks can keep a story feel like it's moving forward. He needed the friendships and other elements to have that sense of immediacy since the protagonist is suffering a lost of identity as a result of his friend's death.
When I asked Jeff about what was most challenging about incorporating religion into The Serpent King without having it take over the story, he said he really strove to write faith as a nuanced concept. You can't take faith on and off like a shirt. If you struggle with it, you struggle with it constantly and all the time, which is something he wanted to convey throughout the novel.
Both Jeff and Brittany agreed that writing their second books was a much scarier process because they were writing under contract (before the first book had even been released in Brittany's case). One of my favorite quotes from the whole evening was from Brittany: "You have your whole life to write your first book."
Have you seen either of these wonderful authors on tour? Have you read Goodbye Days or A Study in Charlotte/The Last of August yet? Let me know in the comments!
Related Posts