Reading Challenges are the ultimate failed new year's resolutions for me. I go in so, so pumped for them and somewhere (usually toward mid to late spring) I end up getting so busy I don't have time to keep track of them, let alone remember what challenges I signed up for. I'm still reading, sure, but without any real direction and certainly not with any speicifc goal in mind (I've turned into a pretty picky mood reader this past year). For 2017, I want to be super picky about the challneges I sign up for, and limit the amount that I participate in so that I can really focus on them and keep track of them. Luckily, the challenges I've come across that interest me are all relatively casual and without leveling, so I can really set achievable goals for myself this year!
Diverse Books Reading Challenge Challenge hosted by Mishma @ Chasing Faerytales and Shelley @ Read.Sleep.Repeat.
Goal: 6 Books
I think now more than ever is an important time to push ourselves to read books that expand our perspectives. This challenge is great because the creators put together an expansive list of recommendations, and there's mini challenges each month that focus on a certain type of diverse read. I'm hoping to participate in at least half of the mini challenges, for a total of 6 books throughout the year.
Flights of Fantasy Challenge hosted by Alexa @ Alexa Loves Books and Rachel @ Hello, Chelly
Goal: 10 Books
I love Alexa's blog and always see her mention this challenge, so I decided I wanted to join in on the fun this year! I was also really shocked to discover that, as of now, I've only read 6 fantasy novels in 2016 (and more than half of those were Sarah J Maas novels). That's much lower than I expected, and I definitely used to read much more fantasy when I was younger. I'd like to get back into fantasy reading and I think this is the way to do it!
Bookish Bingo hosted by Bekka @ Pretty Deadly Reviews
Goal: As Many Bingo Squares as Possible!
Bookish Bingo is seasonal and it's fun to find books that fill in squares that can be determined by anything from genre to cover color! It's a super fun, super low-stress challenge and I'm excited to get back into it.
Goodreads Challenge
Goal: 55 Books
Of course, the Goodreads Challenge is always there. 2016 was my first full year working full time so I lowered my reading goal considerably from the year before (from 70 to 50). I'd like to slowly build my reading capacity back up, so I'm aiming for 55 in 2017.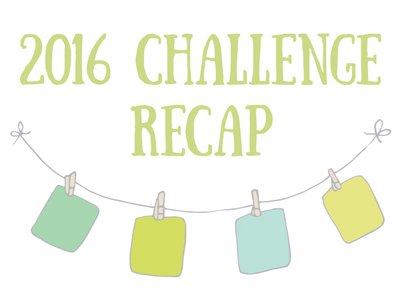 Retelling Challenge
Goal: 5 books
Achieved: 2 Books
So I failed pretty hard on this one, however I feel like fairy tale retellings have become a bit overdone and therfore become a bit out of vogue. I did manage to read two retellings, ACOMAF and Heartless, but those would have been on my TBR anyways due to both authors being auto-buy authors for me.
Must Read in 2016 Challenge
Goal: 10 Books
Achieved: 8 Books (so far)
I really loved this challenge created by Lauren @Bookmark Lit because it was so chill, and it was a melting pot of genres and themes. It was literally just a push to get me to make a short TBR of books I had really been neglecting to read. As of now I've finished 8 out of the 10 I initially chose for this challenge, and I'm currently reading another (I ended up DNF-ing one book, so if I manage to finish the 9th I'll consider this challenge completed!)
Rock My TBR Challenge
Goal: 24 Books
Achieved: 28 Books
So this seems like it's cause for celebration, however I found this challenge sort of hard to feel accomplished about because while a majority of what I read was from my physical TBR that I owned, I kept buying MORE books and thus it felt like no real dent was being made by this challenge for me. I love the concept, however I just didn't feel it was a super effective challenge for me.
Backlist Books Challenge
Goal: 10 Books
Achieved: 8 Books
I really really loved this concept as well, but I didn't quite meet the challenge goal due to my own restrictions I placed on it (I was focusing on backlist books only if they were published in 2014 or earlier). Still, not too bad of a showing on this one. I'm also currently reading Grave Mercy so if I finish that before the end of the month I'll be at 9!
Goodreads Challenge
Goal: 50 Books
Achieved: 52 Books (so far)
I'm currently ahead, so I'm definitely pleased! I'm hoping to hit 55 before the end of the year!
Are you taking part in any 2017 challenges? Let me know in the comments!
Save
Related Posts