I've made a lot of reading resolutions, and one of them is to be better about cultivating a monthly TBR. I know so many bloggers do beginning of the month TBR posts and I always LOVE reading them, so I've decided to post my own as well! I will include my physical, e-book, and ARC TBRs as well as a status update of where I am prior to starting my upcoming month's TBR.
Reading Progress Prior To This Month: 55/100* Books Read
*Wish me luck as I try to read more books in 2020 than ever before!
How is it already September??? I am definitely behind on my reading challenge (story of my life these days) and I'm going into the fall which is my busy season at work so we'll see how many books I actually read this month. I've been a mood reader in a BIG way recently so I don't want to force myself to read anything that's going to put me into a slump, so this is a very tentative TBR (mostly focused on library books and ARCs but I'm itching to pull some physical TBR books off of my shelf so we will see where this month takes me!)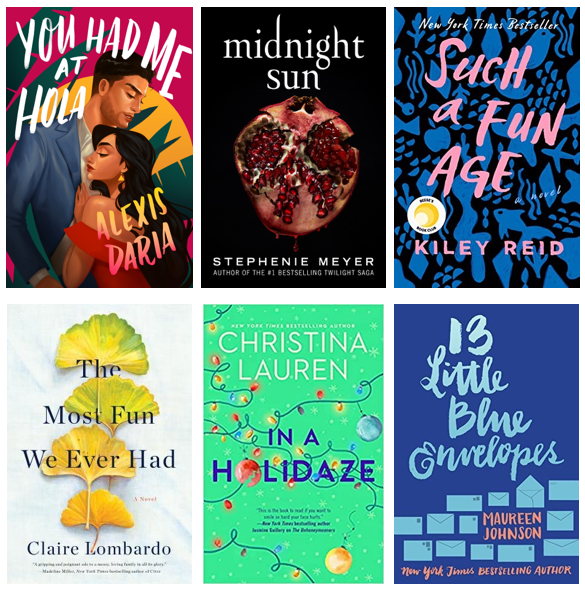 Library
You Had Me at Hola // This has been on my TBR all year, the premise of a Latinx actress and Telenovela star falling in love coupled with that STUNNING cover has my hopes very high!
Midnight Sun // I mean, I have no idea how I'm going to feel about this but I'm curious to check it out since I remember the whole debacle of being able to read a portion of it back on the author's website and she refused to finish once it got leaked. I actually reread Twilight earlier this year to jog my memory for this. I think it's hilarious that it's so much longer than Twilight which is from Bella's POV (Edward obvs overthinks everything).
Such a Fun Age // Last week I posted about how I wanted more adult fiction and this is the number one pick on my list! A lot of my coworkers have read this one and said it's a good balance of a contemporary read that's quick that also tackles some tougher and important issues.
The Most Fun We Ever Had // I'll admit I don't know much about this one but it's my book club's next pick for early October so I'll be prioritizing this one this month!
Owned
13 Little Blue Envelopes // I've had this book FOREVER. I think I was gifted it back when I was a pre-teen or teenager and never got around to reading it. I was actually planning on reading it last month for Lauren's Rainbow Try a Chapter Unhaul Challenge (oops) so I'm going to try and squeeze it in this month.
For Review
In a Holidaze // As I write this post it's 107 degrees F outside so it seems sort of weird to have a Christmas book on my TBR for this month, but since it comes out in October I want to make sure I read and review it on time! I've really been loving CLo's books lately as they've focused less on romance and more on women's fiction (unpopular opinion, I'm sure) so I'm excited for this one.
What books are you your TBR for September? Let me know in the comments!
Related Posts