So what did I decide to do during the busiest year of my entire life? If you guessed "start a new hobby" then you are completely right. One Saturday afternoon while trying to unwind from a v. stressful week, I decided why not crack open the bullet journal that my husband purchased me for Christmas. I always adored the IDEA of bullet journaling but was scard to actually get started because I am NOT an artist. However, I finally decided to dive in after finding some beautiful Zebra midliners that morning at Target and I desperately wanted to find a way to utilize them. At the time of writing this post, I've only been bullet journaling for a little over a week but I am obsessed!
So What's the Planner Situation?
I am a bit of a planner addict. I purchased my first Erin Condren planner in 2011 and have never looked back since. I've tried several different versions of her planner and love it for day to day use, but I also found that I was 1) using it less once I graduated from college and 2) I didn't really like using it for blogging/reading tracking. In 2019 I ended up with two planners (courtesy of my wonderful husband) who also gifted me the Always Fully Booked planner which I immediately fell in love with. It has a ton of pages and is really geared toward reading/book blogging and I'm thinking of making it my main planner in 2020 too.
So did I really need to start a bullet journal? Yes and no. Some of the info I'm tracking is a little redundant with the Always Fully Booked Planner (like blog post ideas, books read, etc). Yet some of the information I feel like I don't have anywhere else to really focus on (like habit trackers, mood trackers, etc). Coupled with the multiple spreadsheets I use to track my reading/blogging (about 3 so far) I'm currently using 6 methods of planning which is a LOT. I'm hoping to cut it down to 4 next year including my bujo (2 spreadsheets and 2 paper planners).
Supplies I Adore
Max gifted me the Leuchtturm Medium A5 Dotted Hardcover Notebook in the color Emerald, which seems to be a very popular notebook for bullet journaling. I like it so far and it has a table of contents section in the front which is cool but I haven't used it yet (though I do really like that the pages are numbered). It also stays flat when I write/draw in it which is really nice.
For pens, so far I have been using my Staedtler triplus fineliner pens for writing/outlining and they've worked great so far (I've had these pens since graduating from college and they're still going strong! For coloring and highlighting I've been using Zebra midliners which I adore (and love that they're double tipped)! I have several Papermate Flair and Inkjoy pens that I am excited to try as well. As I start investing more in my pen collection (I have ALWAYS had an addiction to pens), I'm hoping to try the Crayola Supertips and Tombow Dual Tip Brush markers next! I also just use a regular #2 pencil for my outlining!
The Setup
I'm trying to give myself some grace since this is my first attempt at bullet journaling, so I'm not too organized with my set up and layouts yet. Since I still use a monthly paper planner for day to day planning, I don't have a calendar spread for each month or anything like that. Instead, I have all of my annual bookish things I want to keep track of in the front, followed by all of my September trackers (both personal and bookish) next. I'll probably continue on with the rest of the months of 2019 as well!
Layouts So Far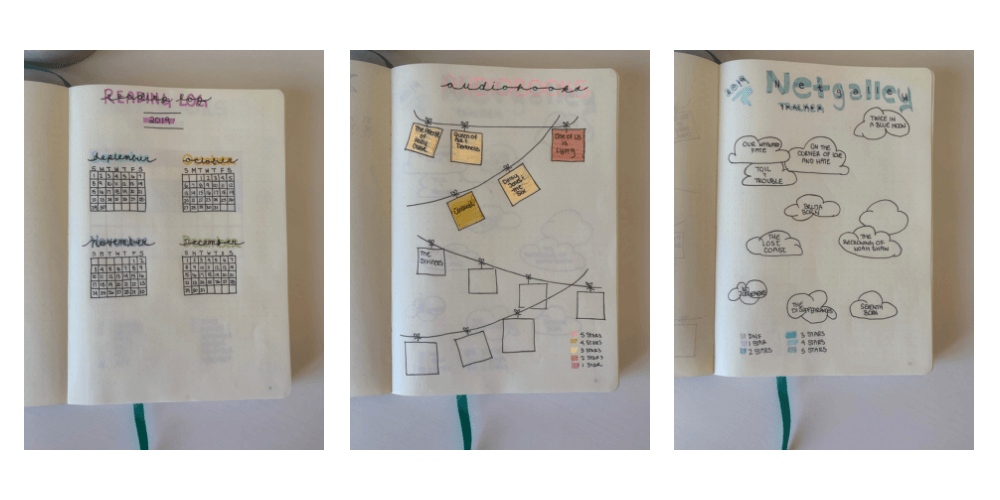 As mentioned, in the first few pages of my bullet journal, I have some reading related items that are not specific to any certain month. I have a reading log with the last few months of the year where I will color in each date based on whether I read or not, so I can track how many days on average I am reading. I then have a page where I track what audiobooks I have listened too (and the rating I gave them) since listening to more audiobooks is something I am trying to make more of a priority this year. I also have a Netgalley tracker with all of my outstanding titles (the clouds are not my best work but it was the very first spread I did).
I also have a tracker for the amount of books I read to hit my annual Goodreads goal and each color is a different month (the grid is actually for 70 books because that was what my initial plan was but I have since changed my goal to 60 books). I have a page where I'm simply tracking all of the books I read, the date I finished them and the star rating (as a quick place to jot down so I can then update my spreadsheets and Goodreads accordingly). I then move into my monthly spread, which has a page where I track the number of physical or ebook pages I read each day (still haven't really found a way to count audiobooks in this)!
To close out the month, I have this summary page I made that lets me keep track of how many blogs posts I wrote/posted, the reviews I need to write, and the ARCs I have due for that month. As you can see there are still some things I'm not tracking in here yet, such as TBR books and new releases (those are being tracked in my Always Fully Booked planner). In addition to these bookish monthly spreads, I also have several personal spreads including the following: habit tracker, sleep tracker, mood tracker, and a few others.
What's Next
I'm really not very far into my bujo journey, but I would love to continue with it for the foreseeable future. I was always nervous to start because I'm not the most artistic or creative person, but I've actually found making the spreads to be VERY relaxing. I'll put on an audiobook in the background and search Pinterest for layout and spread ideas, and I'm starting to work on my doodling too so my pages are fun to look at! I loosely and unintentionally tried to do a space theme for September, and I'm going to try and do a pumpkin/Haloween theme for October!
Let's Chat!
Do you bullet journal? Do you have any pen/marker/highlighter recommendations? Where do you go for layout inspiration? Do you also use a traditional planner as well? Let me know in the comments!
Related Posts