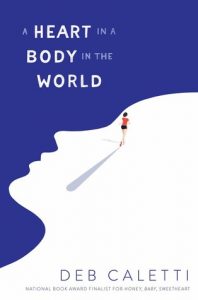 A Heart in a Body in the World
by
Deb Caletti
Also by this author:
Girl, Unframed
,
One Great Lie
,
The Epic Story of Every Living Thing
Published by
Simon Pulse
on September 18, 2018
Genres:
Contemporary
,
Tough Topics
,
Young Adult
Pages:
358 •
Format:
ARC
•
Source:
YALLWest
Goodreads
When everything has been taken from you, what else is there to do but run?

So that's what Annabelle does—she runs from Seattle to Washington, DC, through mountain passes and suburban landscapes, from long lonely roads to college towns. She's not ready to think about the why yet, just the how—muscles burning, heart pumping, feet pounding the earth. But no matter how hard she tries, she can't outrun the tragedy from the past year, or the person—The Taker—that haunts her.

Followed by Grandpa Ed in his RV and backed by her brother and two friends (her self-appointed publicity team), Annabelle becomes a reluctant activist as people connect her journey to the trauma from her past. Her cross-country run gains media attention and she is cheered on as she crosses state borders, and is even thrown a block party and given gifts. The support would be nice, if Annabelle could escape the guilt and the shame from what happened back home. They say it isn't her fault, but she can't feel the truth of that.

Through welcome and unwelcome distractions, she just keeps running, to the destination that awaits her. There, she'll finally face what lies behind her—the miles and love and loss…and what is to come.
As the year comes to a close, my biggest question of 2018 is: How is it that everyone isn't raving about this book? A Heart in a Body in a World snuck up on me and is quite possibly my favorite book of 2018. The novel is heartbreak and activism and politics and grief all wrapped up in a story that manages to capture a tragedy in such a deeply visceral and personal way that the media and news cannot.
The novel follows Annabelle, a teenager who has suffered a terrible tragedy and decides to run from Seattle to Washington DC, for no other reason than to try to orient herself in the face of the tragedy's aftermath. What starts off as a desperate, solo attempt at a seemingly insurmountable feat slowly transforms into a campaign for action, a symbol for hope, as Annabelle runs 16 miles a day for months and months and months, coming to terms with not only what happened to her, but coming to terms with the fact that the tragedy is larger than herself and both it and her actions have the power to send a nationwide message.
Told in the third person present tense, A Heart in a Body in a World has a sense of urgency in its tone, and from the start the anxiety that plagues Annabelle is tangible. The novel starts in the middle of Annabelle's story- after the tragedy has occurred, but before she has really dealt with or come to terms with the aftermath. While it can initially feel disorienting to be dropped into Annabelle's world this way, it allows readers to slowly peel back the layers of her character by moving forward and backward at the same time- with every mile she runs, with every foot forward and new city, county, state she runs through, more bits and pieces from the past slip through.
While I don't want to disclose the exact nature of the tragedy that Annabelle has suffered so as not to spoil and integral part of the story (and the slow realization that readers will have of what happened is a powerful one), the book does focus a lot on what it means to be a woman in today's society, and the societal pressures, rules and unspoken "guidelines" that we feel as though we have to follow even if it constantly puts us in danger. It's so crazily counter intuitive when you think about it, how we push down our discomfort for the sake of being polite, how we push ourselves to feel or care to ensure we're putting other people first even when it harms ourselves- Annabelle's story will make readers scrutinize the reasons and ramifications of these problematic societal expectations in a way that's subtle and slowly built until it spirals into a true (although sadly not necessarily uncommon) tragedy.
Despite her best attempts, Annabelle doesn't live in an isolated vacuum during her journey, and what begins as reluctant support from her family morphs into the rallying support of women across the nation. Her Grandpa follows her every mile of the way in his RV, providing meals and safety to sleep every night. Her brother and close friends serve as a self appointed PR team and share Annabelle's journey on social media even when she doesn't realize the important of what she's doing. Her anxious, over protective mother rotates between frustration, fear and support but there's never doubting her deep core of love for Annabelle. Deb Caletti writes a family and support system that is flawed and yet exactly what Annabelle needs, a close community around her that is also still reeling from the tragedy that befell Annabelle.
On perhaps a less profound note, I loved how Caletti created an Italian American family that was so seamless in its mixing of traditions and open about their heritage and identities. From Annabelle's musings on Catholicism (especially given her now-a-priest-father) to her Grandpa Ed's carefully prepared Italian meals for her every night after a long day of running to her family's Italian colloquial expressions and constant love-fighting, it was comforting to see Annabelle have a culture and traditions to lean into when she was spiraling, even if she didn't realize it.
I can't believe this is my first Deb Caletti novel, as not only was the plot of this novel stunning and so, so important, but the writing was incredible as well. The third person present narrative was filled with profound passages on grief, family, and womanhood without oversaturating the reader- it's one of the most quietly profound novels I've ever read with observations and insights that cut right to the heart of what they're trying to say. The messages are simple and raw and real. It's a whisper that has the power to silence a room.
Overall: A Heart in a Body in the World may look like an unassuming contemporary novel from the outside, but inside lies a story that I believe every single individual should read in the face of the rising number of violent tragedies that the world is facing today.
Related Posts