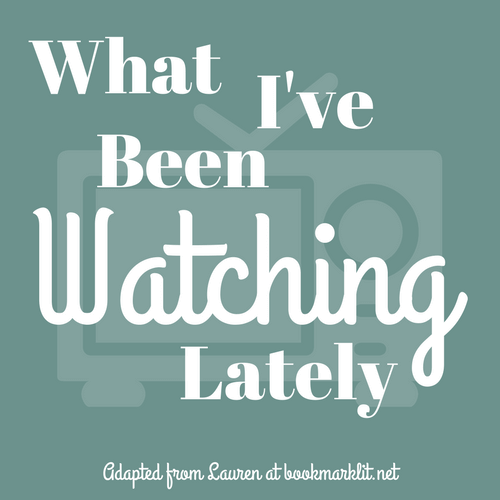 Inspired by Lauren @ Bookmarklit, I've been wanting to incorporate some more non-bookish things into my blog. Since Netflix is practically a hobby in and of itself these days, I am tagging along on her feature on showcasing what I've been watching lately!
It's been a while since I featured that I've been watching lately, and now that spring is here I thought it would be fun to feature the shows I've added to my tv rotation this season. I'm still watching the shows from my last post (Dynasty, Jane the Virgin, and Riverdale) so I'm only going to be featuring shows that I've added to my rotation since then.
TV Shows
Champions // I've never been much of sitcom person (like literally the last sitcom type show I watched with any regularity was Seinfeld in the 90s), but Max and I though the commercials for this one were hilarious and we liked the idea of having a quick, half hour show to watch on nights we get home from work late (we always like to unwind with a tv show after work). While the "dad" drives us up the freaking wall, we LOVE Michael and his hilarious pop culture references and meme-worthy quotes.
Spring Baking Championship // I am complete trash for competition cooking/baking shows (even though I really do not bake) and this season's competitors are really strong! And it's fascinating to see how they're making all of the challenges themed after total Instagram desserts (no longer can the challenge just be to make a cake, oh no, it has to be a succulent cake…) This is the best season since Season 1 and I have my fingers crossed for Cristina!
Master Chef Jr. // See above comment about my obsession with competition cooking shows. Also, these kids could cook any of the kids that show up on Food Network shows under the table.
Four Weddings // So I've mainly been watching reruns since there's like a million seasons On Demand, and I claim it's in the vein of "research" for our own wedding planning, but I LOVE how cheesy and hilarious this show can be, and Max and I have now become wedding critiquing experts from watching it. They're also releasing new episodes that focus on four brides who are friends- I've only seen one but I'm excited that they're bringing this series back!
Netflix
Chef's Table Pastry // This Netflix documentary series is SO soothing for us to watch for some reason, and really just surpasses any creativity I've ever seen done with food in real life. I feel smarter after watching it, lol. I was bummed that the new "season" they advertised is only four episodes, but we've watched two out of four so far and enjoyed them!
The Vampire Diaries // I've been having major nostalgia for the books/shows/games I enjoyed while in high school/college and have been drawn towards revisiting those things lately. I decided I wanted to binge this show again since I miss paranormal romance, and I also never saw the last two seasons, so now I can finally finish! Max is having a fun time semi-watching this with me and laughing at all of the hilarious 2008 acting and references.
Movies
Table 19 // So I'm basically at the point where I will watch ANYTHING wedding related right now, and my parents actually recommended this one to me, so we picked it up from a red box at Safeway. I actually really enjoyed it and was surprised that it ended up being ~deeper~ than we expected. It was also hilarious because in planning a wedding we've now discovered there is definitely always a Table 19, lol.
Lady Bird // Another red box rental (I'm really trying to catch up on all of the movies I've missed lately) and after all of the Oscar buzz it received we decided to give it a shot despite reservations that it was going to be a hipster fest. I had no idea it was set in Sacramento so that was sort of cool but it wasn't what we were expecting- like it was a good movie but I didn't find it exceptionally profound or innovative for a coming of age high school tale, so I was kind of surprised it's received such phenomenal reviews?
Love, Simon // This movie was perfection and SO. FUNNY. I loved everything about it but hands down was the text exchange between Simon and his mom where he sends her an SOS to pick him up from his school dance with the lie that "kids are drinking alcohol." *Insert laughing so hard I'm crying emoji* Also Simon's parents are just couple goals <3
Up Next
Marvel Binge Watching // Max is super excited about Infinity War, and I want to see it with him but my Marvel movie watching is fractured at best. After seeing and really enjoying Spiderman: Homecoming last year, I've been wanting to go back to the beginning of the Disney-Marvel collaboration and start watching the films, since I've only seen bits and pieces of most. We'll probably start with the first Captain America and go from there!
Best Baker in America // I'm not really sure how this baking show is going to differ from the others baking shows that are on Food Network right now, but Scott Conant is one of the hosts so I am 100% here for it.
I, Tonya // I've loved Margo Robbie since I saw her in Pan Am (RIP that show) and this movie looks INTENSE but so far it's always been sold out when we stop by a red box.
Are you currently watching any of these shows? Any upcoming shows that you're anxiously awaiting? Let me know in the comments!
Related Posts