This fall Max and I took our annual fall trip to Disneyland to see the Halloween decorations. Traditionally, Halloweentime at Disneyland has been our favorite time to go since the park is decked out in holiday decor but kids are back in school so it's generally much quieter than Christmastime. Unfortunately, that was NOT the case this year, as it was pretty insanely busy (we did go on a weekend, but still). Disneyland Resort has been doing a LOT to promote Halloweentime at the parks lately and it definitely shows with the increased number of guests, especially with all the enhancements they are making to the resort (Star Wars Land, Pixar Pier, etc.). However, Max and I made the most of our 48 hour trip and managed to score some highly coveted merchandise as well as some of our favorite rides.
Also, I should have posted this sooner consider it's now past Halloween and we went in September, but better late than never right? (It's the one and only fall trip we do every year because fall is my busy season at work, so I haven't been able t really recap our trip until now!)
Day 1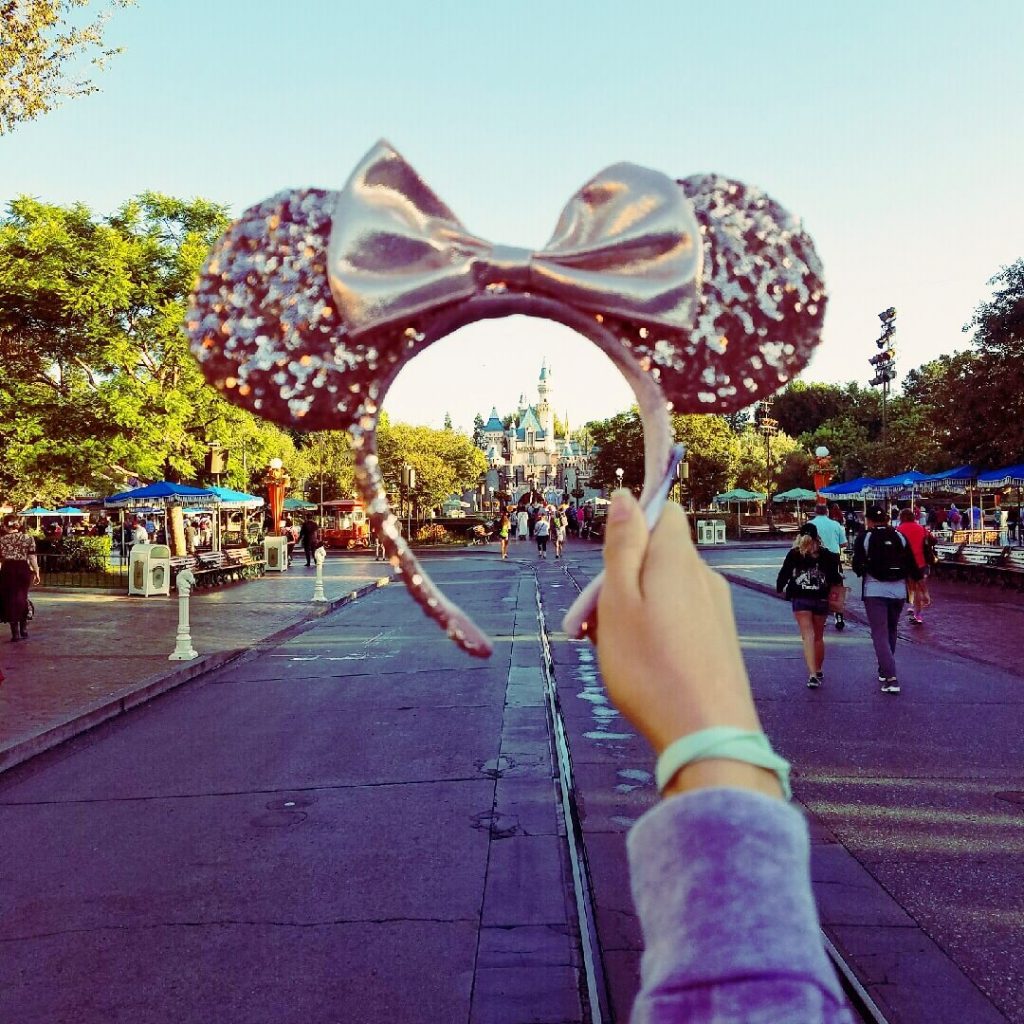 We left around 6am on Saturday morning to drive down to Anaheim, and arrived in the park around 3pm. It. Was. Madness. Even though we stayed in the park well past dinnertime, we literally did not get on a single ride. This was partially because the lines were insane (we couldn't find anything shorter than 40-6o minutes) but also because we've been spoiled being Annual Passholders for so many years and been on the rides so many times that we're not really willing to wait more than 15-20 minutes maximum for a ride (spoiled, I know). We instead focused on finding and buying all of our highly coveted Halloween Disney merchandise.
The first purchase were the now infamous Rose Gold Minnie Ears. I was DETERMINED to get them, and I was in luck because they had been sold out but had received a shipment that day. They held them behind the counter in the Emporium on Main Street and I had to stand in a special line to buy them. I also picked up a new pair of Minnie ears that were red with silvery-white polka dots and a black bow on the side. I wanted to get the orange and black Halloween ears but they were unfortunately sold out, but considering I got the Rose Gold ears I wasn't too disappointed.
We were also able to pick up the poison apple stein (we bought it from our favorite snack kiosk that's in the back area of Fantasyland where near the passage to Frontierland begins. We always stop there to get a frozen apple juice slushie). It's served us well as a wonderfully unique Halloween decoration. As we walked through Frontierland we also checked out what will eventually be the entrance to Star Wars Land, which featured some cool concept art! We also picked up the newest Starbucks Disney mug from the "You Are Here" collection (I had the older one and the CA Adventure one already) and then started on our journey to find the exclusive, Annual Passholder only Oogie Boogie Popcorn Bucket.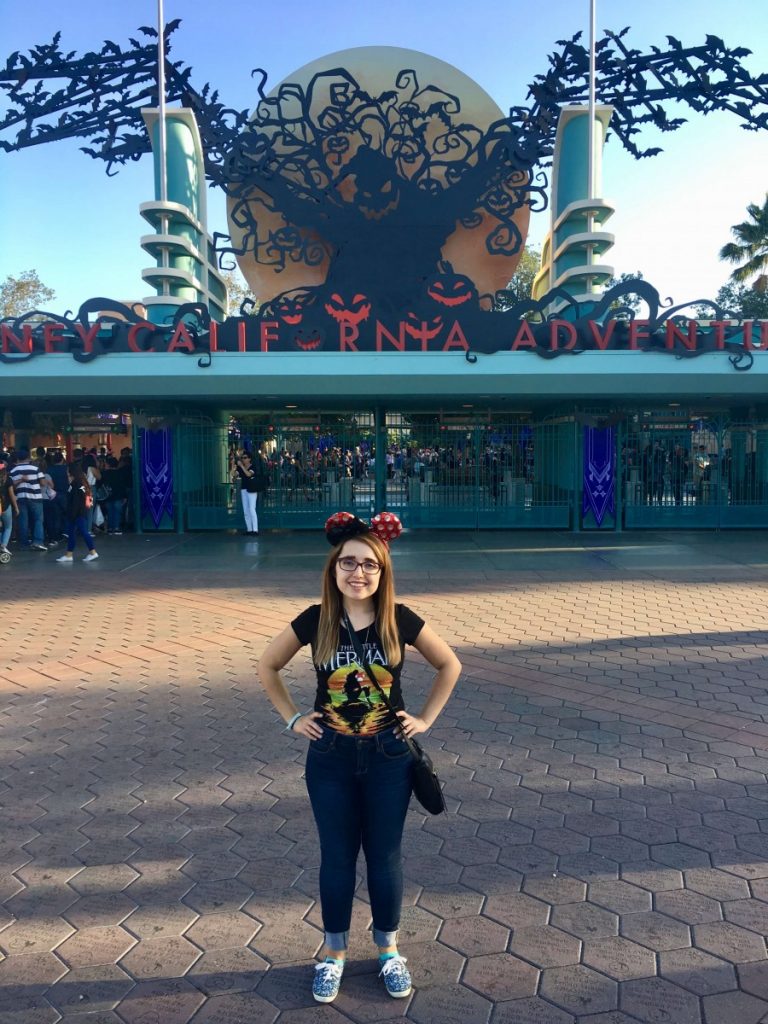 Let me tell you, the hunt for that popcorn bucket was wild. Not all of the popcorn stands had them, so we headed to New Orleans Square thinking for sure the one next to the Haunted Mansion would have it for sale. So we walk over there and see a MASSIVE line for what we assumed was Haunted Mansion…but it was actually for the popcorn stand. It was an HOUR wait to buy popcorn because everyone was there to buy the Oogie Boogie Popcorn Bucket but we were like no way are we standing in that line. So we decided to call Disneyland a wash for the day (there were so, so many people there) and decided to head over to California Adventure. CA Adventure is generally less crowded than Disneyland, so it's our go to when the main park gets too crowded, and we were also excited to see how they decorated for Halloween (since they usually don't decorate that park).
We were impressed to see that the park was pretty decked out, with a purple and bat color scheme as opposed to Disneyland's pumpkin and orange theme. We headed to Paradise Pier Boardwalk on a whim and found the Oogie Boogie Popcorn Bucket at the popcorn stand near the ferris wheel. It was a totally random find but the line was only 10 people or so deep, so we quickly jumped in and purchased one.
Literally this popcorn bucket was SUCH a big deal that we had to keep an eye on it AT ALL TIMES because we constantly had people frantically coming up to us to ask us where we got it. I think it's Max's proudest Disney purchase to date.
Day 2
After acquiring the holy grail tier popcorn bucket, we decided to call it a night and went to check in to our hotel and have dinner at the Cheesecake factory. We then proceeded to head to bed so we could be ready to wake up by 6am at the lastest to ensure we got to the park before it opened. We arrived around 7:30am (about an hour before opening) and they were letting guests into Main Street but holding us in the main circular area where the entrances to the lands are until 8am. At 8am on the dot, Max and I headed back to New Orleans square to get on Haunted Mansion Holiday.
We then hit some other big rides before the park started to get crowded for the day (Matterhorn, Small World, etc.) and grabbed pastries from the Jolly Holiday for Breakfast. We also had some fun character sightings and snapped a quick pick with the Mad Hatter near the castle.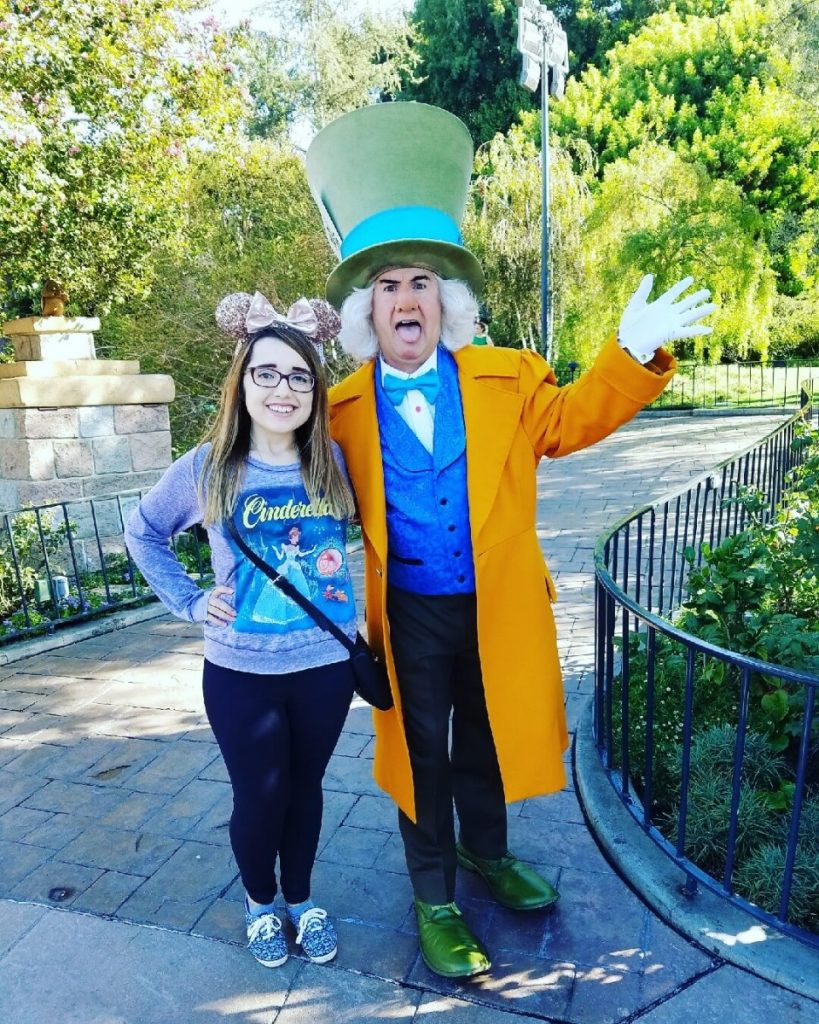 While it was still morning, we left the park to head over the CA adventure to snag fast passes to Radiator Springs Racers (seriously you have to get those fast passes ASAP because they're gone for the day well before lunch time). We also hit the Little Mermaid and checked out Cars Land, which was where the Halloween decorations were really concentrated.
We then headed back over to Disneyland to grab lunch at our current favorite spot, Bengal Barbeque! It recently went through a bit of a revamp, and now has an expanded menu and indoor seating IN THE SHADE (there only used to be a few outdoor tables which were always in intense afternoon sunlight. Max and I split one of the new combo plate options since we had super early dinner reservations in Downtown Disney and didn't want to spoil our appetites.
After lunch the park was pretty packed again so we did what we refer to as some good old fashioned character hunting (basically we run around the park trying to find new to us or rare characters to get photos with).
We then headed to Downtown Disney to meet up with one of my best friends who lives locally in the area, and enjoyed some much needed downtime in the shade at Starbucks. Afterwards we headed to Tortilla Joes and had a belated anniversary dinner followed by some shopping, before heading back into the park for some evening activities (riding the train, fireworks, ice cream, etc.). It was also our last time in the parks for the foreseeable future, as our Annual Passes have expired. We'll see how long we last before going through Disney withdrawals! (Fact: Not long, as I'm already mourning not going for the winter holiday season this year!)
Have you visited the Disneyland Resort during Halloween? Disneyworld? What's the coolest Disney swag you've been able to get from the parks? What's your favorite time to visit the parks? Let me know in the comments!
Related Posts