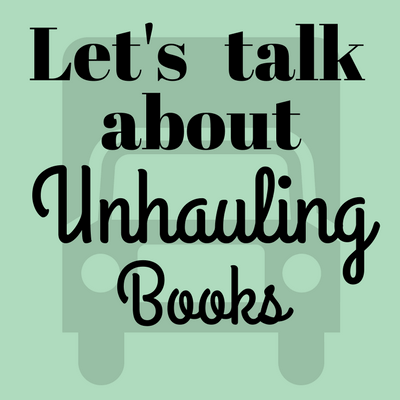 Every time I move it's brought to my attention just how many books I own. Compared to a lot of other bloggers, it's probably not that many, but packing and unpacking them always leaves me feeling like they've multiplied. Now don't get me wrong, I LOVE all of my books, and don't in any way think I own too many. However, many of my books have sat in boxes for years because I don't have enough shelf space for them. My current shelf situation consists of two large Ikea Hemnes shelves and two smaller bookcases that are more for decorative purposes (you know, where you put your fancy editions and teacups to display).
Now, I don't want to get rid of a ton of books, but I'm definitely trying to unhaul books that I know I won't read again or didn't like and really want to curate a library of just my favorites. Last year I got rid of a good 15-20 books (once I really didn't like or KNEW I wasn't going to read). I'm finishing unpacking my books from my last move since Max just built my second bookshelf, but I'm quickly realizing that there's still not going to be enough room for my whole collection. I've filled the new book case about half way, but I'm still stuck on what to fill the bottom two shelves with since I know I'm working with limited space. Some of the books that haven't made the cut will have to be packed away again, but it leaves me questioning if I should hold onto those books are not. Most of them are books that were really formative during my teen years (especially when the YA genre wasn't as expansive and didn't have as many options) but I'm not sure how I'd feel about them now if I read them.
Books I'm On the Fence About Keeping:
House of Night Series
Evermore Series
Jodi Picoult Collection
These books were all hugely important to me as a teenager and I really enjoyed them, however they're not currently fitting into the "designated" shelves for their genre (I shelve by genre and then alphabetically by author). I can always wait until I get MORE shelves, but I'm wondering how I'll still feel about them at this age…
A Work in Progress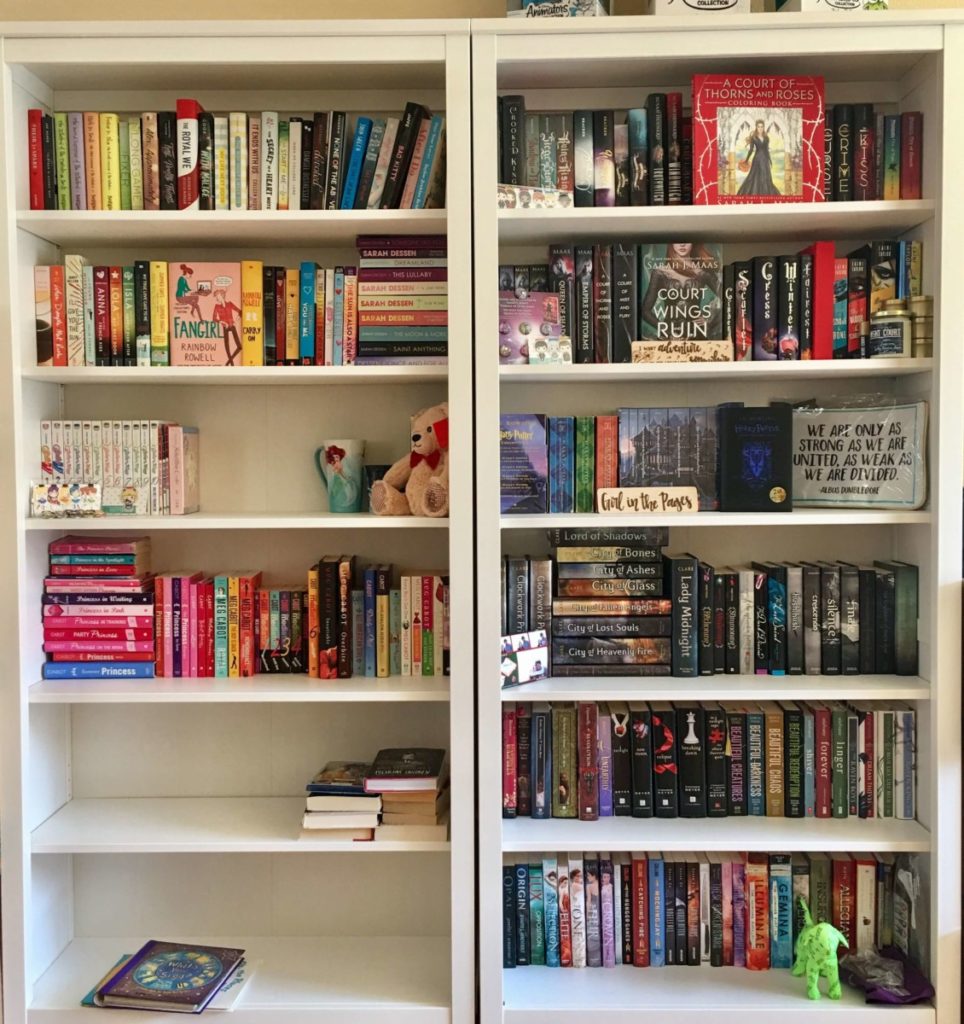 As you can see, my shelves are currently a work in progress. On the right, from top to bottom, I have my two fantasy shelves, my Harry Potter shelf, my two paranormal/urban fantasy shelves, and on the bottom my dystopian/sci fi shelf. To the left, I have my two contemporary shelves, my Sailor Moon shelf, and my Meg Cabot shelf (yes, she get's a shelf all to herself lol). The last two shelves have still not been designated for certain books, though I have plentyyyy of potential books to put on them (I'm thinking of either putting my unread books/TBR on them, my childhood books, historical fiction books, or my earlier contemporary books- Gossip Girl, A-List, etc.) I also hate to double shelve books (you know, when you have books shelved two-deep) because it makes it hard to see your collection.
Let's Discuss!
When you get new bookshelves, does it ever make you feel like unhauling books (especially if they don't fit on certain shelves?) What's your method of deciding what books to get rid of? Do you ever have "unhauling remorse" and wish you hadn't given a certain book away? Do you have books packed away in storage, or are you able to display your entire collection? Let's chat in the comments!
Related Posts