I've made a lot of reading resolutions, and one of them is to be better about cultivating a monthly TBR. I know so many bloggers do beginning of the month TBR posts and I always LOVE reading them, so I've decided to post my own as well! I will include my physical, e-book, and ARC TBRs as well as a status update of where I am prior to starting my upcoming month's TBR.
Reading Progress Prior To This Month: 17/80 Books Read
I've started the year off strong, with 9 books read in January and 8 books read in February! I'm hoping I can keep the momentum going and hit 25 by the end of the first quarter of 2018, which would amount to another 8 books in March, which I'm hoping should be doable (as long as wedding stuff doesn't get in the way!) March actually isn't a month where a lot of highly anticipated reads are coming out for me, so I'm hoping to mainly catch up on review copies and some backlist books I own!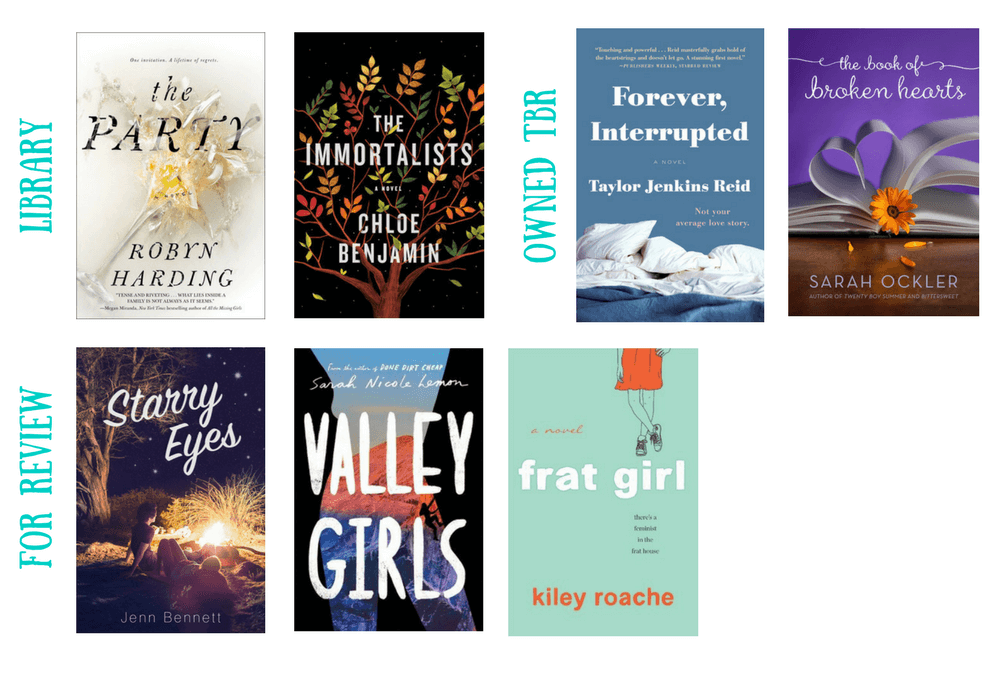 Library
The Party // I saw this on Lauren's recent On My List post where she highlighted some mysteries she wants to try, and this one set in San Francisco seems intriguing (plus I'm a sucker for books set in California). Also, let's be real like 70% of my TBR comes from Lauren's blog lol.
The Immortalists // I've seen a lot of buzz about this one but I'll be honest I haven't really read the whole synopsis (I have an extremely short attention span when it comes to reading a synopsis). Although I'm curious because I thought this was YA but I recently saw it shelved in the Adult section at a bookstore??? The cover is gorgeous so points for that already!
For Review
Valley Girls // I fell in love with Sarah Nicole Lemon's debut last year Done Dirt Cheap (which I also read early!) so I'm really excited for this one! Definitely hoping it has the gritty contemporary/almost NA vibe of her first book.
Starry Eyes // Literally squealed when I was approved on NetGalley for the next Bennet book after loving Alex, Approximately. Simon & Schuster is made up of benevolent, book-bestowing goddesses. —-> Carry over from last month! (And Lauren and I will be reading for Book Buddies!)
Frat Girl // Also set in California with an intriguing concept- a college girl goes "undercover" in a frat house. I have mixed feelings about this one (I've already started it) because while it seems to have some great feminist themes, I'm also scared it's going to show a very stereotypical, negative portrayal of Greek life which always angers me as a former and proud member of a school with a super positive and inclusive Greek system.
Owned TBR
Forever, Interrupted // I started this book about a year ago and never finished, and I believe it's the only TJR book I haven't read yet! So I figured February was the perfect time for a melancholy love story read? —-> Carry over from last month!
The Book of Broken Hearts // I've had so-so luck with Sarah Ockler books, so hopefully fourth time is the charm! I have heard pretty amazing things about this one, and it's been a while since I've read a swoony YA contemporary romance so fingers crossed!
Are any of these on your TBR? What's your most anticipated book for March? Let me know in the comments!
Related Posts