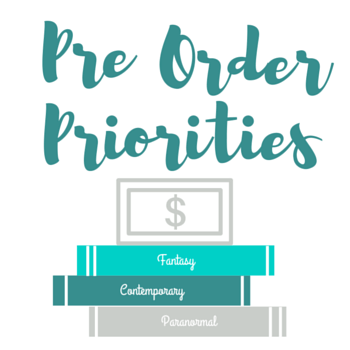 Pre-Order Priorities is a feature that highlights all of the books that I've recently pre-ordered and am anxiously awaiting to arrive at my door!
Release Date: August 2nd, 2016
I haven't read a Colleen Hoover book yet, but there's something about the buzz surrounding this one and the cover is really visually pleasing to me, so I decided to take a risk and pre-order it!
Release Date: September 6th, 2016
I don't think anything really needs to be said about this one. ROWAN+AELINE 4 LYFE.
Release Date: October 4th, 2016
I missed this one at YALLWest, but I've heard great rave reviews and am excited to check it out!
Release Date: October 18th, 2016
Be still my heart, Meg Cabot is one of my all time favorite writers so you can bet I'll be reading this one ASAP.
Have you pre-ordered any of the above upcoming releases? Do you ever pre-order, or do you generally wait for the release dates for books? What will convince you to pre-order a book? Tell me in the comments!
Related Posts