Harry Potter Moment of the Week is a weekly meme hosted by Uncorked Thoughts, and is a fantastic way to keep the Harry Potter magic alive year round, even when not reading the books! I'm so excited to be participating!
The Theme This Week: Best "Dumbledore Moment"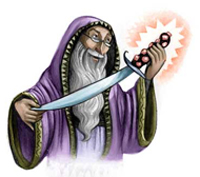 Ah, Dumbledore. Hands down one of my favorite characters in the series, though my opinion of him shifted slightly after Deathly Hallows and learning how he had raised Harry to essentially sacrifice himself (even if there was a hope of resurrection). Nevertheless, I continue to adore his character and my favorite moments featuring his character are not his benevolent or whimsical ones, but the rare ones in which he acknowledges his vast capability for extreme (and possibly unmatched) power. We see this side of him so rarely (probably because after the whole Grindelwald incident he says he realized he could not be trusted with power- "For the greater good" and all that) but I do love when it comes out.
My favorite instance of Dumbledore acting like this comes from Harry Potter and the Order of the Phoenix, when Fudge tries to arrest Dumbledore after finding out about Dumbledore's Army:
"Well- it's just that you seem to be laboring under the delusion that I am going to what is the phrase? 'Come quietly.' I am afraid I am not going to come quietly at all, Cornelius. I have absolutely no intention of being sent to Azkaban. I could break out, of course- but what a waste of time, and frankly I can think of a whole host of things I would rather be doing." (620)
 Isn't he just too cool?
"You know, Minister, I disagree with Dumbledore on many counts…but you cannot deny he's got style…"
What's your favorite Dumbledore moment? Let me know in the comments!
Related Posts