I've been an avid lover of makeup for most of my teen/adult life, and it's probably the hobby that I love/indulge in the most aside from books! I usually wait until the end of the year to do most of my cosmetic shopping since there are SO many sales (we literally have a section in our house that we use just for my beauty purchases this time of year, oops!) and this year I definitely indulged in Colourpop! Colourpop is a brand that has so many wonderful things going for it: great quality, drugstore-type pricing, and it's all made in the USA. I have consistently had positive experiences purchasing from them and after unhauling a LOT of old makeup that I really needed to let go of last year I've been replacing a lot of things with Colourpop products. This year for their Black Friday sale they had 30% most of their site (including their holiday vaults) so I definitely took advantage!
Eyeshadow Palletes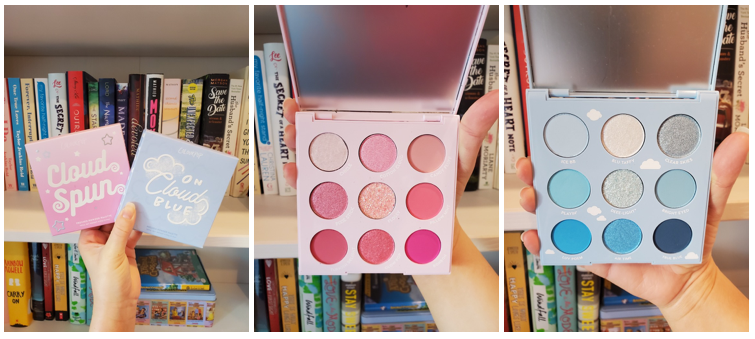 These were DEFINITELY impulse purchases (I love how cute the theme is) and their nine pan palettes are such a great deal and I love the monochromatic color stories. It also helps that you don't have to invest a ton of money if you want to try out a certain color of eyeshadow.
Cloud Spun: Pale pink color story (note the center pan is a pressed glitter which is not eye safe).
On Cloud Blue: Pale blue color story (note the center pan is a pressed glitter which is not eye safe).
Holiday Vaults
Like a Charm Cremé Gel Liner Vault:  This neutral toned eyeliner vault is a great way to try out a bunch of colors and practice my eyeliner skills (I want to get better at wings and doing them in different colors).
No Filter Concealer: With the Black Friday discount I got this for under $5!!! I've heard this is a dupe for Tarte's Shape Tape Concealer (which is much more expensive but definitely a holy grail product). I'm a little nervous about picking a shade online without the option to swatch in person (I typically like my concealer to be a little lighter than my skin tone so I can use it for brightening under the eye).
Must-Have Stash Lippie Pencil Cup: I've heard great things about Colourpop's lip liner formula and there's every color I will probably ever need in this vault! It also comes in a really nice case that I have displayed. It also contains a lot of their super popular lippie stix colors that are no longer available to purchase individuals (mainly the BFF liner line).
Have you ever tried Colourpop? Did you splurge on any Black Friday beauty purchases? Are you interested in seeing swatches/reviews of any of these items? Let me know in the comments!
Related Posts