The Winner's Kiss (The Winner's Trilogy, #3)
by
Marie Rutkoski
Also by this author:
The Winner's Curse
,
The Winner's Crime (The Winner's Trilogy, #2)
Published by
Farrar
on March 29th 2016
Pages:
496 •
Goodreads

War has begun. Arin is in the thick of it with untrustworthy new allies and the empire as his enemy. Though he has convinced himself that he no longer loves Kestrel, Arin hasn't forgotten her, or how she became exactly the kind of person he has always despised. She cared more for the empire than she did for the lives of innocent people—and certainly more than she did for him.At least, that's what he thinks.
In the frozen north, Kestrel is a prisoner in a brutal work camp. As she searches desperately for a way to escape, she wishes Arin could know what she sacrificed for him. She wishes she could make the empire pay for what they've done to her. But no one gets what they want just by wishing.
As the war intensifies, both Kestrel and Arin discover that the world is changing. The East is pitted against the West, and they are caught in between. With so much to lose, can anybody really win?
"You don't need to be gifted with a blade. You are your own best weapon."
I really, really hate to be the black sheep regarding this book. The prose, as expected from Rutkoski, is gorgeous and vivid and exists in its own level of perfection. The novel has a strong beginning and compelling ending, and many long awaited outcomes finally come to fruition. However, I once I strip away the enchanting writing style and my love for Kestrel and Arin, I can't overlook the fact that this book, like it's predecessor The Winner's Crime, really slowed for me and lost my interest in the middle.
The Winner's Kiss picks up immediately where The Winner's Crime left off, with Kestrel being betrayed by her father and sent to a horrific work camp where your body labors but your spirit is killed thoroughly. I really felt for Kestrel's situation, as it was difficult to watch a character who's so known for her sharp mind and skilled wit as her greatest weapons be stripped of those qualities. When her and Arin are reunited, it's extremely compelling to see the emotional and mental damage afflicted and rebuilding Kestrel must do, which I believe is essential for her to move forward with supporting the Herrani, as she must relearn the aspects of her own Valorian past and now views them with a very, very different lens. I love that Kestrel is able to critically analyze her privilege. I love that she's still fierce to her core even when she's broken and vulnerable and two breaths away from death. I love that her and Arin's relationship is so fractured and must be rebuilt from the slave-master relationship. Kestrel will always hold such a special place in my heart as a protagonist.
Kestrel and Arin's relationship obviously undergoes large developments in this novel, as the title (kiss) implies. Due to the aforementioned trauma suffered by Kestrel, there's a tactical and meaningful rebuilding and redefining of their relationship, which I deeply appreciated as a reader. It was also nice to see Arin in a light that wasn't so bitter and angry, and to see him in true role as a Herrani leader and noble. The entire story really showcases the Herrani culture's strength and brightness as they are no longer living as slaves and instead fighting with a tenacity and sometimes blind faith in spite of their size and numbers. It's inspiring, to be sure, and something that's been writhing under the surface to break free ever since readers are introduced to the beautiful, broken culture in The Winner's Curse.
However, I found that I really had to push myself to read through the middle of the book. Though I enjoyed the political intrigue, I became bored by the movements of the war camp, the constant brooding of Arin, and the frustrating build up until the final confrontation with Kestrel's father's army. While there was comic relief provided in the form of Roshar (a brilliant character to add levity to a narrative that can be overwhelmed by Arin's angst and Kestrel's intensity), it wasn't enough to alleviate the boredom I encountered in the middle of the book. This book also seems to lack dialogue to me, as there were many instances where a character "told" someone else what happened (as in we're just told that Arin told Kestrel about a memory, rather than hearing the actual dialogue). For some reasons those instances really stood out to me and were enough to bother me in a mild, pet-peevish sort of way.
Overall: The Winner's Kiss features an action backed opening and closing, with heartbreak, romance, cunning, and grief all narrated by Rutkoski's elegant prose style. Kestrel and Arin are a YA couple that is not going to be forgotten anytime soon. However, the pacing of this series suffered for me in its last two installments, never quite capturing the earnest, must-read frenzy that the first novel in The Winner's Trilogy did. There's no doubt that this book has many great and compelling attributes, but I personally could have done with a lot of condensing in the middle. A solid overall series that I'm glad I continued despite some hesitation on my part during the slow parts.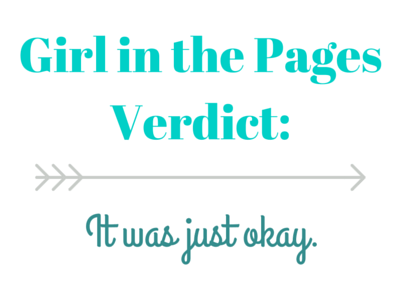 Reading this book contributed to these challenges:
Goodreads Challenge
Rock My TBR 2016
Related Posts