In an effort to integrate more variety into my blog and talk about things I love outside of books, I'm starting this feature to showcase non-bookish travel destinations, shops, and venues I love, from local to out of state.
What's high on every bookworm's preferred beverage list? Tea, of course! So when I was able to attend a holiday party on a random Tuesday in December I knew I had to document it for the blog. Now, I'm not a complete stranger to high tea- I've been in London at BB Bakery and in Walt Disney World at the Grand Floridian. Both times were unique and amazing in their own way, and I think high tea can be a great alternative to a traditional lunch or happy hour (seriously, there are so. many. happy hour invitations when you become an adult, so it's nice to have some variety when you want to gather with friends and still eat and drink!) So I bundled up against the ~cold~ San Francisco weather (low 60s, thank you very much) and spent an enchanting afternoon at The Crown and Crumpet Tea Stop Café.
The Crown & Crumpet's website is fun, colorful, and sassy, which was the perfect embodiment of the venue itself. Originally located in Ghiradelli square, the Café moved to Japantown a few years ago. It's now located in the lobby of one of the buildings with a private party room, which is where we were at. It was utterly adorable, decked out in pastels and knickknacks and really helped us get into the high tea atmosphere.
Since we were close to the holidays, our high tea service had a bit of Christmas cheer included, such as the Christmas crackers that you can see at each place setting. I remembered reading about them in Harry Potter and that they had small goodies inside when you opened them. After a bit of anxiety yanking them open (I hate when things pop out at me) they each had a small trinket, a joke, and a paper crown. The employees informed us that these crowns are worn as party hats in Britain during the holidays and I was ALL ABOUT IT (there's not many socially acceptable times to wear a crown and I am a firm believer in taking advantage of each and every one of them).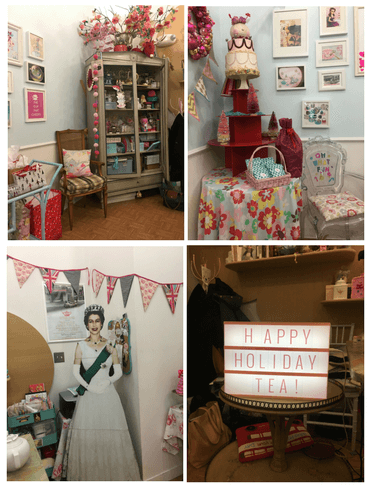 After Christmas crackers, we selected our teas (they had really fun names like "Paris" and "Alice") and we had the standard high tea service, including sandwiches and savory items, crumpets and scones with jam and clotted cream, and pastries, which were super colorful and holiday themed! After eating we did our customary team white elephant (although we bring good gifts and not troll gifts no one will ever use) and of course my perfect gift from my work bestie got stolen (seriously white elephants get really stressful with the stealing- next year I'm voting we do Secret Santa instead!). After we finished the gift exchange we still lingered for quite a while, as there was just so much to see, I discovered something new every time I looked around the room! I was personally a fan of the Queen Elizabeth II cut out, as I was eagerly anticipating season two of The Crown (which I have since binge watched and it was amazing!)
Eventually we all trickled out and began out separate journeys home, but it was the perfect afternoon to spend with coworkers doing something a little different and exploring a new element of the city! Sometimes its easy to forget to check out and take advantage of all of the things right in your city's backyard, and this experience has reignited my drive to start exploring more experiences and venues local to me!
(Also, I totally wore my crown the entire time and forgot to take it off until I got home. I'm sure my fellow commuters on the train got a kick out of it).
Have you ever had high tea? In London or the US? Have you explored any places in your city recently that you can't believe you hadn't gotten around to before? What are your favorite spots in San Francisco? Let me know in the comments!
Related Posts