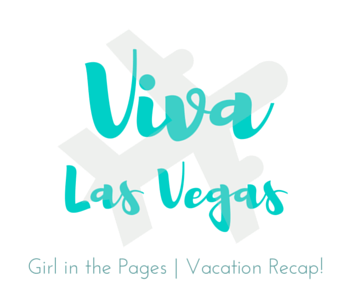 I've always thought of July as marking the midpoint of the summer season. Once the 4th hits, the summer is firmly in swing and warm days and hot evenings give me the travel bug. Every year I try to do a mid-summer vacation somewhere I've never been to or haven't been to in a while. This year Max and I chose to head to Las Vegas for a quick mid-summer vacation.
Day 1
We arrived in Vegas Tuesday afternoon and checked into the Bellagio, my favorite hotel to stay at on the Strip (it's beautiful, classy, has great pools and the Casino is tucked away which is nice if that's not your thing). It was my third time to Vegas and Max's first, so we checked into the room and decided to head out and explore. Wanting a meal we were familiar with for our first night, we headed to the New York and ate at one of our favorite Italian restaurants, Il Fornaio. After dinner, we went to the M&M world store (I love all of the crazy colors you can buy!) and I may or may not have bought a bag full of different colored blue and aqua M&M's…>.>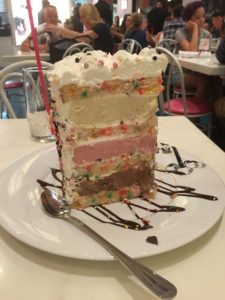 Afterwards we went back to the middle of the strip to Caesar's and went to Serendipity 3 for dessert, where Max was insistent on trying the Party Like It's Your Birthday Cake (layers of confetti cake and ice cream) that he had been craving ever since he saw Duff Goldman recommend it on the Food Network show Guilty Pleasures. We then proceeded to explore some of the shops at Caesar's (it's seriously so massive) and start making a list of things we wanted to accomplish over the next few days. We were also able to catch one of the famous fountain shows at the Bellagio!  After traveling and, truth be told, ingesting all of that food (I pretty much ate my way through Vegas) we were ready to head to bed to prepare for our next two whirlwind days.
Day 2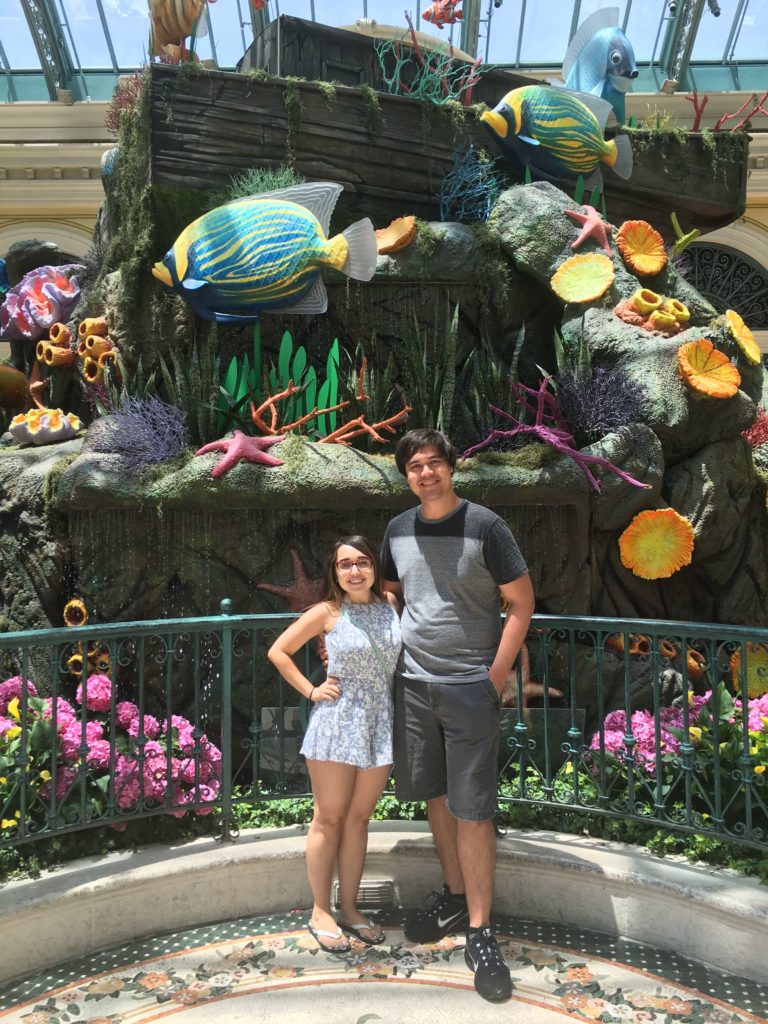 Wednesday morning our first order of business was to hit the pool before the dessert heat got too intense for the day! We found lounge chairs by the main pool and read our respective books for an hour or so (I was reading The Fixer and Max was reading This Savage Song). When the temperture started to creep past 100 degrees F around 10am, we ventured back inside to have a late breakfast and check out the Bellagio's famous indoor garden. It's decoarted differently every season and themed to match, and tourists visit from all of the other hotels to see it. This summer featured a tropical, underwater theme, with amazing shrubbery themed to look like whales, mermaids, and divers, a faux shipwreck, and a aquarium "tunnel" that you could walk through full of tropical fish. It really reminded me of something almost out of a Disney park!
The rest of the early afternoon was spent exploring the strip some more, and then we returned back to the hotel room to get ready for the main event of our trip- Britney Spear's Piece of Me show. I am a huge Britney fan and loved seeing her on her Femme Fatale tour back in 2011, and ever since she announced her residency in Vegas I knew I had to see her. We set out to the Planet Hollywood where her show is, but first stopped for dinner at Gordon Ramsay's restaurant, BURGR. Let me tell you, I had the best milkshake of my LIFE there (cookies and creme shake topped with creme brulle pudding and whipped cream…heaven). I had a salad and Max had a burger and we split an order of basic fries and we can both safely say it's one of the best meals we've eaten. We're also huge Gordon Ramsay fans so it was awesome to finally get to eat in one of his restaurants!
Britney was fantastic, and thanks to the small size of the venue I had seats that were fairly close to the stage considering we didn't splurge on premium tickets or anything. I got overly excited when my tweet was displayed on stage before the show started and pretty much spent the whole show out of my seat dancing (Max was a really good sport about being dragged along to this!) It's definitely a show I would see again…I loved the remixed versions she did of many of her popular songs, especially Toxic!
Day 3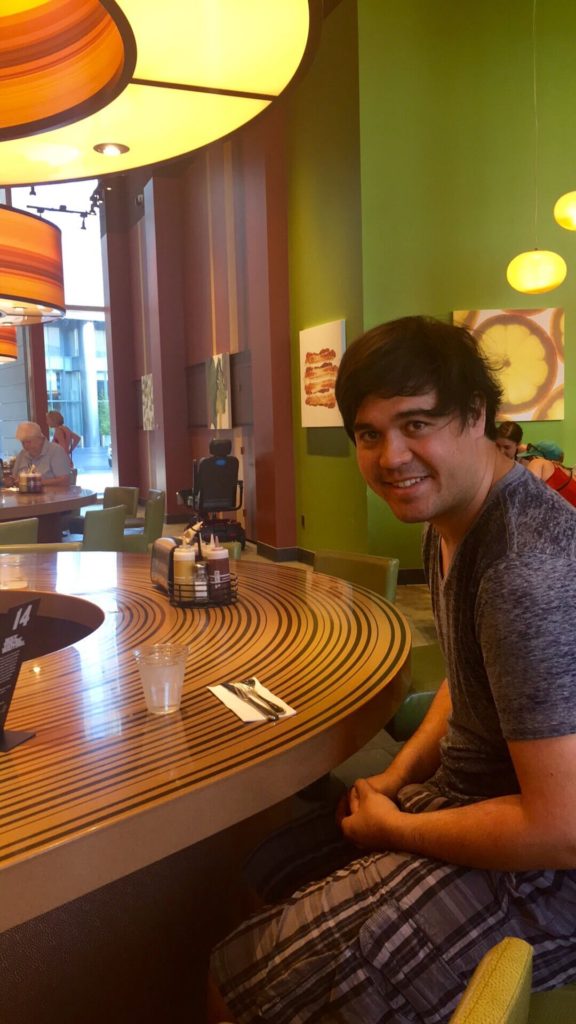 Our third and final day was jam-packed with all of the things we wanted to ensure we got done before we left! We started bright and early by taking an Uber out to Mandalay Bay (it's one of the furthest hotels on the Strip) and checking out their aquarium and Shark Reef. We fell in love withe the palatial hotel with it's island feel and incredible water park and decided it's definitely a resort we'd like to stay at in the future. We then headed to Bobby Flay's Burger Palace for lunch and I had the first and most amazing onions rings of my life (I know, I know, I'm not sure how I managed to avoid having an onion ring for almost two decades). We then went back to the end of the strip to the Luxor and saw an incredible Titanic exhibit that featured real artifacts from the ship that were recovered, a huge piece of siding from the ship (I believe it's the largest piece they ever recovered) as well as replicas of what third, second, and first class cabins looked like. We were also given info cards of a certain passenger and when you got to the end of the exhibit you checked the list of survivors to see if your passenger survived. Max and I both "survived" the Titanic, but it wasn't too surprising considering that our passengers were both first class (it was so absurdly expensive to ride the Titanic, even if you were in third class! They gave the breakdown of costs in today's dollars and it's really insane to think about what a luxury ship it was).
After the Titanic exhibit we went back to our hotel to enjoy some late-afternoon poolside reading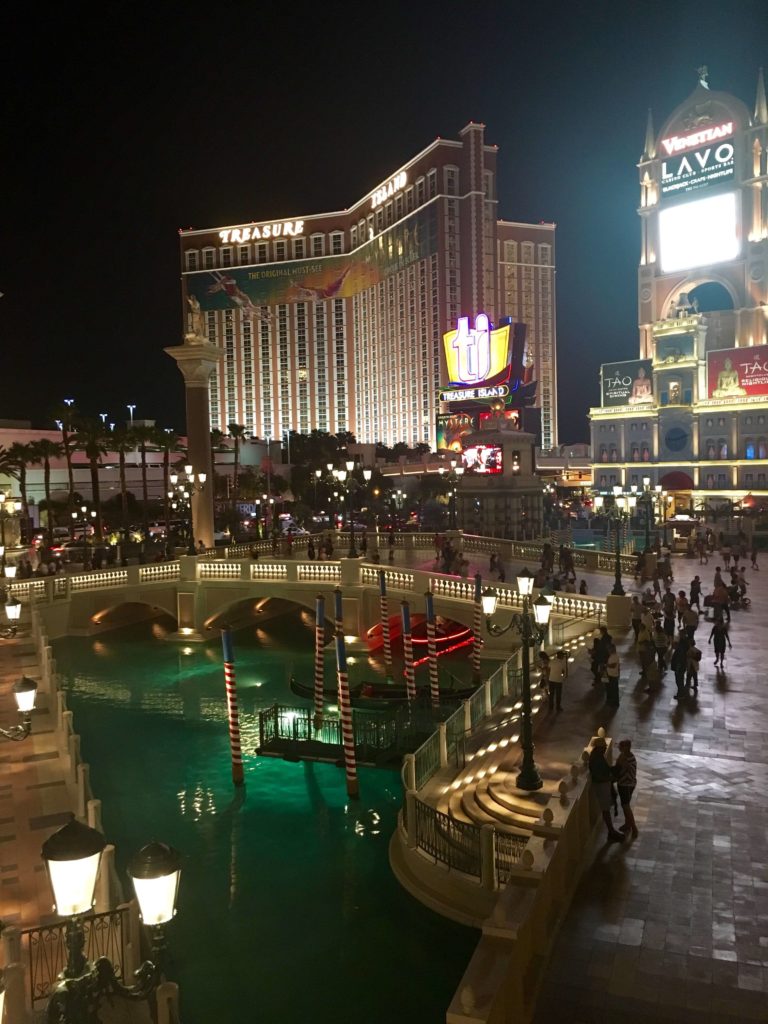 time and decide what our plans were going to be for our last night. I'd been itching to go to Madame Tussaud's (Max has been to the one in DC, I had never been) so we ventured out to the other end of the Strip that we had yet to explore. We had a blast at Madam Tussaud's, taking pictures with a ton of celebrity wax figures (and being somewhat surprised at how short/tall some of them are!) and sending them to people to see if they fell for our photos (my mom believed for a hot second that I actually had met Britney! She was not so amused when my dad pointed out that she looked a little stiff in the picture lol). We then went to the Grand Canal shops in the Venetian and stopped at the Mexican restaurant Canonita per the recommendation of one of Max's aunts. The restaurant is right next to the canal that flows into the shops so you can watch couples taking gondola rides while you eat! We also had some of the best chips and salsa there (I'm a chips and salsa snob, ask anyone). We made one last stop at Carlo's Bake Shop (notable for being featured on the show Cake Boss) in the Venetian so Max could get his farewell dessert of cannoli and Tiramisu.
Returning to Reality
Friday we had a late morning flight back home, and it was sort of a daze returning back to reality! One of my good friends pointed out that Vegas is like a bubble, and everything that happens in Vegas is so contained that it really feels like your real life worries can't get to you when you're on the strip! Despite the fact that we're in no means huge party people, Max and I love going to Vegas for so many reasons, from the multitude of culinary options to the exhibits to the shows and shopping. You don't have to step foot into a single casino to have a good time!
Have you been to Vegas? What's your favorite hotel to stay at? Your favorite show to see? Let me know in the comments!
Related Posts