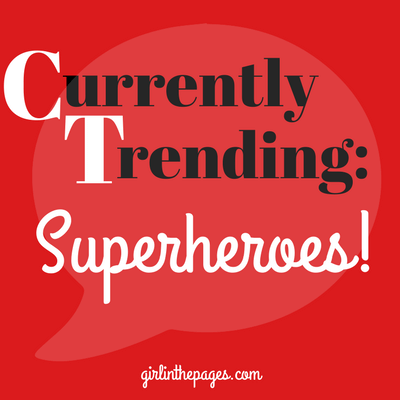 Currently Trending is a new feature where I discuss certain trends I've noticed in the YA world and offer my completely unsolicited opinion on it. Enjoy!
Since I've started blogging I've seen many a YA trend come and go. Some memorable ones include sick lit, fairy tale retellings, heist stories, etc. It seems like the close of 2017 is bringing about the new trend of Superhero books (both original stories and retellings) in the YA world, which is honestly no surprise given the rising popularity of Marvel and DC movies over the past few years. The Superhero sub-genre is one I have mixed feelings about, so I decided it would be great content for a blog post so I can chat with readers and see how you guys feel about this trend that is gaining steam!
Initial Thoughts
I have REALLY mixed thoughts when it comes to the superhero genre in general. I've never been a comic book reader, so I didn't ever have much exposure to superheros growing up (unless you count Sailor Moon or the occasional episode of Teen Titans). When Disney acquired Marvel and the first few movies began coming out, I tried watching them but found myself really bored during the first Avengers and Captain America movies. And I stay far, far away from things like Fantastic Four, Guardians of the Galaxy, and generally most movies that feature a lot of explosions and special effects- they're just really not my thing.
Now, as a juxtaposition to all of this, I happen to be dating someone who is is VERY into certain superheros, especially Batman. Through dating Max for so many years, I've been become pretty educated on the DC universe and can totally join a Batman related conversation and look like I know what I'm talking about (same with Game of Thrones though I will doubtfully ever read those books- way too violent for my taste). I've slowly started warming up to superhero movies (Wonder Woman slayed me, obviously, and Spiderman: Homecoming was excellent) and have considered dabbling in comics. However, I still think that superhero stories have the potential to bore me (especially because I'm not the biggest on fighting scenes) so I'm a little nervous to see them dominate the YA space.
Upcoming Releases
Obviously Renegades is at the top of every bookworm's Fall 2017 TBR list right now, mine included since I'll be purchasing a copy as I'm hoping to see Marissa on tour this fall for her new title. The synopsis gives off sort of X-Men vibes, but it also seems like it's sort of set in a Dystopian world? (I'm 9000% over Dystopians so I have grave reservations if that's the case). However, we all know Ms. Meyer can write a mean retelling so this could also be really fantastic.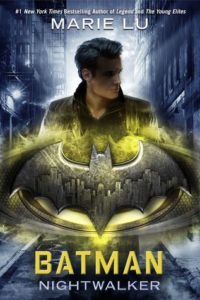 The new DC YA adaptations caused quite the stir when they were announced, and with a superstar cast of YA writers tackling these tried and true superheros, it does feel like it would lend itself to a successful venture. The next one up in the series is Batman-Nightwalker and it will be interesting to see a take on a very young Bruce Wayne. However, Max has a copy of the Wonder Woman book and still hasn't finished it because he finds all of the characters aside from Diana unlikable, which is always a risk when reading a superhero book that's set before the common canon and lacks the traditional cast. We're still going to pick up the Batman novel but may have more realistic expectations going into it (although I am 100% on board with SJM's upcoming Catwoman because Sarah can do no wrong in my eyes <3)
Let's Discuss!
Do you think YA Superhero books are the next big thing? Are you excited for them or are they a trend you'll be sitting out on? Do you prefer original superhero stories or retellings/adaptations? Do you think YA novels are the right medium for superhero stories, or do you prefer them in movies/comics? Let's discuss in the comments!
Related Posts