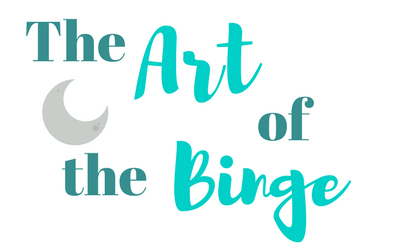 Ever since I entered the world of book blogging, the WAY I read has undeniably changed. I rarely reread, and my reading tends to be all over the place in terms of genre, author, and format. As a result, my attention span is usually always 5 books ahead, always focused on the NEXT BIG THING being released, and not giving me a whole ton of time to focus on getting through series. At the same time, I'm reading different volumes of so many series that I often can't really recall what happened in previous books all that well when reading the next installment. I think in some ways this has made me become somewhat adverse to series, as last year I read 36 standalones and only 20 books that were a part of series. 64% of all of the books I read were standalones! I didn't even know I had so many stand alones on my TBR!
With all of this in mind, this year I'd really like to take some time to binge read a few series, particularly series that are already completed or are near completion. I used to chronically reread and binge series (Harry Potter and Twilight were personal faves, I would alternate binge rereading them every other year) and while I'm glad to be exposed to so many more books now, I miss the ability to loose myself in a story that spans over several books, staying with characters over the course of a journey without any breaks to dull the emotional impact or loose any of the small details to fickle memory.
Series I Hope to Binge in 2017
I own all first book in the above series, so there's really no excuse for me not to start them. I read Grave Mercy back in December so I've got a little head start on binging the series so far. It's rather high fantasy for me so the sooner I can read the other books, the better, lest I forget all of the details. After meeting Susan Dennard twice (and loving Truthwitch) I really want to read her debut series (and prove to her that people do read it, as she's convinced no one has!). Finally, I'm going to hear Victoria Schwab speak in February and I HAVE to read something by her before then. This series seems to be her most popular, so I need to bust through these three within the next few weeks!
Series That Require a Pre-Binge Reread
There are also a few series that I own but have only read the first installment, often over a year ago, and now need to reread before I can read the newer books in the series. I had mixed feelings on Splintered but the gorgeous covers really make me want to see it through to the end. I'm thinking I can MAYBE get away with not rereading These Broken Stars before I read the rest of the series, since they're supposed to be companion novels (I think? Any insight on this?) And even though I only read Passenger a year ago, time travel often goes over my head and it's a concept I find really confused (poor Max has tried explaining it to me SO many times but I've been confused ever since I saw the movie LOOPER) and there's no way I'm going to remember any of the rules going into Wayfarer without a reread.
Do you binge series anymore, or are you more focused on reading stand alones or review copies? Have your reading habits changed since you started blogging? Do you have any recommendations for series to binge, or insight as to which books of the above are worth binging/are most satisfying when binged? Let me know in the comments!
Save
Save
Related Posts