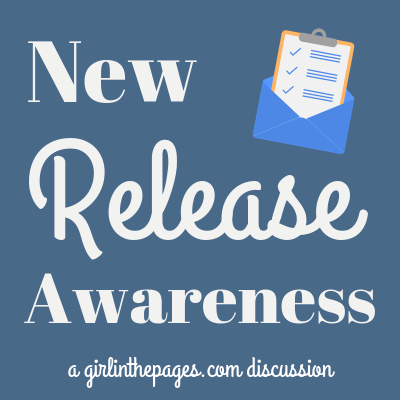 I'm certainly not the first person in the YA book blogging world to lament the lack of attention many YA titles get when it comes to marketing and release hype, but it really stood out to me recently while reading an ARC I quite enjoyed. I picked up the ARC at ALA Midwinter this year on a total whim- I just saw it sitting in a stack on the publisher's booth, but there was no signage or advertising for it and no one pitching it or even grabbing it. So I decided to pick it up because I liked the cover and after scanning the back found it was compared to some other YA novels I really enjoyed. Come to find out, the author has written over 5 other books, plus novellas, and I was just now encountering her work for the first time.
Now, I know it's impossible to be in the loop with every single YA release and author because there are so many these days (which is a wonderful thing!) but I was genuinely shocked I hadn't heard of this author before and hadn't seen any marketing done for this title, considering how much YA Contemporary fiction I read, and how similar it was to a lot of other novels I've really enjoyed (and that have received quite a bit of marketing). While this could fully be due to my own ignorance or lack of time and research, I also feel like it could be reflective of the wider trend of seeing the same titles and authors marketed over and over again while a lot of other titles are overshadowed or ignored, even if they are being published by a major house. Now I am as big a fan as anyone of some of these major titles (I live for SJ Maas books) but as a blogger it's frustrating to see the same titles/series/authors on rotation in the advertisements, emails, etc. from publishers. It really got me to thinking about how I do find out about the majority of "lesser known" or "quieter" new releases, and it's really due to the following:
Other bloggers including the titles in recommendation lists or upcoming releases lists on their blogs.
Booktubers/bloggers sharing their hauls from events.
Goodreads lists.
For every big name author or title, I feel like there's so many lesser known releases that are honestly just as amazing (or even more so)! I'm lucky and have been able to attend events like ALA in the past and have been able to pick up ARCs of less hyped YA titles, but not everyone is able too and sometimes it's hard to find new titles and authors amidst the handful of ones that get heavily promoted online.
And another thought- a lot of these titles that I come across that are new to me aren't even by newer authors or authors with small followings! Many of them have several titles under their belts, a devoted following, and/or have been active for years. Tenure doesn't necessarily seem to correlate with success in the YA world (especially with debuts- I've seen some debut authors with so much visibility because they had amazing marketing campaigns). It really got me thinking- if I, as a YA blogger, feel like I see/am aware of such a narrow amount of releases, then how overwhelming must if be for a non-blogger to keep up and stay aware of new releases?
Let's Chat!
I'd love to get other insight from other readers and bloggers as to how you navigate finding out about titles that aren't "blockbusters." Do you feel like it's relatively easy or is it a challenge? Do you feel like you miss out on a lot of YA books because so many books get released but aren't heavily promoted? What are some of your favorite "lesser known" YA novels or upcoming releases that you're excited for? Let me know in the comments!
Related Posts