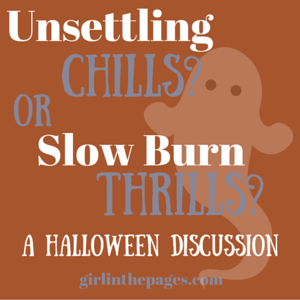 With Halloween a mere sleep away, spooky book recommendations are flooding the internet, from classic horror literature picks to unnerving psychological thrillers. Yet I find that there's a stark difference in the appeal of a thriller novel and a horror story, a line that separates two distinct experiences a reader has when choosing one of the two genres. While some may welcome both horror and thrillers and discriminate against neither, I find that my personal reading preference lie firmly on one side of the two common Halloween genres. I love thrillers, but 99% of the time I will run in the opposite direction of a horror novel (I value my sleep). For me, liking one of the two genres is mutually exclusive, and the feel, tone, and experience of reading a thriller is totally separate than that of a horror novel (and that rule applies to movies too!)
The Thing About Thrillers
Thrillers are the ultimate genre for those readers who have the patience to indulge in slow-burn gratification. The whole book is usually a puzzle, with pieces slowly coming together, and the reading experience becomes a game with yourself to figure out if you can guess the twists and plot reveal prior to the ending, while navigating through carefully placed red herrings. Reading thrillers is an exercise in intelligence, making your brain think in ways you didn't know it could (How satisfied do you feel when you guess a plot twist? If you answered extremely satisfied, you're right). Thrillers are almost always synonymous with the mystery genre, and arguably take more skill to write since they require clues seasoned throughout the plot, like a well-planned and tested recipe. Thrillers have purpose and intent to their plot, an end goal to the anxiety they produce, unlike horror novels that seek the instant gratification of a scare, of senseless fear for the purpose of shock value. I find reading thrillers often an intellectual experience that tests either my mind, my instincts, or both, and I leave the experience with the feeling that I've accomplished something while reading, and that it was worth my while to indulge in as it challenged my perceptions and made me engage with the novel.
Thriller Recommendations:
Don't Look Back by Jennifer L. Armentrout- A great stand0alone thriller that still keeps its YA charm but features an antagonist protagonist, amnesia, and the hot male leads that only JLA can write.
Dangerous Girls by Abigial Haas- If you haven't read this book, pick it up ASAP and clear your plans for the rest of the day, and a few days after, because this book will give you the craziest book-hangover EVER after the twist at the end.
The Unbecoming of Mara Dyer by Michelle Hodkin- A thriller trilogy, it constantly hovers near the genres of paranormal and science fiction with eerie supernatural elements mixed with psychological disorders.
Thrillers I Can't Wait to Read:
Dangerous Boys by Abigial Haas
Made For You by Melissa Marr
Suicide Notes From Beautiful Girls by Lynn Weingarten
However…
However, I wanted to get the perspective of someone braver than I, so I recruited the dutiful Bookish Boyfriend Max to elaborate upon the merits of horror stories…and what would possess a reader to pick one up (see what I did there?)
In the House of Horrors
I would be remiss if I did not mention the first exposure I got to the horror genre. When I was a kid I picked up Scary Stories to Tell in the Dark by Alvin Schwartz (Which is now a lovely box set, by the way.) Since then I've been hooked. I love the macabre and the horror genre at its best relies on such things. The best horror stories are not the ones about axe wielding psychos who come screaming out of the woods, but the ones that explore the true horror of being in a hopeless situation with no foreseeable way out. At the end of the best stories, you come away wondering if you would have made it out alive, or despite your vast knowledge of the genre, your own abilities as a person, and the raw dumb luck it takes away to dodge the kills. I'll admit that most of my horror expertise lies in movies (and games), but check below for some scary suggestions. As Amy Lukavics said as I walked away with my signed copy of her new book, Daughters unto Devils, "Be afraid."
Horror Suggestions: (Not a beginner's list. This is the deep end, folks)
It by Stephen King- (10 pounds of Nope in a five pound bag)
The Silence of the Lambs by Thomas Harris- (Try to sleep a night through after this one)
Mostly Ghostly by Steve Zorn- It wears the skin of a kids book but has some truly horrifying tales inside. Good luck getting a copy though. It's rare now.
Are you a thriller or a horror fan?
Do you fall firmly on one side of the debate, or are you an equal opportunist when it comes to either anxiety or fear? Do you personally feel there's a large difference in the experience of reading a horror novel and a thriller novel? Do you think books can truly be both, or is there a true difference in the writing execution of a horror and a thriller novel? Do you think that horror and thrillers work in the YA genre, or have the titles in the adult or children's sections resonated with you more? Let me know in the comments!
Related Posts