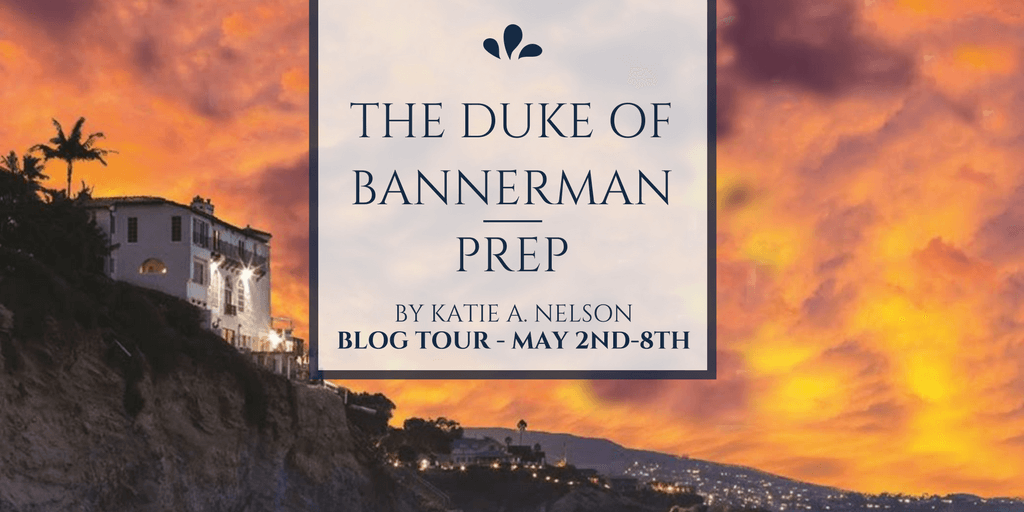 About the Book
The Duke of Bannerman Prep
by Katie Nelson
Publisher: Sky Pony Press
Published: May 9th 2017
Words are weapons. Facts can be manipulated. And nothing is absolute—especially right and wrong.
Tanner McKay is at Bannerman Prep for one reason: to win. The elite school recruited him after he argued his public school's debate team to victory last year, and now Bannerman wants that championship trophy. Debate is Tanner's life—his ticket out of scrimping and saving and family drama, straight to a scholarship to Stanford and a new, better future. When he's paired with the prep school playboy everyone calls the Duke, Tanner's straightforward plans seem as if they're going off the rails. The Duke is Bannerman royalty, beloved for his laissez-faire attitude, crazy parties, and the strings he so easily pulls. And a total no-show when it comes to putting in the work to win.
As Tanner gets sucked into the Duke's flashy world, the thrill of the high life and the adrenaline of the edge become addictive. A small favor here and there seems like nothing in exchange for getting everything he ever dreamed of.
But the Duke's castle is built on shady, shaky secrets, and the walls are about to topple.
A contemporary retelling of The Great Gatsby, Katie A. Nelson's taut debut is perfect for anyone who's struggled to survive the cut-throat world of competitive high school.
Pre-Order/Buy Links:
Amazon | Barnes & Noble | Indiebound
---
Gatsby and The Duke
I have been SO stoked for The Duke of Bannerman Prep for MONTHS now, and featured it way back in January as one of the 2017 debuts that I was most excited for. Then the cover was revealed and I was officially head over heels for this book (the colors! the sunset!) Throw in the fact that it's set in my beloved Bay Area and that it's a Gatsby retelling (I am complete trash for the Baz Luhrman movie) and it's a pretty irresistible read.
I'm so honored to be on the blog tour for this debut based on one of my favorite classics, and today I'll be comparing themes from The Great Gatsby that also appear in The Duke of Bannerman Prep.
Familiar Faces
It's incredibly fun to see how the characters in this novel parallel those in the classic Gatsby novel. I would get so excited each time a new character was introduced and I could identify them as serving the role of Tom or Jordan or another, and to see how the structure of their characters is adapted in a modern setting. Tanner was a perfect Nick, the perpetual outsider looking in on his elite prep school peers, equal parts repelled and enticed by his classmate's lifestyle.
The Haves and Have Nots
One of the biggest themes in Gatsby is old wealth vs. new wealth (the neighborhoods of East Egg vs. West Egg) and it's a heavy motif in The Duke of Bannerman Prep as well. These class dynamics come into play with different areas of the Bay Area, with Tanner, the protagonist, heralding from Hollister whereas his classmates are from areas such as San Francisco and Napa. It was fascinating to see these Northern California areas represented and seeing how these regions came into play within the social hierarchy at Bannerman. Like in Gatsby, even when Tanner obtains "wealth" in the form of status through his relationship with the Duke, he's still never truly accepted or feels at home among his peers, a perpetual outsider like Nick.
The Eyes of Dr. T.J. Eckleburg
The original Gatsby novel makes multiple references to a billboard with an advertisement depicting a pair of eyes that almost function as the "Eyes of God," constantly watching over the characters from a distance and often thought to be judging the characters and their lifestyles. In many ways I think Tanner's little brother Sam serves this role, as he's the constant that Tanner is always weighing his choices against, always uneasy and thinking in the back of his mind of the impression his actions, positive and negative, will have on his brother who looks up to him.
A Little Party Never Killed Nobody
There's no party like a Gatsby party, and there's certainly not a lack of parties in The Duke of Bannerman Prep. Parties at the Duke's house serve to move the plot along at several points, being a catalyst for debauchery and drama, making and breaking relationships. It's the Duke's parties where Tanner feels more foreign than ever compared to his classmates, but often is when he's most reflective and intuitive to their motivations and desires.
If you love The Great Gatsby, you'll have a blast reading The Duke of Bannerman Prep and picking up on all of the references, symbolism, and similarities. While the story definitely holds its own and has its own plot twists and modern elements, it's extremely creative and fascinating to see the familiar features of such a classic American story come to life in 2017.
---
About the Author
Katie Nelson has always loved words and stories. Formerly a high school English and Debate teacher, she now lives in Northern California with her husband, four children, and hyperactive dog.
Website | Twitter | Instagram | Goodreads
---
Tour Schedule
---
Giveaway!
There's two exciting giveaways happening for The Duke of Bannerman Prep!
Save
Save
Related Posts