Welcome to the wrap up and giveaway for the first part of the A Court of Thorns and Roses Series ReRead hosted by myslef and the lovely Kristin from Super Space Chick and Alexa from Alexa Loves Books! Today we'll each be sharing out thoughts regarding our ACOTAR reread and answering questions that we each came up with based on our rereading experience.
*Please note that my answers may be a little bit spoilery if you haven't read ACOMAF yet!!! Proceed with caution!
What were the differences between your first and second experiences reading ACOTAR?- Question by Kristin
You know, I thought I was going to be so impatient during my reread of ACOTAR because I love ACOMAF so much and I thought I'd just be waiting to get through it so I could move onto ACOMAF. However I found myself just as enthralled during my reread as I was the first time I read ACOTAR. In fact, I think I was even MORE engaged in what was going on with the plot because I had more context from reading ACOMAF and was constantly looking for clues Sarah laid out to build the rest of the series on. I found so many threads in ACOTAR that definitely make it clear that the plot in the sequel was planned from the very beginning!
Also, everyone who reads my blog knows that I am #Rhysandtrash so it was a lot of fun seeing him appear back when we all thought he was the major antagonist of the series. There was obviously a lot of controversy with Sarah switching ships in her series and some people don't feel her writing lays enough of a foundation to justify the change in relationships, but after rereading ACOTAR I can say that she DEFINITELY was building up to #Feysand. Since I reread on my Kindle, I can share my shameless fangirl annotations I made anytime Rhysand appeared: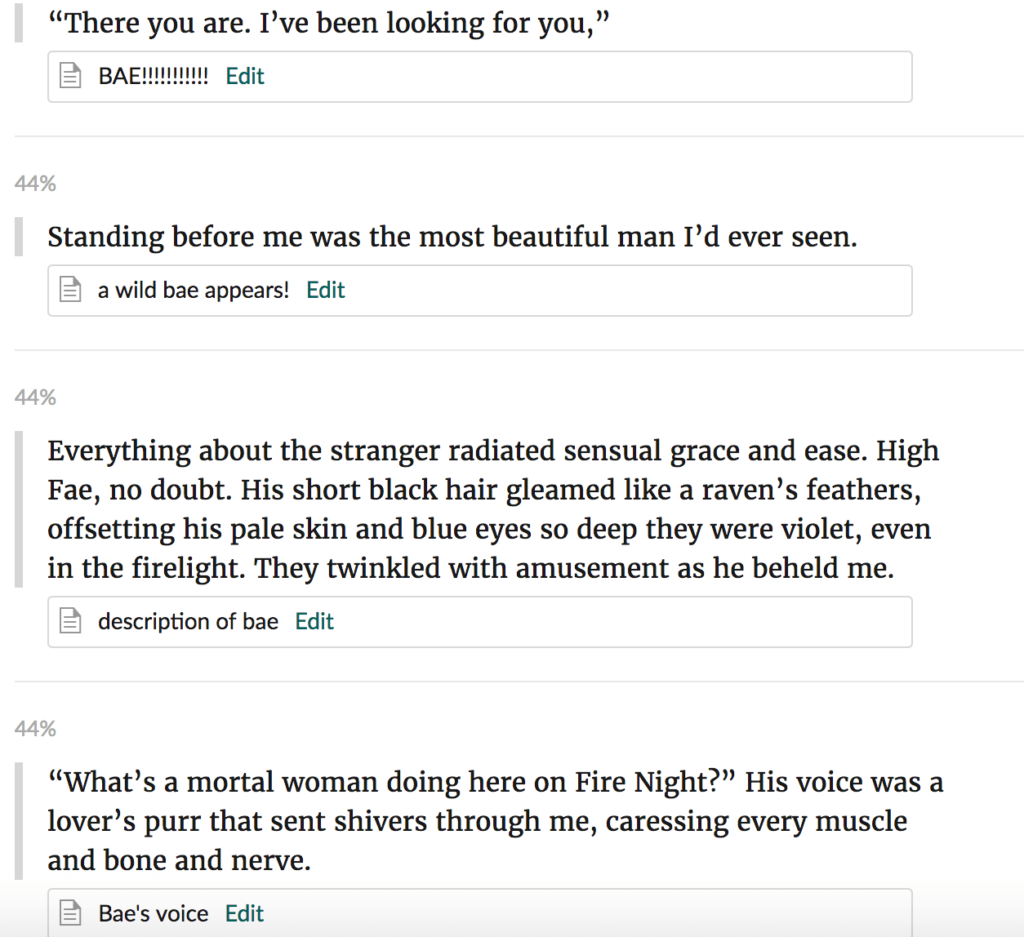 During my reread of ACOTAR I also found myself much more invested in the emotional development of Feyre. Her backstory and family dynamics are complex even before she is taken to Prythian, and the first person narrative really helped to connect me with how her experiences and traumas impacted her. I paid more attention to her reactions and thought processes in her relationship with #TamlintheTroll as well, and definitely saw problematic elements that I had missed or misjudged the first time I read the book.
What parallels can you draw between ACOTAR and Beauty and the Beast?- Question by Alexa
SO MANY, especially since I recently just saw the live action remake of Beauty and the Beast in theaters! I found myself constantly comparing the book against the movie while I was watching it and appreciating all of the clever ways Sarah made this book a retelling without making it FEEL like a retelling. There are of course the obvious parallels (Tamlin is the "Beast," Feyre plays the role of "Belle," there's an evil female "witch" who has cursed everyone, etc.) but my favorite elements and parallels are the ones that are much more subtle, such as:
Feyre is illiterate, which is in stark contrast to Belle's notoriety as a reader. Tamlin's library feels stuffy and intimidating to her, and she prefers images and art to words when escaping her peasant life.
The household staff is cursed into permanently wearing masquerade masks that reflect animals that parallel their jobs (birds for chattering servants, insect masks for gardeners, etc.) and they are also glamored to look more human to Feyre rather than their true Fae selves (which is almost an inversion of the staff being forced out of their human forms in the Disney retelling). I loved how the staff and members of the court very subtly hinted at taking on the roles of characters from the movie (Lucian as grumpy and loyal Cogsworth, Alis as a much less peppy and less gentle Mrs. Potts figure).
I think Rhys' character is a bit on Gaston- the handsome, dark haired, high born male who seems overly conceited and has an unsettling attraction to "Belle"/the female protagonist.
What aspect(s) of the world building in ACOTAR is your favorite? What world building elements do you hope to see expanded upon in ACOWAR that have not been explored yet?- Question by Cristina
I think the different seasonal and solar courts are probably most readers' favorite world building elements of the series, and I have to agree! I find it FASCINATING and my dearest wish is that by the end of the series we'll have seen all of the courts. I find that the courts we have seen remind me so much of other fantasy worlds or fairy tales (the palace we first see in the Night Court totally reminds me of the moon palace in Sailor Moon, the Summer Court is definitely a nod to Disney's Little Mermaid, etc.)I'm also a huge fan of how the elements of the different courts come out in the appearance and powers of the High Lords/High Fae, emphasizing how deeply ingrained their court is to their being, such as Lucien's auburn hair, Tamlin's leaf-colored eyes, or the dark constantly rippling off of Rhys.
I also LOVE that Sarah's fairy tale retellings are reminiscent of ACTUAL fairy tales- dark and scary and filled with questionable characters, rather than fluffy and, well, Disney-fied. In real fairy tales, gruesome fates often befall characters and hideous tasks must be completed to prove a point about morality and the weight of guilt and choice, and ACOTAR is no exception. When I heard Sarah speak on tour for ACOMAF I heard her mention that ACOWAR has Snow White vibes- so I've been going crazy trying to figure out how that could tie into the plot!
In ACOWAR, I'd love to know more about the formation of the High Courts and how the magic system works, especially in the seasonal courts where they manage to manipulate the weather patterns into stagnant seasons. I'd also be interested in learning more about how the transfer of power works in the High Lord lineage (like does it always have to end in death to transfer? What if a High Lord only had daughters? What if they were overthrown- could the power be taken forcibly?) I'd also love to see a little hint as to if the Fae worlds of ACOTAR and Throne of Glass overlap in any way, as I think it'd be really cool if they were to be housed in the same universe!
Did you get a chance to reread ACOTAR with us? If so, let us know your thoughts, reactions, and questions below! Also be sure to enter our giveaway and link up via the linky if you've posted your own ACOTAR wrap up post!
Save
Save
Save
Save
Save
Save
Related Posts