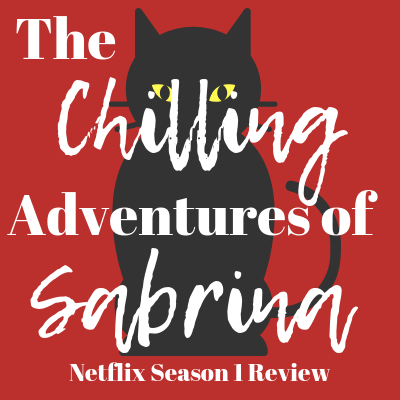 I don't know about you, but I have been STOKED all fall for Netflix's new original series, Chilling Adventures of Sabrina. As a huge fan of both the 90's show Sabrina the Teenage Witch and the early 2000s animated series, Sabrina, Hilda, Zelda and Salem all hold a special place in my nostalgic heart and I am always 100% here for witchy stories. Based on the trailers I knew this iteration of Sabrina was going to be darker and based off the comic of the same name under the Archie horror imprint, so I was also a bit anxious to watch it too (I can count the amount of horror/"scary" movies I've seen on one hand so have a pretty low tolerance for the genre). When it finally dropped on October 26th, Max and I binged watched the 10 episode season in just a week and let me tell you all, I have FEELINGS to share.
***Warning- This post will contain some spoilers for the series! I won't be breaking down each episode in depth but I will be talking about some overall major plot points. Read at your own risk!***
First and foremost, I loved that the show has a similar vibe to Riverdale, in the sense that you could think it was a "modern" show but you could also easily think it's set back in the 50s/60s (I think Sabrina blurs this line even more and has way less technology than Archie and the gang do- why text when you can just astral project?). However it did take me a minute to adjust to the fact that the show's depiction was full on, actual worshiping of the underworld and all associated badies sort of witches. I guess even in darker witch stories I've read they've never just casually thrown around praises like "Thank Satan" so that was a bit shocking for me at first lol. Sabrina and her aunts run a mortuary and belong to a coven called The Church of Night and Sabrina is approaching her 16th birthday where she will undergo her "dark baptism" and become a full fledged witch and pledge herself to the dark lord, leaving her mortal half behind.
So right away you can see that the show is going to have very, very little in common with its 90s predecessor, but still keeps the core characters (including Salem who's Sabrina's familiar and who is a total badass even though he doesn't "talk") and introduces some new ones, like her cousin Ambrose (not sure if perhaps he's in the original comics) who flesh out the family even more. Once I adjusted to the darker tone I appreciated the new interpretation and character development that the show gives these iconic characters and see how some threads from past iterations have still stayed (like Hilda being more of the bubbly aunt while Zelda being the more strict one, Sabrina being caught between her desire to be part of the mortal and magical worlds etc).
Initially, Max and I really enjoyed the first few episodes of the show, particularly the drama leading up to her sweet 16 birthday (on Halloween, of course) and her dark baptism. The juxtaposition in that episode was fantastic and seeing how strong her mortal will is along with her magical potential was super intriguing. Also, a lot of crazy mysteries are introduced, such as:
Was her dad really a good person (good people usually don't sell the souls of their firstborn children TBH)?
Was she a twin?
Is creepy goat man actually her brother?
Why is the dark lord obsessed with her choosing to be a witch vs. be a mortal?
Did her mother really willingly go along with all of this supernatural stuff?
There were so many fantastic scenes in the first few episodes, from Sabrina shouting "My name is Sabrina Spellman and I will NOT give it away!" and fleeing the baptism to the triumphant reveal in the trial episode that her mother had her baptized Catholic in secret before her father struck his deal with the literal devil and therefore her soul is protected. The first few episodes also tackled a lot of current social issues while somehow wrapping them up in a supernatural package, especially regarding religious extremism and coexisting with family member who hold very different beliefs than you do. The show is very timely in that way without being too heavy handed. It's also fascinating for me to watch as a Religious Studies major, as they've based the creepy witch religion on so many ritualistic traditions and lore from many Abrahamic religions (I saw parallels to Ash Wednesday and Catholic confession just to name a few). It's interesting the see the way the show is taking Western Abrahamic religion and inverting it into something darker (oh, my younger self itches to write a research paper about it)!
However, the season unfortunately started to go downhill for me during episodes 5-7, which were honestly gross and unnecessary in my opinion and felt like total filler (and as Max put it, how can you afford to have time for filler when your season is only 10 episodes long)? Each episode literally just focused on one horror trope (nightmares, possession and -ew- cannibalism) and had Sabrina somehow "fixing" the problem. This is also where Sabrina started to become REALLY ANNOYING AND SELF RIGHTEOUS all the time and I was almost ready to tap out of the show. However I stuck it out for the last three episodes and was pleasantly surprised to see that Sabrina was put in her place big time and royally screwed up and had to suffer some consequences (which is really refreshing because let's be honest, too often protagonists are allowed to get away with their special snowflake syndrome). Also, Sabrina actually went "dark" and chose went through with fully committing to the Church of Night (sort of under duress, but still) and that's also interesting too because I'm getting the feeling she's sort of going to be an antagonist in the next season and the drama between her and Harvey-Kinkle-future-witch-hunter is really going to escalate (side note I cannot STAND Harvey he's so annoying and boring and I am #teamNick all the way don't @ me).
Overall I'd give the show a solid 3 out of 5 stars, and I'm glad I stuck it out although I do think there's a LOT of room for improvement (especially with the cinemetography/editing because OHMYGOD was I getting tired of that blurry "magic is happening" effect I was literally like is there something wrong with my tv???) and I would like to see the show commit to what it wants to be, either campy or horror, because it keeps trying to toe this in-between line and honestly falls flat at times because of it.
A few random tidbits to wrap up my thoughts:
Are we all just going to not punish Agatha and Dorcus for so recklessly using magic and killing mortals/risking exposure of the magical community with that rock cave in??
LOVE Sabrina's white hair that marks her as "witch" Sabrina (LOL reminds me of in Vampire Diaries how Elena always had straight hair and Katherine always had curly hair so you could tell them apart).
I still don't understand why Susie can see ghosts??
Literally Sabrina is the worst person ever when she thinks she can CHEAT THE LAWS OF DEATH and perform necromancy like it's NBD.
I totally should have called that Mrs. Wardwell was Lilith! Another clever way the show is pulling from Western religions.
Hilda is a cinnamon role and I hope she continues to gain confidence and stand up to Zelda.
Zelda really gets on the nerves but she's also important because sometimes she's the only one who gets things done and says what needs to be said.
Potentially unpopular opinion but at this time Sabrina is my least favorite member of the Spellman family.
Also everyone talks about how her dad was some revolutionary, wonderful person but he sames shady to me.
Quentin was so soft and smol and I'M SO SAD HE'S A GHOST AND NOT A MORTAL BOY.
Let's Chat!
Have you watched the show yet? Were you a fan of the 90s show? How are you liking this new interpretation? Did you actually find it to be scary (I didn't at all which I was surprised about)? Let's discuss in the comments!
Related Posts