Every year there's inevitably the titles that we as reader's don't get to despite our excitement and best intentions. This year I had more books on my yearly TBR shelf than ever, yet read less books than normal. As you can imagine, this has led to a LOT of books from 2022 that I still really want to get to! I've rounded up the top ten releases from 2022 that I want to make a priority to read by the end of 2023, and will do a check in post at the end of next year to see how I did!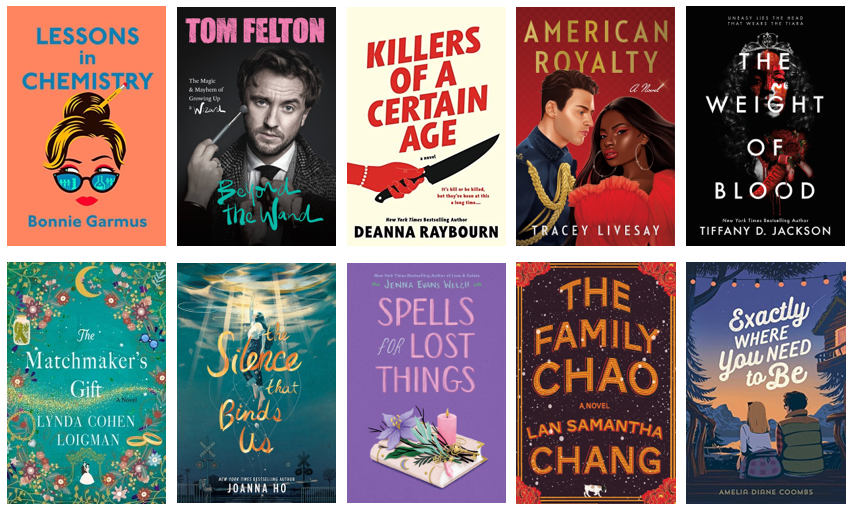 Lessons in Chemistry | I've been loving females in STEM themed novels lately, and I'm intrigued by the 1960s setting of this one, and how the protagonist seems to be able to drive change even in a more "traditional" role as a cooking show host. Plus, many of my IRL friends and colleagues has spoken highly about this one!
Beyond the Wand | I'm really loving celebrity memoirs lately as lower pressure reads that I don't feel like I have to review. I've been on the waitlist at my library for Tom Felton's for a few months now and hopefully it should come in sometime in 2023, lol.
Killers of a Certain Age | This sounds like a campy, hilarious novel focusing on retired female assassins and the summary is giving me Finlay Donovan-esque vibes!
American Royalty | If you've been around my blog before, you probably know that I have an obsession for any modern royalty stories (The Royal We, Princess Diaries, American Royals…) so as soon as I heard about this one it immediately shot to the top of my TBR! Bonus, it's based on Meghan and Harry (just finished their Netflix doc, so this is a timely read!)
The Weight of Blood | I've been wanting to try a Tiffany D. Jackson book for a while now, and this Carrie retelling sounds interesting while also focusing on social issues.
The Matchmaker's Gift | I enjoy inter-generational tales, and I find the matchmaker trope really interesting (in fact, I read a book this past year that had this focus as well, Meant to Be Mine). I think this could be a really engrossing read.
The Silence that Binds Us | Highly rated on Goodreads, this book seems to tackle racism, mental health stigmas, and a whole host of other important issues. I am always up for stories that widen the dialogue on mental health and from the looks of reviews this one looks promising.
Spells for Lost Things | I adore this author's "Love &…" travel series and am excited to see a new novel out by her that focuses on Salem!
The Family Chao | This family murder mystery story is giving me Knives Out/The Westing Game vibes!
Exactly Where You Need to Be | Another novel that seems to discuss mental health with the bonus of also having a true crime podcast element and a PNW roadtrip setting!
Related Posts