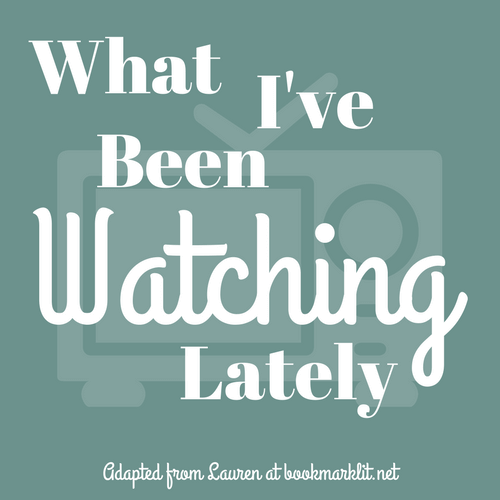 Inspired by Lauren @ Bookmarklit, I've been wanting to incorporate some more non-bookish things into my blog. Since Netflix is practically a hobby in and of itself these days, I am tagging along on her feature on showcasing what I've been watching lately!
It's been a while since I featured that I've been watching lately, and now that spring is here I thought it would be fun to feature the shows I've added to my tv rotation this season. I'm still watching the shows from my last post (Dynasty, Jane the Virgin, and Riverdale) so I'm only going to be featuring shows that I've added to my rotation since then.
TV Shows
Girl Scout Cookie Championship // I'm ALWAYS here for a new baking show and this one that is centered around having to make treats with Girl Scout Cookies is so much fun! I'm not sure how I feel about the prize (instead of the usual cash prize you win a year's supply of Girl Scout Cookies and an "outdoor adventure) but it's a fun premise!
The Bachelor // I actually sometimes watch this the next day on Hulu, but since it's a cable show I'll leave it in this category. I only started watching The Bachelor franchise about a year ago but boy am I hooked. It's such a train wreck and a nice way to escape your personal problems, lol. Also, Pete is a terrible Bachelor, he needs to grow a backbone!
Netflix
The Bachelor // A random old season of The Bachelor dropped on Netflix and you bet I watched it ASAP. It's supposedly one of the more "controversial" seasons (though I feel like they say that about all of them!) It was enjoyable to watch, especially seeing the 2008/2009 fashion choices (yikes) and how people used to actually eat the food on dates.
Love Is Blind // A coworker told me this show is like "The Bachelor on steroids" so of course I had to check it out and YIKES was she right. I've only watched the first 1.5 episodes and I'm torn between being fascinated and being bored? I'll probably go back to it when I'm bored one day without a show to watch (but the premise is so wild it makes The Bachelor look reasonable!)
Cheer // This was JUST AS GOOD as everyone said it was. I'm dying for season 2, I am so invested in the program now! I loved how it also focused not just on their road to Daytona but how cheerleading was a way for so many of the students to find themselves/keep out of trouble/give them a purpose in life.
Hulu
Sailor Moon // So the whole reason I caved and subscribed to Hulu (without ads) is because I wanted to make my way through ALL of the Sailor Moon seasons once and for all. I'm finally on season 4 (there's a LOT of filler in the original anime) and hoping to finish it soon so I can watch the fifth and final season that was recently dubbed in English for the first time, Sailor Stars (Max gifted me the blue rays for Christmas).
Disney +
The Imagineering Story // So I actually finished this a few months ago but it's SO GOOD. As a huge Disney fan who loves to learn the history of the parks and not just the films, this was AMAZING. It really takes you through the different Disney eras and how each park came to fruition. I really want more seasons, though I'm not sure what they would cover!
Diary of a Future President // So I decided to try this out because I love that it features a Latinx protagonist and her future rise to the presidency. I'm only two episodes in and have sort of mixed feelings on it- it's funny and very family, friendly (and fun seeing that it's clearly set in either the 90s or early 2000s) but it's so DARK. Like I can barely see what's happening on the tv screen because the lighting quality is so bad! I don't know if it's an issue with the filming or it's supposed to be dark for the ambiance (I know it's not my TV because I don't have any issues with lighting with any other Disney + shows!)
Toy Story Rewatch // Fun fact, I saw the premiere of Toy Story 4 at sea while on a Disney Cruise for my honeymoon, but I was asleep for about 75% of it lol. Once it hit Disney +, Max and I decided to binge all of the Toy Story films in one week so we could really get the full ~experience~. My hot take is that Toy Story 3 is the best out of all the films (that ending!!!) and was the perfect ending and Toy Story 4 was COMPLETELY unnecessary.
Are you currently watching any of these shows? Any upcoming shows that you're anxiously awaiting? Let me know in the comments!
Related Posts