I've made a lot of reading resolutions, and one of them is to be better about cultivating a monthly TBR. I know so many bloggers do beginning of the month TBR posts and I always LOVE reading them, so I've decided to post my own as well! I will include my physical, e-book, and ARC TBRs as well as a status update of where I am prior to starting my upcoming month's TBR.
Reading Progress Prior To This Month: 77/80 Books Read
Ah, here we are, the final month of the year. We are finally closing out the dumpster fire that is 2018 (although I feel like we've all been referring to each year this way since 2016…). I struggled with putting together a TBR for this month because I sort of feel like it's do-or-die time with it being the last month of the year and all, so this month's TBR is basically themed "I am going to read whatever the heck I want, consequences be damned."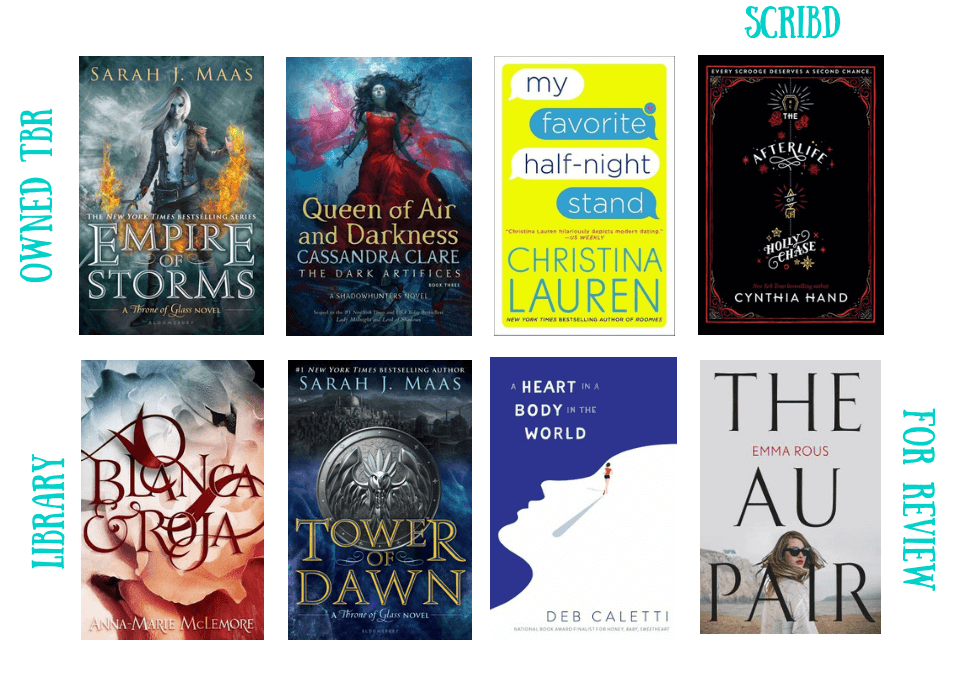 Owned
Empire of Storms // Honestly, I have been really enjoying my TOG reread and it's pretty much all I want to do when I pick up a book these days, lol. I remember EOS being sort of a slog the first time I read it and I didn't rate it super high since it took me a month to finish, but I was also reading it during a super busy time at work which I think may have impacted my feelings because I'm really liking it my second time reading it!
Queen of Air and Darkness // Can you BELIEVE it's already time for this one to be released??? I received the beautiful, giant tome in the mail already thanks to pre-ordering and I'm excited to dive in once I read some recaps of Lady Midnight and Lord of Shadows!
My Favorite Half Night-Stand // I fell in love with Christina Lauren's writing after reading Roomies so I pre-ordered their newest book and am hoping for some swoons and laughs!
Scribd
The Afterlife of Holly Chase // Since it's December what better time to read a Christmas-sy story? I'm also super intrigued by the fact that this isn't your typical Christmas romance (which most Christmas stories seem to be) and it's more Scrooge focused.
Library
Blanca Y Roja // I've only read one book by Anna-Marie McLemore but it was so lyrical and beautiful. This one focuses on retellings of several fairy tales (including Swan Lake!!) so I'm super excited for it!
Tower of Dawn // So given my disdain for Chaol I don't WANT to read this book, but figure I should at least give it a shot to prepare me for KOA since I'll have reread all of the other books in the series by that point!
For Review
A Heart in a Body in the World // I received an ARC of this one at YALLWEST this year and while it isn't a book I've seen talked about often, when I have read reviews they've all been overwhelming positive. I'm also intrigued to read a book about a runner, as I've recently gotten into running the past few years and am looking forward to a book focused on the hobby!
The Au Pair // I'm always on the hunt for a good thriller and was excited to be approved for this one on Netgalley!
Are any of these on your TBR? What's your most anticipated book for December? Let me know in the comments!
Related Posts