Recently I'd heard online that some folks were making "TBR carts" from the popular three tier carts you can find at some home goods stores. I was shocked I had never thought of the idea before because I've had a three tiered rolling cart for YEARS that Max and I bought at Ikea and use as our "drop center" when we exit/enter our house (we keep our keys, receipts, reusable grocery bags, etc. in it). The one we have from Ikea is a dark neutral grey and I decided I wanted to get a fun colored one for my books. After a little online digging, I found that Michael's carried one in a beautiful share of turquoise (which, as you can tell by my blog, is my favorite color). I excitedly headed to my local Michael's this past weekend and managed to snag the last turquoise one, but they also had a lot of other fun colors too (blush, cream, etc.)
So far I'm pretty pleased with how the cart turned out. It was really easy to put together (only took about 10 minutes or so) and it's sturdy enough (I will say our Ikea version feels a bit higher quality). I can see in the future sprucing it up even more, perhaps with magnets, stickers, string lights, etc. For now, I'm excited to try this new organizational system for my TBR to cut down on the time I spend looking for my next read.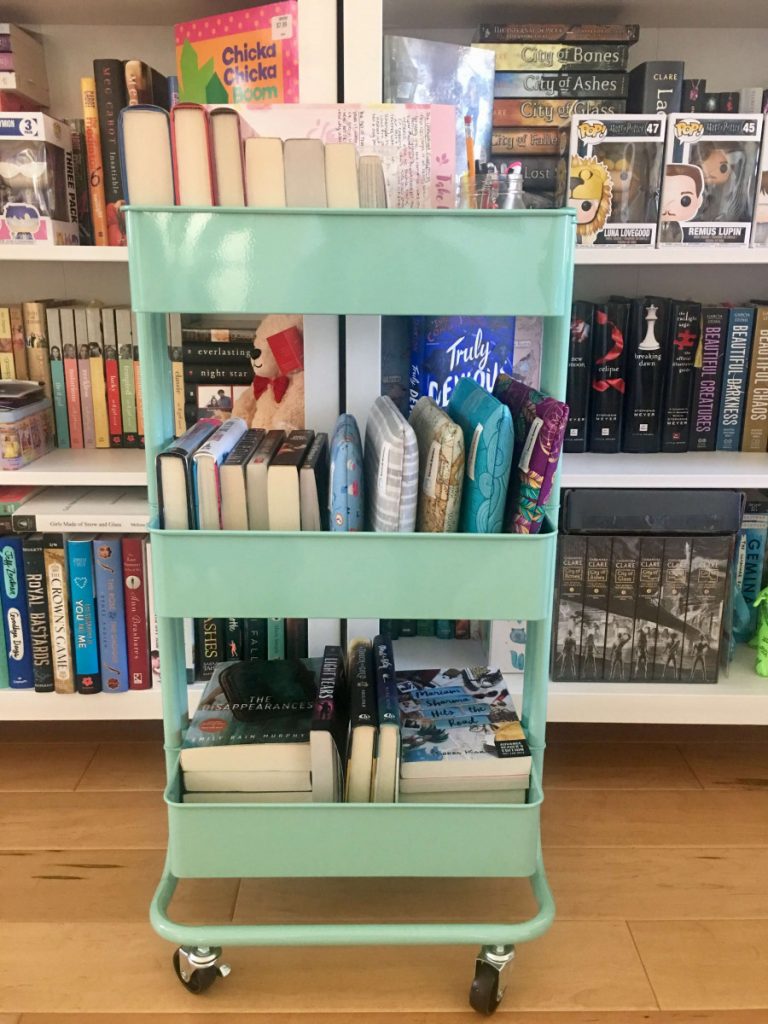 Organizational Structure
I'm using each of the three tiers in distinct ways to break up my TBR into three categories:
Top Tier: Immediate, up-next TBR. Also note taking supplies such as pens, notepads, post its, bookmarks, etc. I'll also probably keep my Kindle up here as well for easy access.
Middle Tier: Physical, owned books TBR that I would like to get to soon-ish. Also storage of most of my book sleeves so they're all in one place and not taking up room on my shelves.
Bottom Tier: ARCs and finished review copies. These are where the books I receive from publishers will reside if they are not on my immediate TBR on the top tier.
In all transparency, though I love my TBR cart, it IN NO WAY can hold my entire TBR (that's mostly what my "shelf of shame" is for lol). However, I do feel like it's a wonderful way to add more "focus" and intention in my TBR by physically separating out the books I have on deck that I want to read and making them easily accessible, rather than having to comb an overcrowded shelf for them. It's also been great being able to pull some accessories from my shelves that were over crowding them and store them here as well.
Would you ever consider buying a TBR cart? Do you have a method of physically separating out your TBR so it's top of mind and easily accessible? Let me know in the comments!
Related Posts