If you've been around my blog for a while, you'll know that Max and I make every effort to visit a Disney park at least once per year. Generally we go around Halloweentime (we love the decorations!) but when I heard that Lauren was going to be in SoCal this summer I could not pass up the opportunity to finally meet her in person, and I suggested that her and Chris meet us at the happiest place on earth since they'd never been! What ensued was basically one of the best days EVER.
Day 0
Max and I drove down on Thursday, which took up most of our morning and afternoon. Since we no longer have our annual passes (*sobs*) we couldn't get into the park that day, but instead used the time to explore Downtown Disney. Downtown Disney is changing a LOT, and it's reminding me more and more of Disney Springs in Florida, with much better shops and restaurants coming in (including Salt & Straw and Blacktap!) There's also a new Disney Home store which I stopped in to buy some wedding gifts for one of my best friends at. We had dinner at Tortilla Joe's and then went on the hunt for some new ears for me, since I like to treat myself to a new pair each visit. I was SO overwhelmed by the amount of options. Disney seems to no longer be doing limited releases because I saw rose gold EVERYWHERE (the ears, wallets, backpacks, etc.) along with so many new cute and creative ears (ice cream sandwich ears!) I decided to go with the Sally ears that I had been eyeing ever since I saw them on Instagram last fall.
Day 1
We started out our first day arriving about an hour before Disneyland opened, and grabbing a quick breakfast in Downtown Disney, which is where I finally met Lauren (!!!!) and Chris for the first time! Lauren and I have been chatting for 4+ years online through the book blogging community and I'm happy to report there was no awkwardness at all, and we got along marvelously (proof that blogging friendships can be just as strong as non-blogging ones!) We only had one day passes to Disneyland so I was DETERMINED that we get as much in as we could, so I took lead on being our group's "local specialist" for the day (often charging ahead of the crowds and possibly being a little neurotic but we got SO much done). Our first time using the Disneyland MaxPass system (where you can book fastpasses on your phone), the four of us hit SO MANY incredible rides, especially just within the first hour of being in the park!
Right away we hit Pirates, Haunted Mansion, and Indiana Jones (where Chris lost his hat but thankfully the Disney employees were able to find it and mail it back to him). We were also able to hit Thunder Mountain and the Matterhorn before breaking for lunch at my favorite healthy(ish) spot in the park, Bengal Barbeque (definitely try the bacon wrapped asparagus if you're ever there). Lauren and Chris then had their VERY FIRST Dole Whip and even found a sort of secret line that was about 10 times shorter than the standard line everyone knows about. I then headed over to the Gibson Girl for my obligatory waffle cone before we headed out for a second round of rides!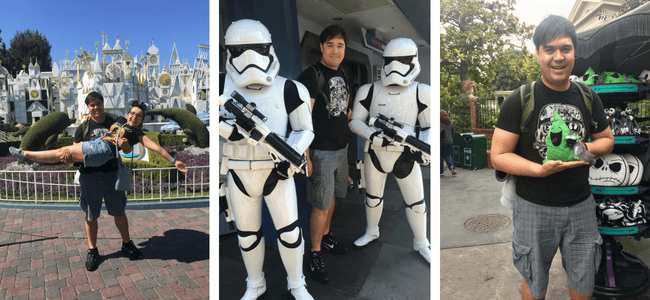 We were able to hit a lot of Tomorrowland rides in the afternoon (or rather the rest of the gang was- a lot of them make me motion sick so I sat out a few. I did, however, make Max take a pic with some Stormtroopers we ran into since he appropriately had a Stormtrooper shirt on) and then headed to Toontown for a break and visited Mickey's house which was adorable (and air conditioned) and we got to meet Mickey as Steamboat Willie! We had an early dinner at Rancho del Zocalo and then hit a few more small/relaxing ride (like the Jungle Cruise). Lauren and Chris headed out around 8pm and Max and I stayed for fireworks and Peter Pan (though they close Fantasyland for the fireworks, they actually start a pre-line for Peter Pan over by the teacups, so we were able to get in that and only wait about 30-35 minutes for Peter Pan which is honestly a miracle LOL). We walked all the way back to our hotel with VERY sore feet around 11pm.
Day 2
Since we bought 2 day 1 park per day tickets, Saturday was the day we were devoting to California Adventure. Coincidentally it also happened to be the day that the new Pixar Pier was opening, so it was pretty crowded (especially the line for the new Icredicoaster- I heard a rumor the line was 4 hours long and we were like NOPE not worth it). We immediately hit up Radiator Springs Raceway, The Little Mermaid, Goofy's Sky School and Soarin', but we got exhausted pretty fast considering we were at Disneyland for like 14 hours the day before (and our feet still HURT). We did cut the day pretty short and decided to go back to our hotel and nap and then head to Newport for dinner, however before we left we did brave the crowds and check out Pixar Pier.
So, potentially unpopular opinion, but Max and I felt pretty so-so about Pixar Pier. We both loved the charm of the original Paradise Pier, so we were a bit sad to see it go. While Pixar Pier did have some cute stuff (it's split into four neighborhoods, based on the Incredibles, Inside Out, Toy Story and a general Pixar one), but a lot of things weren't open yet, especially most of the Inside Out shops/rides. As Max put, it honestly felt like almost a soft opening or like the area was still in beta mode, and a lot of the carnival games kept breaking down (sadly I tried to play the La Luna game TWICE and it was broken down both times). Overally Pixar Pier was cute, but if I'm being completely honest, underwhelming (RIP the original California Adventure with the Golden Gate Bridge over the entrance, giant CALIFORNIA letters out front, and Mickey outline on California Screamin').
Though Max and I don't usually visit Disneyland in the summer, I am SO GLAD we were able to go and meet up with Chris and Lauren for a truly magical day! Fingers crossed we're able to meet up with them again- maybe at Disneyworld next time 😉
Have you been to Disneyland recently? Visited Pixar Pier? What are your thoughts on all of the renovations and additions going on in Disneyland and California Adventure lately? Have you ever had the chance to meet an online blogging friend in real life? Let me know in the comments!
Related Posts