I've been blessed enough to be able to attend YALLWEST since its inaugural year in 2015, and returned again this month for its fourth year ("senior year," if you will) in sunny Santa Monica. The festival was a bit more hectic that usual for me due to work commitments as it happened a bit later than it usually does, however we still ended up making it and catching up with our book squad from last year and having a fantastic time! Each year more and more publishers and vendors come out for the west coast event and it was great to see many familiar faces at the booth, as well as meeting some new ones as well! This year we sadly had to skip Fierce Friday at the Santa Monica library due to our schedules and arriving in Southern California later than anticipated (although I heard it was much emptier than usual, so I'm bummed we weren't able to attend, it would have been great to meet all the authors!) The rest of the book squad DID attend though and I heard nothing but great things about the event! We did however show up bright and early at the high school on Saturday (at 7:30am) to ensure we were ready and prepared for the festival opening. I had a press pass this year and the process of receiving our passes was organized and efficient (and I felt SO official!). We entered the festival promptly at 9am and so began our long day in the sun as seasoned YALLWEST veterans.
First up was heading to the major booths with early morning giveaways for newsletter subscribers (Epic Reads and Penguin Teen) where I received a tote bag, enamel pin and ARC (Epic Reads) and a t-shirt and choice of ARC (Penguin). Then Enna and I headed over to Book Beau which had a booth for the first time this year. It was so great to finally browse the beaus in person (and the first 100 people to visit received a free enamel pin as well) and we each purchased an XL beau (the mermaid pattern for me, the constellation pattern for Enna). We then headed over to get in line at the Underlined booth to obtain tickets to both the Underlined Prom and the Kiersten White signing, both later on in the day.
Once Max got into the festival, we split up and headed to our first few galley drops of the day- I headed to Epic Reads for their 10am galley giveaway, and he headed to Penguin for Give the Dark My Love and The Novl for the Finding Yvonne signing. We then both had big events at 11am, the HMH Teen Female Fantasy Power Hour (where I snagged a copy of Empress of All Seasons!) and the Kiersten White signing I had received a wristband for earlier (Kiersten is SO nice and sweet, and I really enjoyed talking to her as she signed a copy of Bright We Burn for me. My only regret is that I was not around when they did a random drop for The Dark Descent of Elizabeth Frankenstein!) I then happened to see a Twitter mobile notification from Riveted Lit (who did pretty much all random galley drops all day) saying that they had three gift bags for the first three people to approach the tent with a secret password from Twitter. I hustled over there after meeting Kiersten and was thrilled to receive the third and final bag. Much to my surprise it contained a finished copy of Stay Sweet and two adorable matching ice cream cups and spoons. I was BEYOND excited since the book is one of my most anticipated 2018 reads and I had loved seeing the beautiful promo packages several bloggers received for the title.
Max and I immediately began lining up early after 11am for the 1pm events, as those were some of our
most anticipated of the day. I headed over to Epic Reads for the Puddin' drop (which included adorable enamel pins and a cake pop) and Max headed to the Grim Lovelies macaroon hour hosted my HMH Teen. Following the Puddin' drop I headed up to the signing quad to get my copy of American Panda signed by Gloria Chao. It was SO nice to meet her after talking with her online about how much I loved her 2018 debut, and her note and signature in my book was adorable as well. Afterwards, Max was in need of a lunch break, so he took lead on heading down to the madness that was the food trucks while I prepared for the 1pm Underlined Prom, which blessedly provided a cool break in the shade! The Underlined authors and reps mixed and mingled with attendees, while we filled out a cute prom themed questionnaire which determined which ARC we would receive, along with the NICEST tote bag I have ever received from a publisher (it seriously has a zipper closure and everything). They also had Cool Haus Ice Cream serving up cookie ice cream sandwiches which were themed after different Underlined books (I had the Catwoman themed one- double chocolate cookies with cookies and cream ice cream) which was a much needed treat considering how hot the day was (all jackets could pretty much be abandoned by 8am).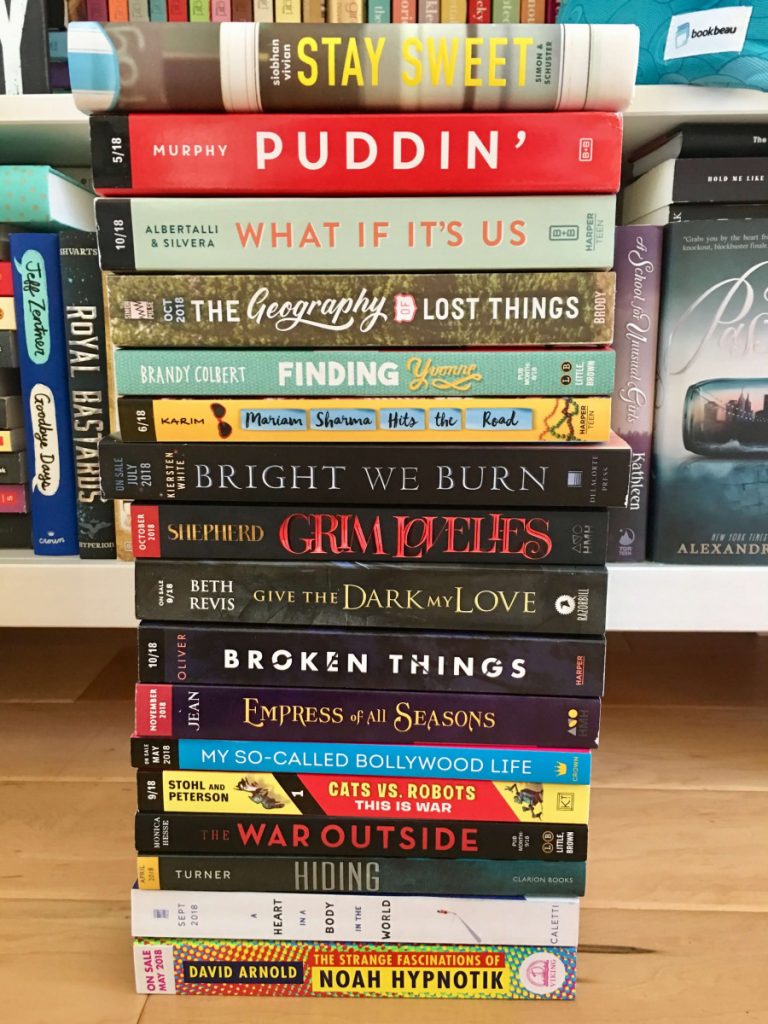 I met up with Max on the grassy knoll that the Epic Reads x Dormify event was taking place on and he mercifully had brought me lunch, a sushi-burrito from the Jogasaki Burrito food truck (though I've heard about sushi burritos before it was my first time having one, and it was so tasty and refreshing to have a healthy meal amidst all of the craziness of the day). We then waited for the Epic Reads event to start, which was unfortunately more disorganized that we had anticipated. They had run this event earlier in the day with a much smaller turnout, however I believe word got out that ARCs of What If It's Us, the new highly anticipated title by Becky Albertalli and Adam Silvera were available. They ended up having to give everyone a random number and used a random number generator to determine who won a prize (there were two different ARCs to chose from, or you could chose an Epic Reads yoga mat). Needless to say it was a LONG process, however both I and Krysti from YA and Wine were lucky enough to win copies of What If It's Us, and after how much I loved Simon it was definitely worth the wait! After the Epic Reads event we milled around for a little while (and narrowly avoided getting trampled in the stampede to get tickets for the Legendary ARC drop- it was seriously violent) we decided to head back to Orange County and grabbed dinner with a friend. The next day we waited until Sprinkles opened to grab our customary post-YALLWEST cupcake fix and made the long drive home.
Book Squad Shout Out!
A huge reason why I had such a fabulous time at YALLWEST was because I was there with the the best fellow bookish people! Huge thanks to Christy, Krysti, Enna and Joss (among others) for enveloping me into your squad and always keeping the DMs fun and informative. Also a HUGE thanks to the bookish husbands, Chris, Kyle and Max for always tagging along and standing in line with our color coded Google spreadsheets and letting us frantically strategize with them.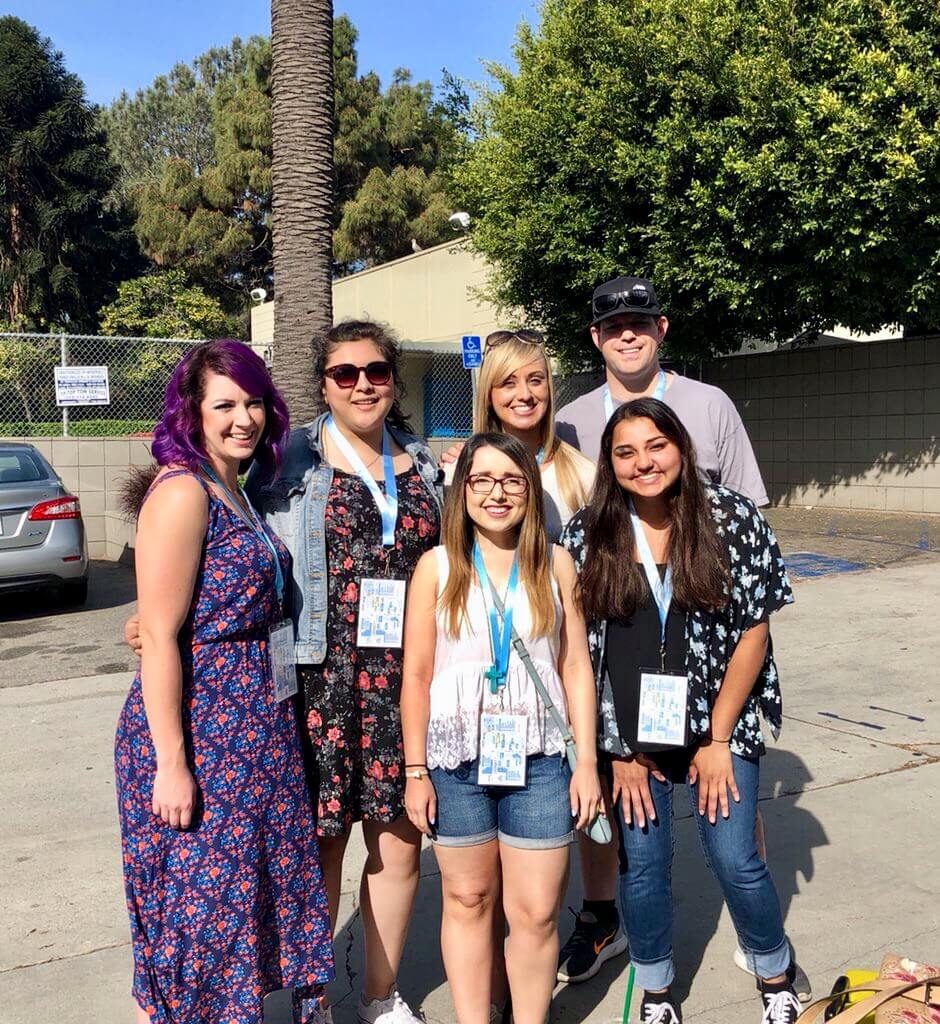 Giveaway!
To commemorate this year's YALLWEST, I am giving away an ARC of The Strange Fascinations of Noah Hypnotik. The giveaway is US only, must be 18+ or older to enter, and I do check EVERY entry, so no cheating please! I am not responsible for any items lost in the mail.
Related Posts