It's been a LONG time since I've done a tag, but I really liked the one Madalyn @ Novel Ink tagged me in, so I decided to give it a go! The Behind the Screen tag was originally created by Amber @ Du Livre, and it's a fun way to get to know bloggers a little bit better on a personal level!
When did you start blogging and what was your first review?
So I created a wordpress.com account and started dabbling in blogging back in 2013, and my first "official" review was of a paranormal YA book, Everneath (ugh the formatting is terrible!). I didn't really establish myself as a book blog though until February 2014 which is why that's when I always celebrate my blog anniversary.
Who/what inspired you to start blogging?
I honestly don't remember! I think I created the wordpress account on a whim one day after seeing that reviewers on Goodreads would link back to their book blogs. I was on tumblr for a few years and posted a few reviews there (like for The Hunger Games) but it didn't really feel like the right format for me.
What is a blog-related goal you have?
I would love to continue developing relationships with publishers and authors!
What is one thing you wish someone told you about blogging?
Probably that in order to have a successful blog, it's pretty time consuming. Don't get me wrong, I LOVE blogging, but it's like a part time job!
What is your biggest blog-related accomplishment?
Well I just celebrated my 4th blog anniversary so I think keeping up with a hobby so consistently is a big accomplishment!
What types of posts do you enjoy writing? Where do you usually blog? What does your set up look like?
I love writing features and discussions, and I actually really do still enjoy writing reviews! I used to blog a lot from my couch, but it wasn't great for my back and I started using a dual monitor set up from my desk and it makes me feel so much more efficient! You can see my dual monitors below along with my Erin Condren planner, iPad and a zillion pens.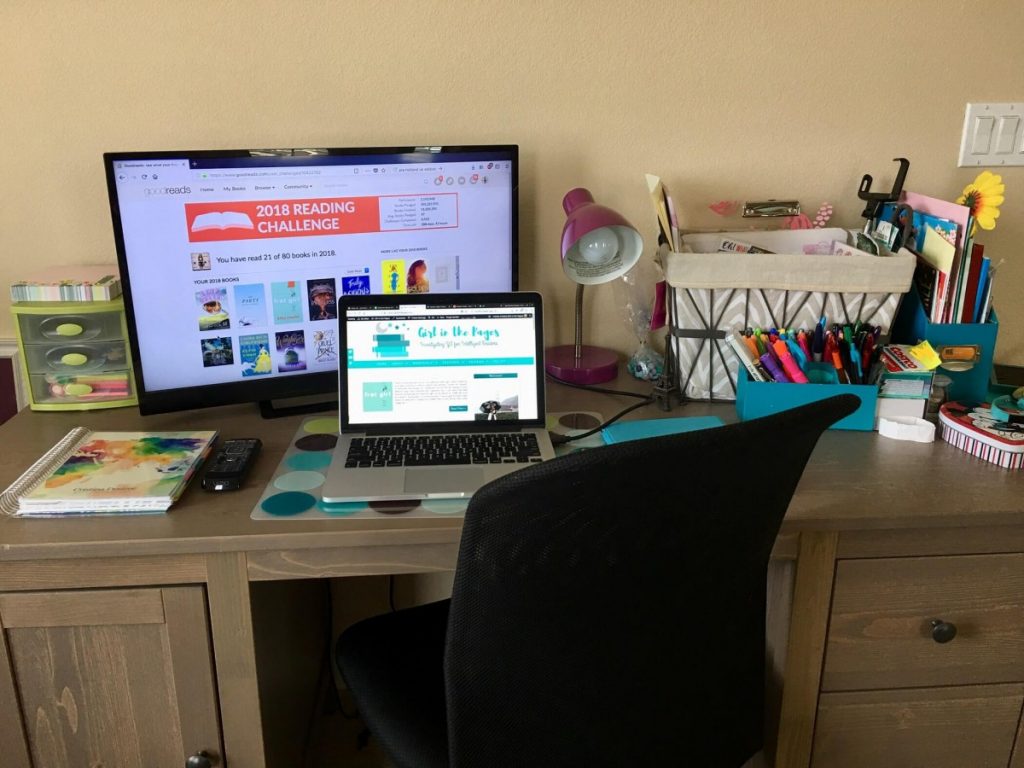 What was your last 5 star read?
This series is SUCH a guilty pleasure read, but I love the books!
What was your last 1-star read?
I honestly don't remember- I almost never give one star reviews since if I'm not enjoying a book that much I'll usually DNF it.
What are three words that make you pick up a book?
This is such a good question that I've never really give much thought to! Let's see- Royalty, witches, and food! (I'll qualify this by saying that I mean royalty as in real life/contemporary royalty, not fantasy royalty).
What is your Hogwarts house?
Ok so this is a super loaded question for me lol. I self identify as a Ravenclaw (and was even the Ravenclaw prefect on a Harry Potter travel course I took in college), however EVERY SINGLE TEST I'VE EVER TAKEN EVER has sorted me into Slytherin. So I suppose that makes me a Slytherclaw…
What is your favorite reading environment?
Definitely the beach. I try to do some sort of tropical vacation every year and instead of doing excursions or activities I spend 90% of the week lying on a beach chair and reading books and it's phenomenal.
What advice would you give to new bloggers?
Consistency is key! Be genuine and post regularly and before you know it you'll be a recognizable voice in the community! Also, think about your brand and how it can be recognizable (for example, I think my blog has become pretty synonymous with teal/turquoise colors!)
I'm tagging anyone who wants to partake!
Related Posts