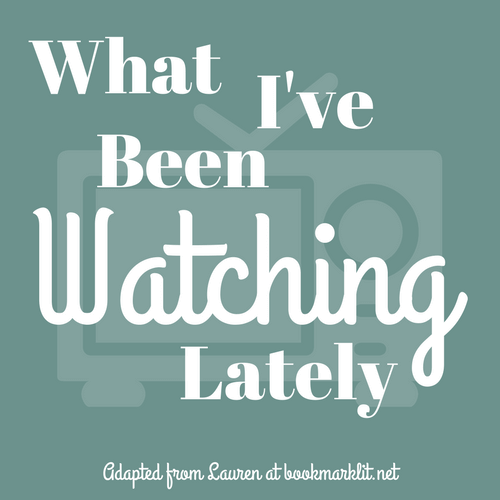 Inspired by Lauren @ Bookmarklit, I've been wanting to incorporate some more non-bookish things into my blog. Since Netflix is practically a hobby in and of itself these days, I am tagging along on her feature on showcasing what I've been watching lately!
So basically all of the shows we're watching right now are CW shows, but Jane the Virgin is one I've been watching since it's initial release that really resonates with me. I come from a Latin family, so Jane's over the top family dynamic is honestly not too different from my own (minus the accidental artificial insemination and criminal masterminds). The cultural representation of what it's like to grow up in a Latina household is on point, and I love how it's so self aware and a caricature of a telanovella packaged up as an American TV show (honestly, they're really like that. I grew up listening to them in the background while my grandma watched them). The current season, however, is really disappointing me because Raphael is being SUCH a troll. Also, Mateo is STILL so bad (like father, like son I guess). All of this fighting between Raphael and Jane is stressing me out, and business type plots in shows like this really bore me so I'm anxious to move past this current Marbella story line.
I'd been wanting to try Riverdale for a while, so Max and I started it on on Netflix last month and binged watched the first season in less than a week (why is it so short?!) and we are obsessed. Max has a decent amount of knowledge about the original Archie comics so it's fun to see him point out the parallels in the show. I love the dark vibe of the show and how Archie isn't really the protagonist, it's really more of the town itself that's the star. We're currently caught up with the episodes for season 2, and our favorites include Jughead and Betty. Archie is an idiot and I can't even with Veronica (does anyone else feel like she's a rip off of Blair Waldorf's character in Gossip Girl???) We were in Hot Topic today and I saw a Riverdale Vixens shirt and got WAY too excited, so clearly I am emotionally invested in this show (Jughead please don't break my Betty's heart).
Honestly this show could probably be a bit better but I'm hooked anyway. A remake of the 80's show that my mom used to watch, I adore the opulence and over the top lifesyle and drama and #richpeopleproblems and love Fallon even though I'm probably not supposed too. Krystle is the literal worst and it confuses me that Blake's name is Blake- like it's weird seeing a middle aged man have a bro name, but maybe that's just me. Anders is the sassiest and I can't wait to see the full extent of the dirt he has on Krystale. Also, Fallon and Steven are adorable together "Soon you can get back to saving the world and I'll get back to taking it over." Sibling goals. Also, I love the theme music for some reason.
Coming Up
Holiday Baking Champion | Max and I LOVE Food Network shows and the annual Holiday Baking Champion series is one of our absolute favorites (but really we'll watch anything with Duff Goldman on it).
The Crown Season 2 | Quite possibly the BEST thing I watched in 2016, I CANNOT WAIT for the second season to come to Netflix.
Thor Ragnarok | Chris Hemsworth, enough said.
Murder on the Orient Express | The aesthetic of this movie is EVERYTHING. I cannot wait for this, it's going to be the perfect holiday mystery movie (when I initially saw the trailer I legit thought it was a movie based on the game CLUE for a second lol).
Are you currently watching any of these shows? Any upcoming fall/winter shows that you're anxiously awaiting? Let me know in the comments!
Related Posts