YallWest is my FAVORITE weekend of the year, combining books+friends+California (what more can you ask for?) Attending since its inaugural year in 2015, Max and I somehow managed to squeeze in a whirlwind trip admist a very busy work month for the both of us, and it's safe to say that is was the BEST YallWest we've attended yet!
As usual, we chose to drive because I'm not about my books getting smashed in the overhead bin of an airplane. So we headed out around 7am (we had intentions to leave at 5am…but you know how that goes). After a quick-feeling trip down the state we arrived at the Santa Monica library around 1:30pm, ready to kick the weekend off with the Fierce Friday preview night. We were thrilled to already see Christi and Nancy from Tales of the Ravenous Reader and Kelly from BookCrushin in line, and were soon joined by Joss from Teal Reader and Krysti and her husband from YA and Wine. I had been preparing to be on a blog tour with many of these lovely ladies so it was SO good to see them all in person!
Friday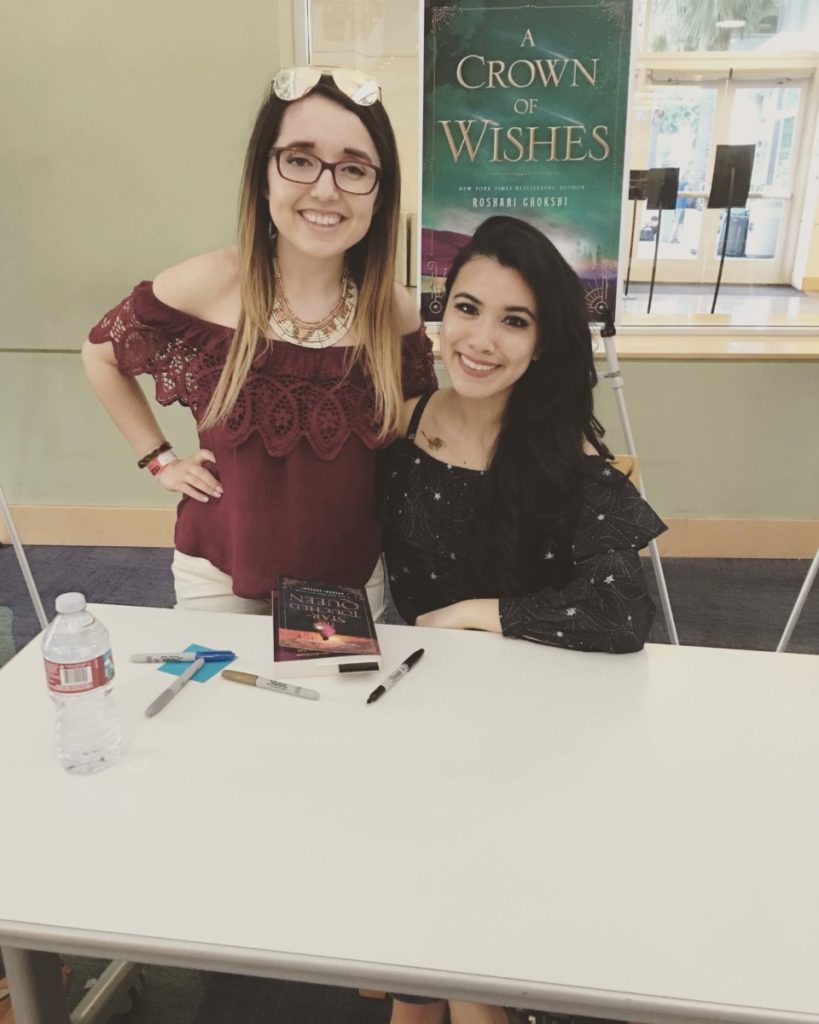 Around 4pm the wrist banding system began, and I have to say I REALLY admired the system they had worked out. There were author signings at 6pm and 7pm, and you got a wristband as a guaranteed, numbered spot for one signing for each time slot. Then if you had time you could jump to other authors. I was SO excited to hear that Maureen Goo was signing ARCs of her highly anticipated novel I Believe in a Thing Called Love, so I immediately signed up to see her and Roshani Chokshi. Maureen was so sweet and SO excited to be there, and Roshani was so glamorous (seriously you guys, her style is on point). After those two signings we decided to call it a night, considering we had been up since 5am and would be getting up again at 5am on Saturday for the second day of the festival.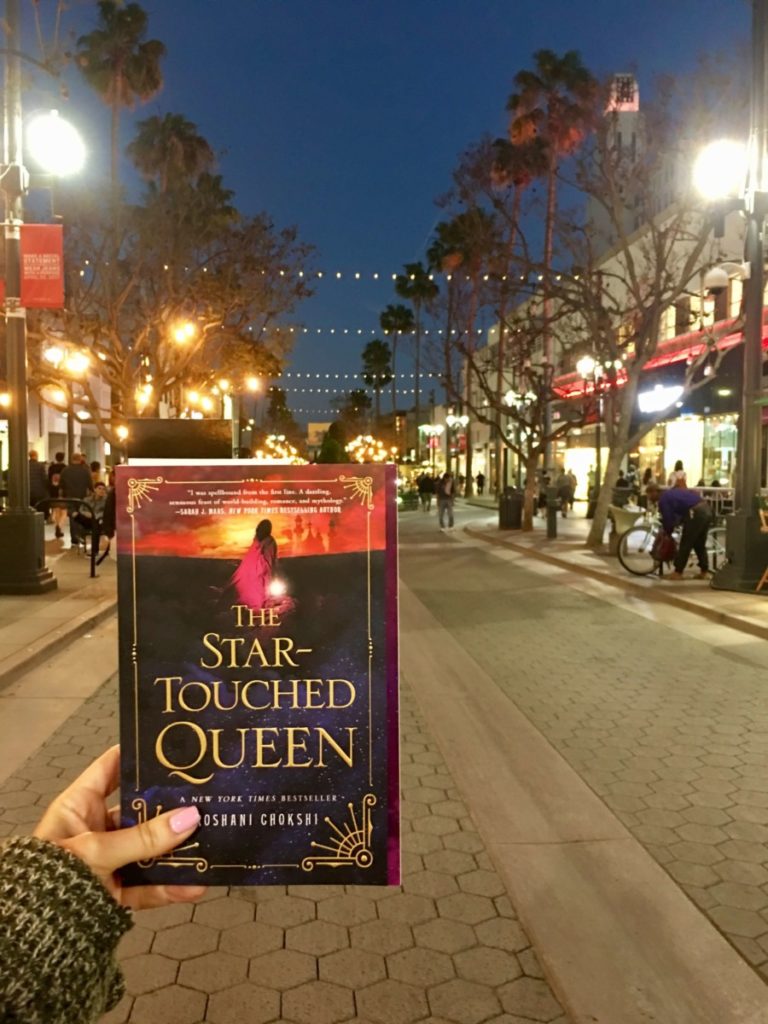 EXCEPT it was Friday night and of course there was horrendous LA traffic (we had to trek down to Orange County where we were staying) and when my GPS told me it was going to take 2 hours I was like NOPE. So we decided to explore downtown Santa Monica (which I had sadly never done in all my years of going to YallWest!). It was so charming and beautiful, and after walking for a few minutes we immediately came across a Lemonade (one of my favorite restaurants), and after dinner walked around downtown, along the beach and onto the pier.
Saturday
Saturday had us up just before 5am to get ready to head to the main day of the festival. We arrived at the high school around 7:15am and the line was already about 70-80 people deep (mainly because people kept jumping ahead, which I have mixed feelings about TBH. It's one thing to save a spot for one or two people, but having ten people join you in line is a bit much). Max and I had a schedule for the day drawn up (more hastily compiled than in previous years due to our crazy lives this spring) and we knew that our FIRST PRIORITY was going to be to get one of the coveted 100 spots for the Leigh Bardugo Wonder Woman signing line. 9am came and went but the doors hadn't yet been open, and we started to worry that there wouldn't be any tickets left as press pass holders had already been allowed it. Once the doors finally opened at 9:20am, Max BOOKED IT to the First in Line tent and was able to snag the 4th to last ticket! He's a huge Bardugo fan, so he had the book signing to himself but I got to keep the T-Shirt 😉
After the initial morning excitement surrounding Wonder Woman, we fell into sync with our schedules and priorities for each hour. I promptly joined the line for the Epic Reads 9am galley drop and snagged a copy of the much anticipated Ramona Blue. I then headed up to the signing area where other publishers had set up tents, and was able to obtain some amazing ARCs from Disney, including The Belles. I was also fortunate enough to be able to meet the team for Houghton Mifflin Harcourt's new YA operation, HMH Teen! The ladies there were SO enthusiastic and eager to be at YallWest and were pitching their books to everyone who approached the tent so you could choose the ARC you wanted that best aligned with your interested, and I loved that they were taking that time to invest in the readers and recommend books to them! I snagged a copy of The Disappearances which has been on my radar for a while now, and the author is local to me and I was lucky enough to meet her at Kepler's this year.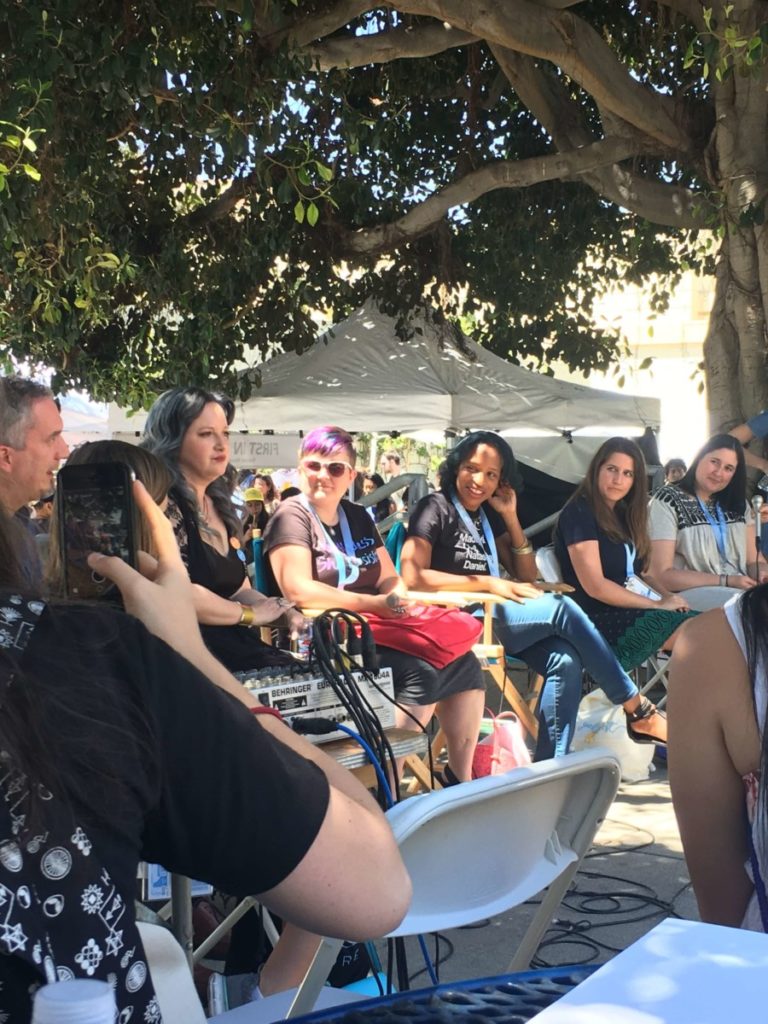 After fortifying ourselves with a treat from The Pudding Truck (Max's favorite food truck stop at the festival every year) it was time to get in line for the First in Line Pizza Party. I had never attended the event before but was eager to this year, seeing as there were SO many amazing authors in attendance (Jennifer E. Smith, Leigh Bardugo, Nicola Yoon, James Dashner, etc.) They did a fun lightening round style panel (my favorite answer of the day was Bardugo's response to "If you could only bring one thing on a deserted island, what would it be?" and her response was "Dwayne the Rock Johnson." I die) and then the authors mingled with the attendees while we ate pizza. The attendees also received awesome swag bags with amazing pins (I love bookish pins) and ARCs of Now I Rise and A Poison Dark and Drowning.
As the afternoon (and heat!) wore on, Max went on lunch duty and I headed to the Scholastic tent to pick up an ARC of Lucky in Love by Kasie West. Much to my surprise, Kasie was actually there and signed all of them! Max returned with a delicious kale salad from the Hawaiian Poke food truck that was set up this year, and then we headed over to Penguin's tent to prepare for the drop of There's Someone Inside Your House by Stephanie Perkins. We were delighted to find our book squad there and we all commandeered a table in the shade while we waited. There was a bit of ~drama~ as it turned out that though ARCs had been advertised, the drop was actually for extended samplers (super long ones, they look like mini books, but still a bit confusing from the way it had all been advertised). After we finished up at Penguin we did a final lap of the venue, said our goodbyes and headed back to Orange County to have dinner at our favorite Gastropub and then hit up Sprinkles Ice Cream, our post-YallWest tradition. We fell into bed around 11pm exhausted but gearing up for a full 12 hour day at Disneyland ahead of us on Sunday.
We drove home on Monday and deduced that this year may have been our most successful and enjoyable YallWest yet. Though the festival was only two days instead of three, we enjoyed the opportunity to go to Disney on Sunday and see how strides have been made in the organization and execution of the festival (especially on the Fierce Friday preview night). We're also so glad that we took the opportunity to explore Santa Monica a bit more than we usually do, spending time there outside of the festival. Next year we're hoping to go down a bit earlier and explore more of the SoCal book scene with a stop by The Ripped Bodice!
Giveaway!
To commemorate this year's YallWest, I am giving away a signed ARC of I Believe In a Thing Called Love (seriously this book is so cute!) as well as an ARC of I Hate Everyone But You by Gaby Dunn and Allison Raskin and an extended sampler of There's Someone Inside Your House by Stephanie Perkins! One lucky winner will win all three! The giveaway is US only, must be 18+ or older to enter, and I do check EVERY entry, so no cheating please! I am not responsible for any items lost in the mail.
Save
Save
Related Posts