About the Book
First We Were IV by Alexandra Sirowy
Publication Date: July 25th, 2017
Publisher: Simon & Schuster Books for Young Readers
Goodreads Link: http://bit.ly/2lx6UyI
Buy Links: 
Amazon | Barnes & Noble | Book Depository
A group of friends start a secret society in this out-of-control thriller from the author of The Telling and The Creeping that examines the all-consuming love of lifelong friendship—and what someone is capable of when they're afraid of losing it.

Izzie loves nothing more than her three best friends, Viv, Graham, and Harry, and the bond the four of them share. And she's terrified of their friendship falling apart next year when they go off to college. To bind them together, she decides to create that will belong only to them, a special thing that they'll always share between the four of them. And so they dream up the Order of IV, a secret society devoted to mischief that rights wrongs and pays back debts. At first, it works like a charm—but when the Order of IV's escapades get recognition beyond their wildest expectations, other people start wanting in. And soon, what started as a game of friendship is spiraling into something dangerous and beyond their control—and before it's over, they'll pay the ultimate sacrifice.

---
Book Recommendations!
One of my favorite aspects of When We Were IV is the extremely nuanced and unique core cast of four best friends (who put the four in IV!) Today I'll be recommending books based on each character- books I think each character would enjoy based on their personality, but also books that you'll most likely enjoy if you find Graham, Izzie, Harry, or Vivy to be your favorite character!
Izzie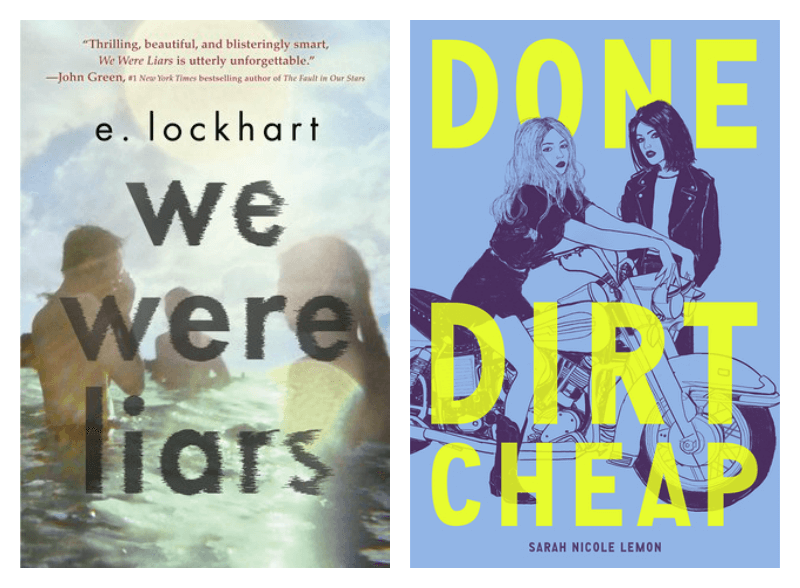 We Were Liars | The Order of IV is Izzie's brainchild, and as the founder of the group I can see her loving another dark and intense tale of an inseparable group of friends, who's motives are always slightly suspect.
Done Dirt Cheap | Like protagonist Tourmaline in Done Dirt Cheap, Izzie is a "nice" girl with all of the "right" things in life, but years for so much MORE than her gender and circumstances expect of her.
Vivy
When We Collided | I think Vivy would be drawn to this tale of another Vivi who bucks conventional fashion trends, lives for her art, and lets her emotions rule her destiny.
Suicide Notes from Beautiful Girls | Vivy's intense friendships and even more intense rivalries remind me of Lynn Weingarten's novel of the thin line between loyalty and obsession.
Harry
Illuminae | A running theme throughout the narrative is that of a meteorite that resides in the Order's town of Seven Hills, and Harry admits to ruminating on the existence of aliens who could be their age and facing similar dilemmas.
Daughter of Deep Silence | Harry is the logical, calculating member of the group, as he writes for the school news blog and is always looking for elements of a story. He also has his own motives for wanting revenge through the Order. I think the tale of cold, calculated revenge and careful planning in Daughter of Deep Silence would appeal to Harry's logical and methodological side.
Graham
City of Saints and Thieves | Graham is the group's intellectual, and he's extremely aware of social issues and widely traveled thanks to his mom's career as a professor. I think he'd be drawn to a thriller that's set among the corruption and politics of another country.
The Sacred Lies of Minnow Bly | Graham is the most well read member of the Order of IV, and has researched many secret societies, religions, and other groups, always able to provide a historical context. I think he'd find Minnow's tale of escaping from her cult fascinating, and would be able to draw parallels between the fictionalized cult in the story and past and modern groups that follow similar patterns.
---
About the Author
Alexandra Sirowy is the author of the young adult thrillers THE CREEPING, the Bram Stoker Award® Nominated THE TELLING, and the upcoming FIRST WE WERE IV. Alexandra attended a women's college as an undergrad and received her graduate degree in International Studies. When she isn't writing, she loves to travel, read, eat, and get into mischief. She lives with her husband in Northern California.
Disclaimer: All content directly from First We Were IV (such as quotes and excerpts) is taken directly from an advanced reader's copy of the book. Therefore, it is not to be separately quoted from due to the fact that it is not in its final publication form.
---
Tour Schedule
Week 1
Week 2

Week 3

Week 4

Week 5

---
Giveaway!
Save
Save
Related Posts