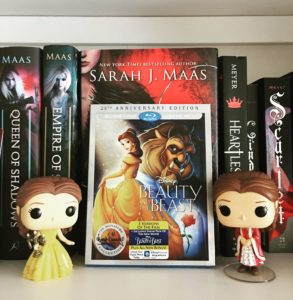 I was definitely on the hype wagon for Disney's new live-action Beauty and the Beast film. Just the trailer was enough to give me chills. Max and I knew we'd be splurging and seeing it in theaters (we've been picky about the movies we see in theaters these days since it costs almost $30 for the both of us to see a MATINEE. No concessions included) and when my aunt got us movie passes for Max's birthday we knew we'd been saving them for Beauty and the Beast. Since we were busy with social events on opening weekend, we went to see it during its second weekend in theaters, after hearing from friends and coworkers that it was incredible.
Well, it looks like we're THOSE PEOPLE who are going to be the black sheep regarding this movie. While we both enjoyed seeing it (as we enjoy seeing ANY Disney movie) we both felt rather let down in a multitude of ways, which we found surprising after loving the last Disney movie we saw in theaters so much (Moana, in case you were wondering). Beauty and the Beast is one of Max's favorite Disney movies and Belle is his favorite princess, and I recently fell in love with the animated film as well (I'd always been more partial to Snow White and The Little Mermaid growing up, but after watching the animated version of Beauty & the Beast in theaters a few years ago when they re-released it, I fell in love with it. Plus, all book bloggers have a bit of Belle in them). After discussing the movie for the rest of the night, we decided that it fell in a very middle-of-the-road place for us. If we were rating it the way we'd rate a book, we'd probably rate it 3.5 stars. There were elements from the original animated movie that we loved to see come to life in this version, but there were also elements that weren't captured as well or that fell flat in the live action remake for us.
*Warning- There may be some mild spoilers below, but as long as you've seen the original there's not much you can really be spoiled about…
Things We Loved:
The music! We loved seeing them recreate the songs ("Be Our Guest" was particularly stunning).
The household staff characters! Lumiere, Cogsworth, Mrs. Potts, etc. were all phenomenal and HILARIOUS.
The battle scene where the peasants storm the castle. SO funny and SO cool to see the household staff take on the mob while still in their intimate object form.
The Beast's Library. Obviously this was a scene that everyone was anticipating since it's SUCH an iconic scene from the animated film, and I did find myself getting ~feels~ while watching this part.
Gaston. The actor did SUCH a good job capturing his troll-ish essence. It literally felt like he walked right off the animated screen.
Maurice. In the remake, Maurice is an artist while Belle is the one who likes to invent. Their bond was very sweet and I loved learning more about his relationship with Belle, as his character definitely had more depth than being the bumbling and sort of pathetic character he is in the animated film.
More context and character development given to the story. They fleshed out the backstory quite a bit more many of the characters (especially Maurice, Belle, and the Beast) and it was really interesting to see the directions the film took. It'll be interested to see if these enhanced backstories will be considered "canon" or not.
Things We Were Less-Than-Impressed With:
Emma Watson. I really like Emma Watson, don't get me wrong. She definitely has that bookish, inventive side that Belle has. However, I felt that she was actually a little low-energy, when Belle is more spirited and sassy in the animated version (especially in the opening song where she's dancing around the fountain, sliding around on the bookstore ladder looking for books, etc.) She was just sort of missing that spark of life that Belle has. It felt like watching Hermione in a peasant village singing Disney songs. I didn't see her as being transformed by the role into the character.
The Pacing. This movie felt sooooooo long. I was actually starting to get really ancy by the end of it. It felt like the initial set up with the Beast (with Maurice going to the castle to seek shelter, being taken prisoner, Belle finding him, trading places with him, Maurice going back to the village, etc.) really dragged, and then the actual time where the Beast & Belle spent time together and fell in love felt really rushed in comparison. As Max said "It feels like they fell in love over a long weekend."
The "extra" songs. There are several songs in the live action film that were not from the original movie (such as the Beast getting his own song and sing and be melodramatic over) and I honestly just wasn't interested. People are here for the original songs, not for new ones.
It paled in comparison to the original. I kept thinking back to how I preferred this scene or that scene to the animated version, and it honestly felt so similar to the original animated movie in so many ways that it was almost competing with it. You can't watch it and see it as it's own thing, you know?
Overall:
I generally don't mind Disney's live action remakes because it's so cool to see their animated classics come to life. It's a fresh and vibrant way of getting to experience them again, as well as getting to bring the stories to a new generation. However, I simply wasn't blown away by Beauty and the Beast, which was surprising since their trailers were so good, and it's such a popular Disney story. Perhaps in this instance, the animated version is just too good for a live action remake to compete with, especially since it's from Disney's 90's glory days where so many iconic films were made, and it's hard to compete with that golden age. I think I'll stick with the special edition of the animated classic we recently picked up instead of adding the live action to my shelves. While I'm glad I saw it and recommend that any diehard Disney fan does, you're not exactly missing anything if you skip it. Now to wait to see how the live action of Mulan pans out!
P.S. Watching Beauty and the Beast was the perfect compliment to the A Court of Thorns and Roses reread that Kristen, Alexa and I are hosting this month! I just finished rereading ACOTAR and loved picking up on all of the parallels since it is a Beauty and the Beast retelling!
Related Posts