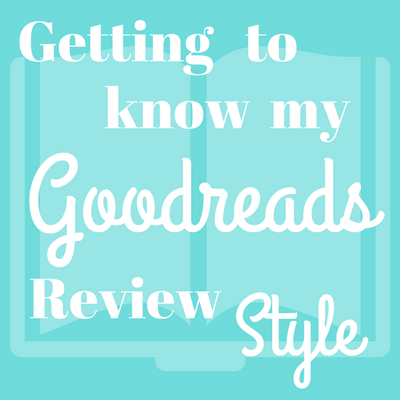 I've been blogging since 2014 and using Goodreads even longer (since 2011!) but I've found that this year I am really trying to approach Goodreads with a clean slate. I'm in the middle of massively reorganizing my shelves, culling my "To-Be-Read" list, and updating missing reviews. However, one thing I've noticed is that there is a significant difference between how bloggers review on Goodreads. Some post their entire review verbatim as it is on their blog, some post a condensed version, some post their initial thoughts and reactions, and some do a combination of all three! In an effort to make my reviews more enjoyable for others to read, I've started wondering if I should rethink my reviewing approach when it comes to Goodreads.
Posting Your Thoughts Verbatim
This is what I currently do, and it's super easy thanks to the handy UBB plug in that allows me to copy and paste my reviews to Goodreads. It's nice to know that I don't have to worry about posting to Goodreads at the same time my review is up since it takes care of it for me (I hate posting my full-length reviews on GR before they are published on my blog). However, I find that these long winded reviews don't get much interaction (I write a looooot. An average review is 1,000+ words for me, and mini reviews are about 500+ words) and I can see how others find it tiresome to read through that long of a review when looking at a book's GR page for a high level understanding of  how a book was received. However, it does make me feel complete to have ALL of my thoughts listed on both my blog and GR.
Condensed Reviews
Some reviewers take their blog reviews and shorten them to a paragraph or two for Goodreads. While I can see how this can be a smart compromise for some bloggers, I personally would spend SO MUCH TIME trying to figure out what to keep and what to pair down (I was a nightmare when it came to papers with page/word limits in college. I always had TOO MUCH to say). While I do include an "Overview" section at the end of each of my reviews, I find that they make much more sense if you've read my entire review and are generally too brief to convey my overall thoughts for GR.
Initial Thoughts and Reactions
I've seen a LOT of bloggers who take this approach, and to be honest I feel like these are the reviews I like reading the most. They're usually just a paragraph or two, feel very conversational in tone, and it's easy to quickly glean how the reviewer felt. I've tried this approach with one or two books lately and while I enjoy it, it also leaves me with a sense of incompleteness. The lack of a formal, structured review makes me feel as though I'm doing the book/author a disservice and leaving my personal GR history incomplete. Does anyone else feel this way?
All of the Above
I've seen some bloggers do a combination of some or all of the above. They may have an initial reactions section, dated with the date they finished reading the book, and then below their full length review they have on their blog along with a TL;DR section or something to that effect. I really admire reviewers who have the time and energy to keep their GR reviews so comprehensive, but knowing myself I don't think I'd be able to spend that much time on my GR reviews.
How do you approach your Goodreads reviews? Do you upload the same reviews that you post on your blogs? Do you write a quicker, shorter paragraph condensing all of your feels? Do you leave GR with your initial thoughts and reactions and point readers toward your blog for your full review? How did you decide to take the approach that you did? Let me know in the comments- I'm seriously conflicted!
Save
Save
Save
Related Posts