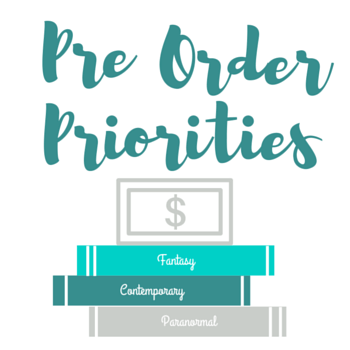 Pre-Order Priorities is a feature that highlights all of the books that I've recently pre-ordered and am anxiously awaiting to arrive at my door!
This post I'm highlighting all of the 2017 releases that I've pre-ordered so far! I'm tyring to be more responsible about my book buying this year, so having some of my most anticipated reads already ordered (and knowing they'll be en route to me ASAP) keeps me (somewhat) satisfied!
Release Date: January 10th, 2017
I'm currently reading Windwitch and loving it, so I knew I'd want it's sequel in my hands ASAP! I'm also seeing Susan on tour this month so I will definitely want to have my copy signed!
Release Date: January 10th, 2017
This was technically a Christmas present from Max, as he was kind enough to pre-order it for me!
Release Date: January 31st, 2017
I've heard so many good things about this one, and I'll be seeing Stephanie Garber on tour as well!
Release Date: February 21st, 2017
I feel like this one has been on my TBR forever, and I'm so glad it finally has a cover! It's gorgeous!
Do you have any of the above titles pre-ordered? How far in advance do you generally pre-order your books, if you do at all? Do you have any 2017 books already pre-ordered? Let me know in the comments!
Save
Related Posts