*Warning: This post will contain major spoilers for almost all of the books mentioned!*
I'm a huge fan of thrillers, but I don't read them super often because it can be hard to find quality books in the genre. They can be too predictable, too cliché, have an unsatisfying reveal for who the antagonist is, etc. However, when a good thriller comes along it's really all anyone can talk about and it tends to take the reading community by storm (for example, I currently have The Girl On the Train in my Amazon shopping cart, because I cannot escape the hype). Yet I can't help but notice that many, many YA thrillers (of both superior and inferior quality) focus on girl-on-girl hate. They pit two teenagers together, oftentimes best friends, and inject jealousy, rage, and aggression into these relationships that eventually leads to some sort of crime. While I myself am guilty of reading these books, I also find it problematic that society seems so fixated on thrillers that depend on the animosity, passion, and betrayal that can spring out of an intense relationship between two young females.
YA Thrillers That Depend on Unhealthy Female Relationships: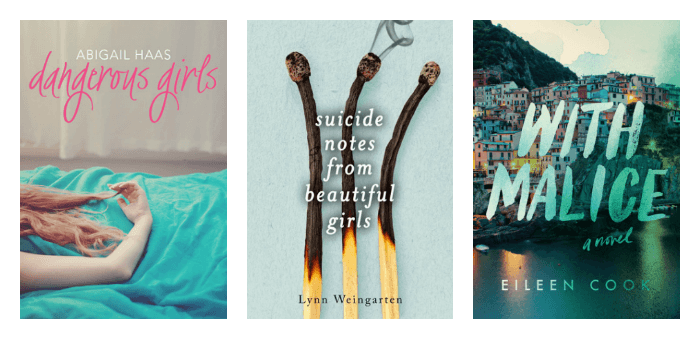 Dangerous Girls by Abigail Haas | Dangerous Girls is one of my favorite YA books of all time. It's written so, so well and builds up believable suspense and suspicion, and has one of the most convincing unreliable narrators of all time. The reveal of the book is a bit ambiguous, but many readers take it to mean that Anna, the protagonist, killed her best friend Elise in a fit of rage driven by jealousy and obsession that grew out of the girls' extremely co-dependent and obsessive friendship. Flashbacks throughout the novel solidify that Elise and Anna's relationship turned extremely toxic over the years, and the addition of a new person into their friendship bubble, Anna's boyfriend Tate, pushed both girls to the breaking point in their friendship.
Suicide Notes from Beautiful Girls by Lynn Weingarten | Another novel that puts a compulsive teenage girl friendship at its center, this novel starts with one of the girls, Delia, being presumed dead, and her former best friend, June, trying to come to terms and understand how her suicide happened. Through flashbacks readers come to learn that June initially cut ties with Delia due to her boundary-pushing behavior, but her grief over Delia's death pulls her right back into her orbit (because, surprise, she's not dead!) When June is reunited with Delia, she falls into the trap of letting Delia dictate her actions again, and the reader is left with an extremely vague ending where June is given an ultimatum by her best friend of either faking her death or being murdered.
With Malice by Eileen Cook | This novel begins AFTER the crime has been committed, as Jill wakes up in a hospital after being in car accident where her best friend Simone was killed but she survived. Jill seems to have PTSD and can't remember what happened when she was driving the car, but now finds herself the number one suspect. It's revealed that the friends had an intense rivalry over a boy they met during a school trip abroad, but it's also revealed that before the accident Jill discovered that her best friend had cat fished her and posed as an internet troll who tore apart her self-esteem by harassing her online for years. When an argument leads to an accidental injury, Simone tells Jill she will hold it over her head an use it to intensely manipulate her for the rest of her life, which leads Jill to panic and crash the car intentionally.
---
Recurring Themes and Tropes
Competition– There always seems to be something that creates a competition between the two female leads, whether attention, popularity, or a love interest.
Swan and Ugly Duckling– In almost all of these stories there is the "cool" friend and the "average" friend, and the "average" friend can't believe she is BFFs with this "cool" girl. Oftentimes this leads to outward fawning/inward resentment and strong feelings of both love and hate.
Platonic to Passion– In many thrillers that focus on obsessive female relationships gone wrong, the boundaries often become blurred between platonic friendship and more intense intimacy, especially if their friendship becomes extremely insular and doesn't include other people.
I Want What's Yours– In many plots there is the element of one of the females betraying another, either subtlely or not, by coveting something (usually a boyfriend) that the other female has. It's usually explained away by the motive of "I felt left out" or "I wanted to feel closer to you by having what you have."
If I Can't Have You, No One Can– Ah, the theme that usually leads to the crime or climax in these thrillers. When one friend is either "taken away" or chooses to leave the obsessive friendship, this often leads to the circumstances of the murder/disappearance/etc. of the victim in the model, when the "left behind" or "betrayed" friend snaps or seeks revenge.
Why Is This Theme So Successful?
Looking critically at the content of these thrillers that depend on girl-on-girl hate, it becomes a bit disturbing that it's so compelling to audiences. But the question is why does this theme work so well? Why does this make such a convincing, hypable thriller? What is it about the tensions and distortions of female friendships that are so frightening? Is it because there's thought to be more of a depth of emotion in female relationships? Is it because the stereotype of competition between females runs so strong throughout our society that we see the friendships turning toxic and manipulative as believable? It's a formula that has no doubt made some truly successful and entertaining stories, but it's also important to take a step back and look at the reasons they are so successful and the wider societal mentality that it's indicative of.
Talk to Me!
Have you noticed an overabundance in girl-on-girl hate in YA thrillers? Why do you think this theme is so successful? Can you think of some of notable thrillers that don't exploit female relationships? Let me know in the comments!
Save
Save
Save
Related Posts