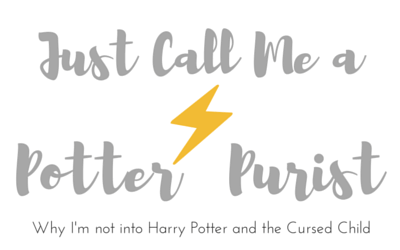 2016 seems to be the year of the revival of Harry Potter fans. Cursed Child is debuting on stage, the screenplay is being released, the Wizarding World of Harry Potter opened at Universal Studios Hollywood, and Fantastic Beasts and Where to Find Them is set to hit theaters this fall. It seems like everywhere one turns Harry Potter has come back into the forefront of the media. However, I've found myself completely apathetic to almost everything that's going on. As much as I have always and will always love Harry Potter, I can't shake the wrongness that I feel when it comes to the continuation of Harry's story.
I've been purposely avoiding news of the Cursed Child.
I'm not going to say that I'll never see the stage play or read the screenplay, but I'm in no means going out of my way to do so. Every bookstore in my area is hosting a midnight release party of some sort for the Cursed Child screenplay release, and my desire to go is at absolute zero. I know this point of view sounds negative, but it seems disingenuous to me to try and recreate the hype and excitement of the original seven book releases. I pre-ordered all of the books back when you had to go physically pick up your pre-orders at the store. I attended the midnight releases, participated in the costume and trivia contests (from which I was banned from on more than one occasion because my knowledge was too deep and no one else was getting a turn). I spent my elementary and middle school summers scouring the internet, specifically Mugglenet, for new Harry Potter news and theories, and I have BINDERS full of theories, spell lists, quotes, etc. and notebooks where I painstakingly annotated and toke notes on every chapter to build my case for what I believed would happen in the final books. Harry Potter was a HUGE and ESSENTIAL part of my life, especially from the ages of 8-16.
Trying to recreate those feelings now just really doesn't feel right to me. I'm a firm believer that any sort of "sequel" shouldn't happen, as it compromises the integrity of the original series, especially seeing as JKR was not the main writer of Cursed Child. Sure, I love the bits and pieces of background she's published through Pottermore and yes, I wish more than anything that she'd release an encyclopedia or Hogwarts: A History, but I don't want a continuation of Harry's Story, especially if it's not straight from her pen.
What About Fantastic Beasts?
The new film Fantastic Beasts and Where to Find Them is something I can get slightly more on board with. I of course had the book along with Quidditch Through the Ages and read them obsessively (remember how terrifying the Lethifolds are?) and I find the film a less offensive idea than Cursed Child because it doesn't follow Harry directly. It serves as an opportunity to learn more about wizarding history and magic in other countries without compromising the core story and characters in the original series. I love looking into the periphery of the Potter world, and I'll admit I do get chills whenever I see a teaser trailer for it. You probably won't find me camped out in front of the theater for the midnight release, but I'll probably see it at some point.
The Wizarding World of Harry Potter
I was lucky enough to visit Universal Studios Hollywood just a few short weeks after The Wizarding World of Harry Potter opened, and it was something I ended up having very mixed feelings about. Was it surreal to see it brought to life? Absolutely. But it also didn't excite me quite as much as I hoped, and some of the magic was marred by the insane crowds, the out of control pricing, and just the general pervasiveness of the real world invading a space that I had previously held only in my heart and mind. I am so grateful for the opportunity to have gone and really would like to go again (especially to see how it's decorated during the holidays), but it didn't fully meet my expectations, perhaps partially due to the fact that I'm much older now, or due to the fact that it seems so commercialized now. I swear I'm not trying to come off as a hipster, but I feel as though a part of my childhood is being compromised by the resurgence of Harry Potter in so many avenues at once.
How do you feel about all of these new additions to the Potter universe? Will you be at the midnight releases? Do you prefer to stick to the origin story? Do you think Cursed Child compromises the canon? What's your fondest memory of participating in the fandom back when the original books were being released? Let me know in the comments!
Save
Save
Save
Related Posts