I received this book for free in exchange for an honest review. This does not affect my opinion of the book or the content of my review.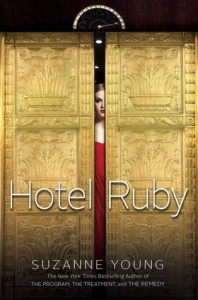 Hotel Ruby
by
Suzanne Young
Also by this author:
Girls with Sharp Sticks (Girls with Sharp Sticks, #1)
,
Girls with Razor Hearts (Girls with Sharp Sticks, #2)
Published by
Simon Pulse
on November 3rd 2015
Pages:
288 •
Goodreads
Stay Tonight. Stay Forever.
When Audrey Casella arrives for an unplanned stay at the grand Hotel Ruby, she's grateful for the detour. Just months after their mother's death, Audrey and her brother, Daniel, are on their way to live with their grandmother, dumped on the doorstep of a DNA-matched stranger because their father is drowning in his grief.
Audrey and her family only plan to stay the night, but life in the Ruby can be intoxicating, extending their stay as it provides endless distractions—including handsome guest Elias Lange, who sends Audrey's pulse racing. However, the hotel proves to be as strange as it is beautiful. Nightly fancy affairs in the ballroom are invitation only, and Audrey seems to be the one guest who doesn't have an invite. Instead, she joins the hotel staff on the rooftop, catching whispers about the hotel's dark past.
The more Audrey learns about the new people she's met, the more her curiosity grows. She's torn in different directions—the pull of her past with its overwhelming loss, the promise of a future that holds little joy, and an in-between life in a place that is so much more than it seems…
Welcome to the Ruby.
Hotel Ruby was another coveted addition to my collection thanks to ALA this summer in San Francisco. I had heard some buzz about the book prior to the event, and the cover was absolutely stunning. When I found out that Suzanne Young was going to be signing ARCs of either Hotel Ruby or her "The Program" books, I knew I wanted to opt for Hotel Ruby because it has a total Tower of Terror Vibe to it from the synopsis (I am a huge fan of the Tower of Terror ride at the Disney resorts, and I love the haunting and art-deco atmosphere, which I was hoping would come across in this novel). I started the book on Halloween weekend and was prepared for an eerie, glamorous tale. Unfortunately, while Hotel Ruby provided vivid imagery and a creative concept, the plot and mystery elements were predictable and one-dimensional.
Setting
I'm all about giving credit where credit is due, and though I may have been underwhelmed overall by this book, the setting that Suzanne Young created was very atmospheric to read about, from the lavish hotel lobby to the decadent parties and opulent guest rooms. The gilded elevator doors on the book's cover promise a mysterious, beautifully haunting setting and Suzanne Young delivers. I enjoyed seeing the different levels of the hotels and the bits of history that made up each one.
Plot
A common theme I've come across in most bloggers' reviews of Hotel Ruby is that they guessed the "twist" early on. While this was definitely true for me, I wasn't too disappointed by that fact because I sort of went into the novel already assuming I was supposed to know what the twist was .View Spoiler »I mean, the book's tagline is "Stay Tonight, Stay Forever" after all. It wasn't hard to assume most of the guests were ghosts. « Hide Spoiler I don't think a book's worth is solely determined by how predictable or not the plot twist is, but rather on how well the plot is executed. However, the plot really felt clumsy to me. I felt that not only did it take an extraordinarily long time for Audrey to figure out what was going on despite some glaring clues, but there was no real explanation for the paranormal elements. They just happened, and even those apart of the paranormal elements really didn't know why they were or how the rules of the book's universe functioned further than "we're just on separate dimensional planes." Characters also kept mentioning that the Ruby was alive and had a will of it's own, but there were never any details expanded upon that either (there's so much that could be done with a beautiful, haunted, passive-aggressive hotel!) When I read a thriller that's going to delve into the paranormal I demand that a thorough explanation is given, even if it's one not plausible in "real life." An author has so much creative license in their work to develop any sort of world building rules that they want, and it's a shame to see such a missed opportunity in Hotel Ruby.
Romance
This book probably falls under my list of "top ten book offenders of insta love." While I know that with a book set only over a few days the author had less time to develop a romance, it felt so inauthentic that I found my eyes glazing over at the romance scenes. This book really didn't need a romance, it could've focused more on the mystery and tragedy without having to add a obligatory teenage infatuation I-just-met-you-but-I-would-die-for-you situation. I haven't read Suzanne's "The Program" series, but I hope that the romance is more believable that it was in Hotel Ruby.
Characters
None of the characters in Hotel Ruby were particularly likeable, which is not always a bad thing when it comes to fiction. Oftentimes, the unlikable characters are those who bring the compelling element to a plot, inciting a passionate rage in readers (Umbridge, anyone?) However, most of the characters in Hotel Ruby were unlikable either because they were boring, or they were rather irritating and annoying. Audrey is shunned by most of the glamorous guests at the Ruby and therefore starts hanging out with the staff. They're supposed to be her "friends" but most of them are snarky at best and downright rude at worst. While I appreciated her closeness with her brother Daniel, his overbearing protectiveness anytime Audrey interacted with a male character was rather demeaning and regressive. Finally, Audrey constantly references past relationships in her life that she's lost (her deceased mother, her ex boyfriend) and obsesses over how they ended constantly, but those characters are not given enough backstory or depth to mean much to readers or evoke much compassion.
The Ending
The ending of the book was disappointingly unoriginal View Spoiler »It was basically the same scenario as If I Stay by Gayle Forman. « Hide Spoiler However, I can admit that the decision Audrey made at the very end went differently than I expected in a YA novel View Spoiler »She actually chose to die, though it was to sacrifice herself to kill the concierge. Although I'm still fuzzy on how the science behind this actually worked. « Hide Spoiler I suppose it deserves points for not having the semi-happy ending route that most YA novels tend to take.
Overall: This book held so much potential, it could have been a glamorous yet sinister read with Gatsby-like opulence and eerie undertones. This would have been a book that I would have bought based on the cover and synopsis, and a healthy dose of hope. However, I'm glad I didn't purchase my own copy of Hotel Ruby because it let me down in almost all aspects but the setting, with predictable plot elements, insta-love, and a lot of wandering around the (admittedly beautiful) hotel without explaining any concrete world building or reasoning for its paranormal elements or outcome.
Reading this book contributed to these challenges:
Related Posts