Harry Potter Moment of the Week is a weekly meme hosted by Uncorked Thoughts, and is a fantastic way to keep the Harry Potter magic alive year round, even when not reading the books! I'm so excited to be participating!
The Theme This Week: Most Cringe Inducing Scene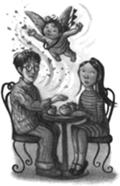 Though my love for the series runs deep, Harry's whole relationship with Cho Chang had me wanting chuck my book at the wall sometimes. In Order of the Phoenix, Cho and Harry have their first real date at Madam Puddifoot's Tea Shop, and Harry rightly deems it a "fiasco."
Harry: "Look, let's not talk about Cedric right now…let's talk about something else."

Cho: "I thought, I thought you'd u-u-understand! I need to talk about it! Surely you n-need to talk about it too! I mean, you saw it happen, d-didn't you?"

Harry: "Well – I have talked about it, to Ron and Hermione, but –"

Cho: "Oh, you'll talk to Hermione Granger! But you won't talk to me! P-perhaps it would be best if we just…just p-paid and you went and met up with Hermione G-Granger, like you obviously want to!"
Neither Harry nor Cho handle the situation gracefully, but Cho irritates beyond belief because she obviously only wants to date Harry (at least at this point in time) because she sees him as an extension of Cedric, and she is vastly insecure and can't accept Harry's close relationship with another female as platonic. Cho really doesn't paint a flattering picture of female behavior in this scene (it's rather stereotypical) and Harry, poor Harry, makes things even worse by declaring he did have plans to meet up with Hermione, oblivious to the fact that Cho would interpret it as him two-timing her. Ah, young love.
Did this moment have you cringing with second hand embarrassment? Or did you think of something worse in the series? Let me know in the comments!
Related Posts